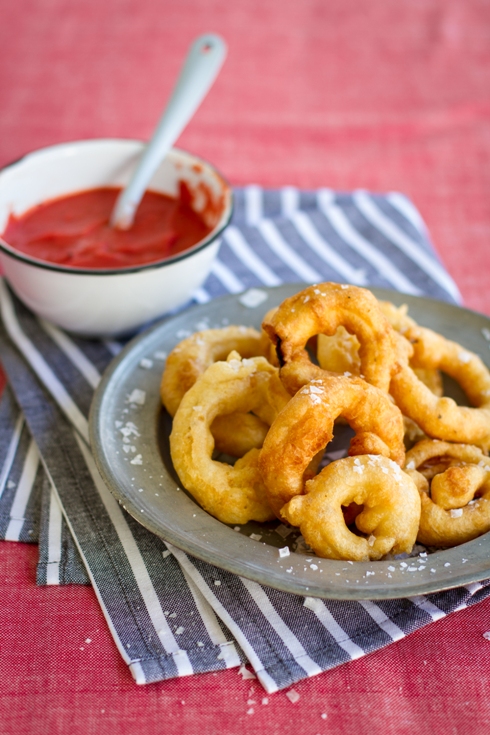 The humble onion can probably be classified as the neglected child of the cooking world. It does all the hard work in millions of recipes as the base ingredient for fabulous stews, roasts, sauces and soups, but very rarely features as the main belle of the ball.
The other day, I realised just how much I loved onions. So this is my tribute to you, my lovely onion friends. I drench them in a Cajun-flavoured soda batter, then deep fry them to a crispy golden perfect crunch. You can eat these beauties as is, or dip them in a superb homemade "ketchup", or tomato sauce as we know it in SA. Mayo will also do a great job.
It's amazing how far you can stretch an onion with this recipe. One large onion is enough for 2 people as a meal – I promise you won't be able to eat much else after this. It is filling and utterly delicious. Make the ketchup in advance, then cool it and keep it in a sealed container in the fridge – it should last for at least 2 weeks.
Ingredients for spicy ketchup:
 30 ml olive oil
1 onion, finely chopped
1 clove garlic, finely chopped
1 small red chilli, finely chopped
4 large ripe red tomatoes (I used roma), skinned and sliced
15 ml white grape vinegar
15 ml soft brown sugar
5 ml salt
2.5 ml black pepper
Method:
In a medium size pot, heat the oil on the stove, then add onions and fry over medium heat until they are soft.
Add garlic and chilli, then fry for another minute.
Add tomatoes, vinegar, sugar, salt and pepper, then cover with a lid and simmer for 30 minutes. Remove the lid and simmer uncovered for another 15 minutes.
Remove from the heat, then use a stick blender to puree the mixture to a pulp. Transfer to a glass jar. Allow to cool for an hour, then screw on a lid refrigerate until ready to use. I prefer to bring it back to room temperature before serving it.
Ingredients for onion rings: (serves 4)
2 large onions, skinned
1/2 cup (125 ml) self raising flour
3 t (15 ml) Cajun seasoning
1 cup (250 ml) self-raising flour
200 ml soda water
about 750 ml vegetable oil for frying
Method:
Slice onions thickly into rounds of about 7-10 mm thick. Separate the rounds into rings and take out the very small inner rings (use it for your next stew!) – the larger rings work best.
In a wide bowl, mix 1/2 cup self raising flour with the Cajun seasoning. In another bowl, mix 1 cup self raising flour with the soda water – it will be quite a thick batter.
Pour the oil into a medium-sized pot, then heat it to deep-frying temperature (around 160-170 degrees Celsius).
Take one onion ring at a time, cover it with the Cajun/flour mixture, shake off excess flour, then dip it into the batter (it should be covered on all sides) and place carefully into the hot oil immediately. Repeat with about 4 more rings, working quickly – don't overcrowd the pot. Turn them over after about 2-3 minutes when they look golden on the bottom, then fry for another minute or 2 until they all golden all around. Remove with a slotted spoon and drain on kitchen paper.
Serve immediately with ketchup or mayo.
Note: The colour of the ketchup will very much depend on the colour intensity (and ripeness) of the tomatoes that you are using. Don't be alarmed if the ketchup is not bright red like the commercial variety, we are working with real fruit and veg and they can vary quite a lot. Orange ketchup is also really cool!
Credits:
This post was especially written for The Pretty Blog by Ilse van der Merwe from The Food Fox.
Food & recipe: Ilse van der Merwe from The Food Fox.
Photography: Tasha Seccombe.
Styling: Nicola Pretorius and Tasha Seccombe.