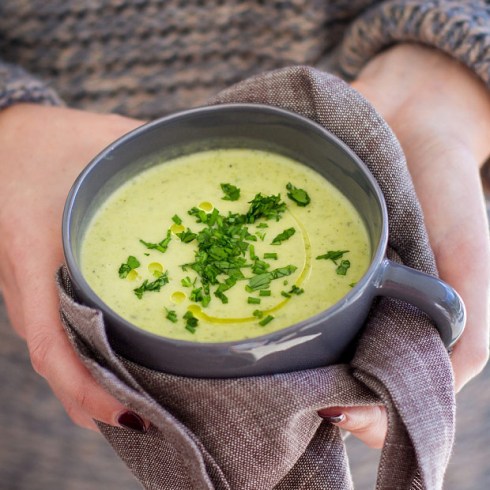 My friend Francille told me about this soup recipe a few weeks ago while we were discussing Winter menus – she's a serious recipe collector and her book collection puts mine to shame. One of her friends heard this recipe on the radio somewhere, and it was passed on via hearsay. So there's no way to tell where it originally came from!
This is an extremely simple recipe, containing only 5 key ingredients: courgettes, garlic, chicken stock, tomato paste and Boursin cheese – a soft and creamy French cowsmilk cheese similar to cream cheese. Boursin cheese can be found at most supermarkets with a well stocked cheese section, but if you cannot find it you can sibstitute it for plain cream cheese and some freshly chopped parsley & chives. The result with the Boursin cheese is just absolutely delicious, so make the effort to get a hold of it!
The result is a rich, thick and decadent soup with deep flavours – perfect as a starter if served in small portions, otherwise also great as a main course served with fresh artisanal bread like a proper sour dough. If you are counting kilojoules, don't even bother – this one is only for those who love to throw caution to the wind!
This soup is a great reason to love Winter. Enjoy!
Ingredients:
15 ml olive oil
3 cloves garlic, finely chopped
roughly 750 g courgettes, sliced
15 ml tomato paste
1 litre chicken stock
150 g Boursin Cheese (garlic and fine herbs flavour) – OR 150 g plain cream cheese plus 30 ml chopped parsley & chives
salt and pepper
chopped parsley and/or chives for serving (optional)
Method:
In a medium size stock pot, heat the oil and fry the garlic over low heat for a minute. Add the sliced courgettes and tomato paste, and fry for another minute, stirring.
Now add the chicken stock and bring to the boil over high heat. Turn the heat down to a simmer and cook for about 15 minutes until the courgettes are tender.
Remove the pot from the heat, then use a stick blender to carefully blitz the soup to a very smooth consistency.
Add the Boursin cheese, then blend again until smooth and creamy.
Return to the heat and season to taste. Reheat until the soup just reaches boiling point, then remove from the heat and serve hot.
Garnish with extra herbs if necessary.
Credits:
This post was written especially for The Pretty Blog.
Recipe, text and food preparation: Ilse van der Merwe from thefoodfox.com
Photographer: Tasha Seccombe
Styling: Nicola Pretorius and Tasha Seccombe.