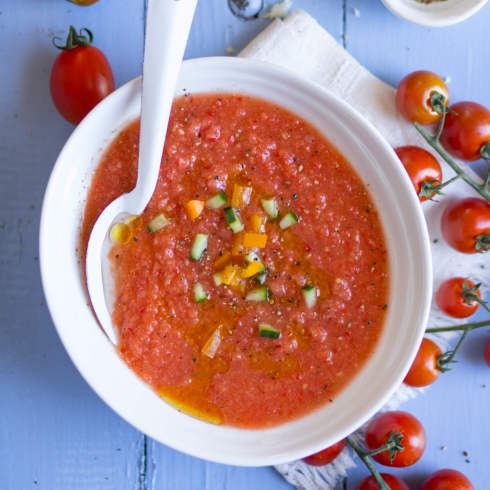 I'm a huge fan of Spanish food, and it has always been a life long dream of mine to visit Spain with my husband as part of an extended Mediterranean food-travelling mission.  I'm longing to experience authentic Spanish, Italian, and French cuisine right there where it all started. I want to meet the local farmers, producers and shop keepers and I want to eat with them.
When I think of Spanish food, I always think of traditional tapas like jamón, prawns and squid, but also of paella (especially seafood paella) and gazpacho. Gazpacho is a fantastic cold soup for summer, made with tomatoes, peppers, stale bread, olive oil and vinegar. It is texturally just a joy to eat, and a perfect starter to an extended Spanish summer dinner party. It is always best to chill it for a few hours in the fridge in order to give the flavours time to release their magic – it is even better the next day, and the next. So make it ahead of time and serve ice cold.
The beauty of gazpacho, to me, lies in choosing perfectly ripe bright red tomatoes. Don't use pale pink tomatoes that have been refrigerated for a few days, I find that they lose quite a bit of flavour that way. Rather leave your tomatoes on the counter for a day or 3 to ripen fully before you make this soup. That way you will have maximum flavour – it really does make a difference!
Ingredients: (serves 6 as a starter)
1 kg tomatoes, skinned*
1 red pepper, seeds and pith removed
1/2 small English cucumber, seeded and peeled (optional)
1 large slice good quality day-old bread, soaked in water, then squeezed to remove excess water
2 garlic cloves
1 red/green chilli, stalk removed (I also use the seeds, but you can remove these it you prefer)
45 ml extra virgin olive oil
30 ml apple cider vinegar (or sherry vinegar)
salt and black pepper
Method:
*To skin your tomatoes, use a sharp small knife to cut a shallow "x" on the bottom of each tomato. Heat a large pot of water to boiling point, then drop the whole tomatoes into the boiling water for about 30 seconds to 1 minute. Quickly remove the tomatoes with a slotted spoon and drop them into ice cold water. Now peel off the skins (they should come off easily) and set aside.
Roughly chop the tomatoes, pepper, cucumber (optional), and bread into large chunks.
Place in a food processor with the garlic, chilli, olive oil and vinegar. Process to a relatively smooth liquid, leaving just enough texture to your liking. I prefer my gazpacho a bit smoother than most people, but it's up to you!
Season generously with salt and freshly ground black pepper, and add more vinegar or oil if necessary. Transfer to a suitable container for your fridge, then refrigerate for at least 4 hours or preferably overnight. The flavours will develop over time.
Serve ice cold, with an extra garnish of chopped tomato, peppers or cucumber and a swirl of extra virgin olive oil.
 Note: The gazpacho in the photograph was made without cucumber. I sometimes add it, and sometimes don't. The cucumber gives a great lightness to the soup, but if you prefer a deeper red colour, just leave it out.
Credits:
This post was originally written for The Pretty Blog by Ilse van der Merwe from The Food Fox.
Recipe, food preparation and text: Ilse van der Merwe
Photography: Tasha Seccombe
Styling: Nicola Pretorius