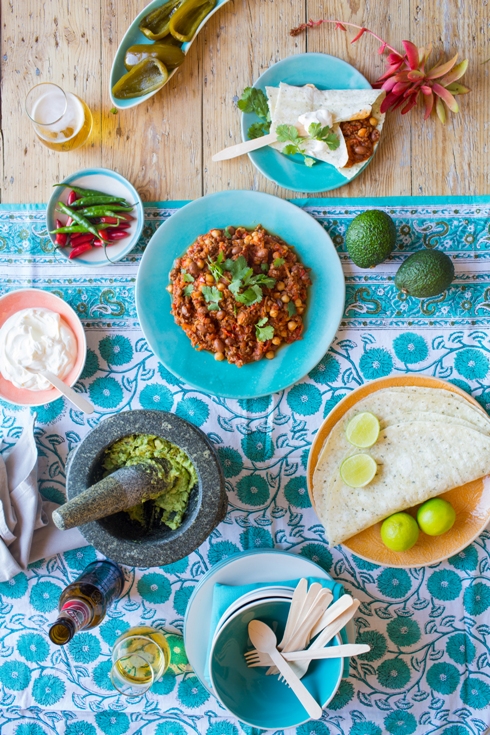 I've been hosting many dinner demo's over the past few months, and I've been asking people what they'd love to see on upcoming menus. I wasn't surprised by the top answer: Mexican food, please! I agree – I'm crazy about a Mexican feast.
As you might know, I recently worked on Jan Braai's second book Red Hot as a recipe developer. One of my favourite recipes from this book is the chilli con carne. It's a recipe with a long list of ingredients, but it is really simple to make and it doesn't take too long to cook. The hearty flavours and decent chilli kick is an absolute joy, but if you add some fresh coriander leaves, a dollop of thick sour cream and some freshly mashed avodaco, it is simply one of the most satisfying meals to eat. Make it on the stove top, or even better, in a potjie on the fire.
Serve this with rice or baked potatoes or tortillas, or the starch of your choice. I just might serve it with some nachos and cheese next time…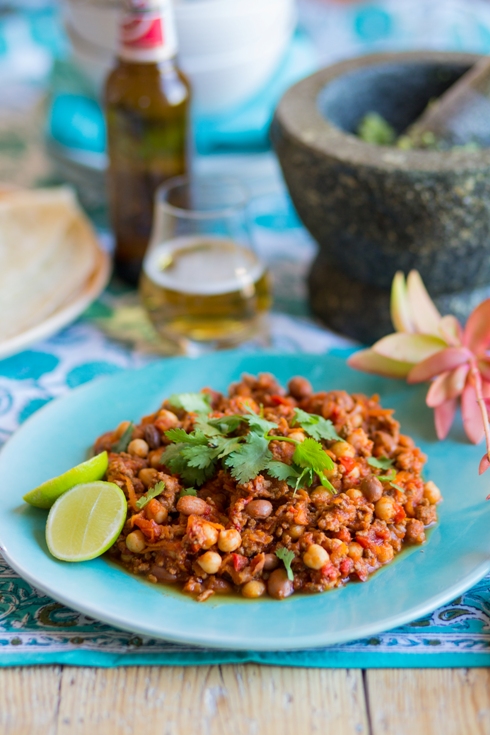 Ingredients:(serves 4-6)

(recipe slightly adapted from Jan Braai's Red Hot, available from most South African book stores and online)
45 ml cooking oil (I use canola or olive)
2 onions (finely chopped)
4 cloves garlic (finely chopped)
1 red pepper (seeded and finely chopped)
500 g lean beef mince
1 carrot (roughly grated)
5 ml each of ground paprika, cumin, coriander and chilli powder
2 cans chopped tomatoes
30 ml tomato paste
1 can barlotti beans (drained and rinsed))
1 can chickpeas (drained and rinsed)
30 ml lemon juice (or white vinegar)
10 ml sugar
5-10 ml salt (adjust according to taste)
freshly ground black pepper
250 ml sour cream (to serve)
fresh coriander leaves (to serve)
cooked rice/tortillas etc. (to serve)
guacamole or sliced avocado (to serve)
Method:
Heat the oil in a large pot (use a flame proof pot if you're cooking on a fire). Add the onions, garlic, pepper and fry over medium-high heat vor 5-10 minutes until the onions are translucent.
Add the beef, then turn up the heat to high and fry for about 10 minutes, breaking up any lumps. Fry until the meat start to turn brown on the bottom of the pan – that's how you create all the flavour. Stir often to prevent the mixture from burning.
Add the carrot, paprika, cumin, chilli and coriander, and fry for another minute, stirring.
Now add the tomatoes & tomato paste, then stir well and bring to the boil. Turn down the heat to low, then cover with a lid and simmer for 30 minutes. Stir once or twice.
Add the beans, chick peas, lemon juice, sugar, salt and pepper, then stir well. Simmer for another 10 minutes.
Remove from the heat and serve with your choice of starch, sour cream and avo, topped with fresh coriander leaves.
Credits:
This post was originally written for The Pretty Blog by Ilse van der Merwe from The Food Fox.
Food preparation and text: Ilse van der Merwe
Photography: Tasha Seccombe
Styling: Nicola Pretorius