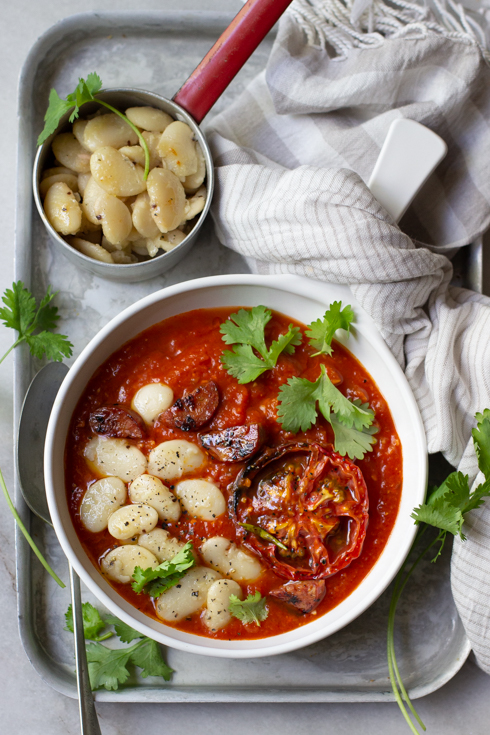 Canned tomatoes must be my number one favourite pantry item. They're just utterly versatile – pizza base sauce, soups, stews, curries, the list is endless. This simple tomato stew can be dressed up or down. If you have some sausage or salami or bacon, add that (I saved a piece of chorizo for a special occasion like this – something I don't buy often, but it adds so much flavour and goes a long way). If you don't have meat or don't want to add meat, just add a few extra spices like chilli flakes, paprika (preferably smoked) and cumin. Same with the beans: if you have canned butterbeans in your pantry, use that. I discovered my last bit of heerenbone straight from the Sandveld at the back of my cupboard (thank you Paula Smit) and decided to go the whole nine yards with soaking overnight and then cooking slowly for 2 hours and dressing them in fresh lemon juice and extra virgin olive oil (with lots of salt & pepper). They are so incredibly silky, its unreal.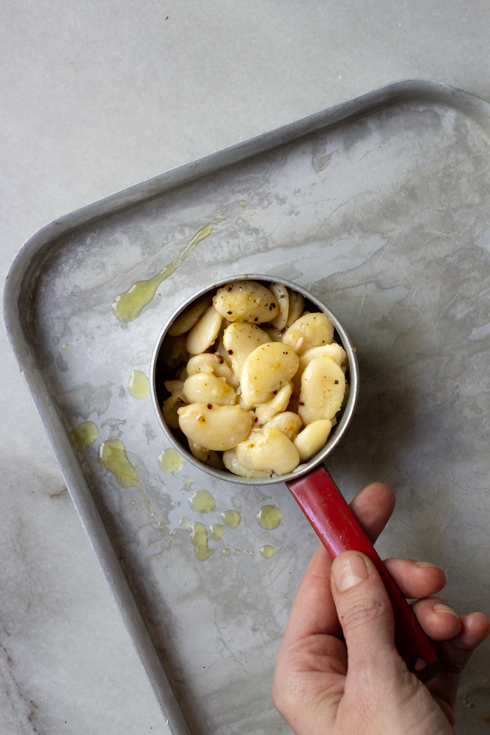 Then, to dress it up even further (only if you want to, still using very basic stuff) I roasted a few halved tomatoes from the buy-bulk-and-save bag I bought a few days ago, perfectly ripe now. They make a stunning "meaty" vegetable addition to this stew, and look beautiful too. A few fresh coriander leaves add great freshness, but again, not a necessity. A swirl of plain yoghurt can work too, as will a good glug of extra virgin olive oil to round it off.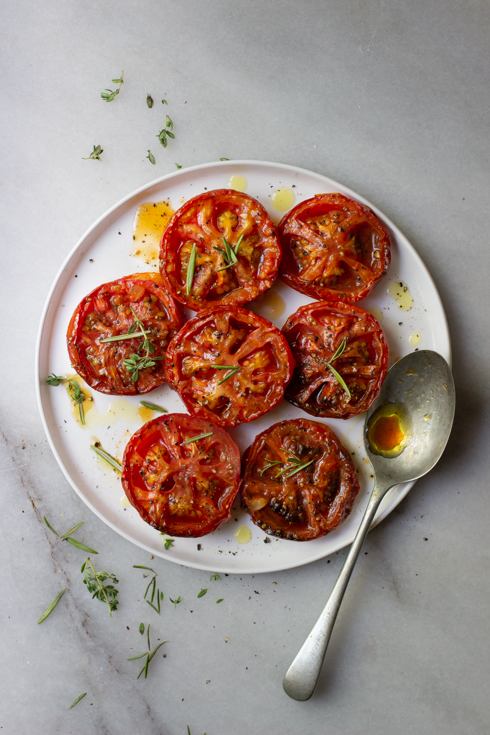 Getting back to basics: you're already winning with a can of whole tomatoes, an onion, some garlic, a can of your favourite beans and some great quality olive oil. Food for kings!
Ingredients: Heerenbone (based on Mariana Esterhuizen's recipe)
1,5 cups dry heerenbone
water for soaking and cooking
1 clove garlic
2 bay leaves
salt, pepper
juice of a lemon
a good drizzle of extra virgin olive oil
Place the heerenbone in a bowl and top with about 2 liters room temperature (cool) water. Leave to soak at least overnight (12 – 18 hours) – the beans will swell to double in size. Drain the water off, then add the beans to a pot and top with fresh water. Add the garlic clove and bay leaves, then bring to a simmer. Simmer slowly for about 2 hours, or until the beans are just tender but not mushy. Drain (remove the garlic and bay leaves) and transfer to a bowl, seasoning with salt & pepper and drizzling with the lemon juice and olive oil. Set aside to cool.
Ingredients: Halved roasted tomatoes
4 large ripe tomatoes, halved horizontally
extra virgin olive oil
salt, pepper
1-2 teaspoons sugar
a few teaspoons fresh herbs like thyme/rosemary, chopped (or use dried mixed herbs)
Preheat oven to 200 C. On a standard baking tray, drizzle the surface lightly with oil and use clean hands or a pastry brush to coat the surface all over. Arrange the halved tomatoes cut sides up, then drizzle with more oil, Season with salt, pepper, sugar and herbs, then roast for about 1 hour or until the edges start turning dark and the tomatoes are very fragrant. Remove from the oven and set aside.
Ingredients: Canned tomato stew (serves 4-6, depending on the addition of the beans and roasted tomatoes)
45 ml extra virgin olive oil
1 large onion, finely chopped
4-6 garlic cloves, finely chopped/grated
a few sprigs thyme and rosemary, twigs discarded, leaves roughly chopped (or use 1-2 teaspoons dried mixed herbs)
200-300 g sausage*, sliced
4 x 400 g cans whole tomatoes, pureed using a blender or stick blender (or food processor)
15 ml (1 teablespoon) smoked paprika (if you're not using sausage/meat, you can also add a few other spices like 1 teaspoon chilli flakes, 1/2 teaspoon ground cumin etc.)
10 ml (2 teaspoons) sugar
salt & pepper, to taste
In a large pot, add the oil over medium-high heat. Fry the onion until soft but not brown, then add the garlic, herbs and sliced sausage. Fry, stirring, until it starts to brown. (Note: At this point, you can reserve a few slices of sausage to top your final dish, if you want.) Add the pureed canned tomatoes, stir and bring to a simmer.
*Cured sausage like chorizo works great, but you can certainly also use any other kind of fresh sausage or boerewors; I prefer pork-based sausage for this recipe, but use whatever you have – chopped bacon also works. If you're using fresh sausage, fry it in a pan first before slicing it up and adding it to the onions, this way the slices will stay in tact. The other option would be to remove the casing from the start, and treating the fresh ground sausage meat like you would treat mince, breaking up the lumps in the pan.
For serving:
fresh coriander leaves (optional)
a drizzle of extra virgin olive oil
a drizzle of plain yoghurt (optional)
Ladle the warm tomato stew into bowls, then top with beans, coriander and a drizzle of olive oil (and optionally yoghurt, expecially if your stew is very spicy). The stew and beans freeze very well – store them together in the same container/s.