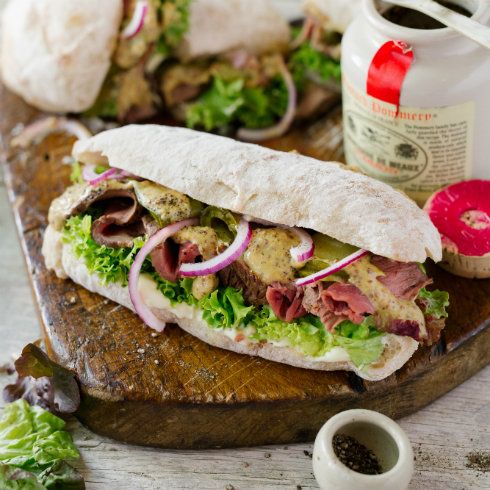 I've shared my favourite bread recipe of 2015 a few months ago, and this is a post to show you one of the best ways to enjoy it.
We had this sandwich on the menu at my food studio last year and everybody loved it. We called it "The Bull" – a meaty, feisty sandwich with a strong mustard kick.
If you're too lazy to bake, just use a good quality store-bought ciabatta or panini instead. And if you're even more lazy, skip the roasting of the beef and just use a few slices of good quality pastrami (because sometimes we need shortcuts in life).
For the rare roast beef: (serves 6)
30 ml olive oil
about 1 kg lean beef roast (silverside works well)
salt & black pepper
Pre-heat oven to 180 C. In an iron skillet on the stove top, heat the oil over high heat. Sear the roast on all sides to get good colour, about 10 minutes in total. Season well with salt & pepper while searing. Place in the oven and roast for about 15 minutes, then remove from the oven and let it rest for about 15 minutes.
Use a very sharp knife to cut the meat into thin slivers, then set aside (cut it as thin as you can).
For the aioli:
4 egg yolks
45 ml lemon juice
15 ml Dijon mustard
1 large garlic clove, finely grated
salt & pepper to taste
about 250 ml canola oil
Place the yolks, lemon juice, mustard, garlic, salt & pepper in a food processor and mix well. With the motor running, add the oil in a thin stream through the feeding tube, creating a thick emulsion. When all the oil is incorporated, check and adjust the seasoning, if necessary. Set aside.
For the sandwiches:
6 paninis or small ciabattas (see the recipe for Scott's bread)
aioli, for spreading
fresh lettuce leaves
sliced tomato (optional)
slices of rare roast beef
whole grain mustard, for topping (or a mixture of whole grain and Dijon)
salt & pepper
To assemble, start by slicing your paninis open horizontally, then spread generously with aioli. Top with lettuce leaves, tomato (optionally), slices of beef and then a generous drizzle of whole grain mustard. Season with salt & pepper, then place the top half of the panini in place. Enjoy!
Note: If you're feeling luxurious, replace the silverside roast with a whole beef fillet. Roast it in the same way as above, or according to your taste and the size of the fillet.
Credits:
Recipe, food preparation, food styling & text: Ilse van der Merwe
Photography, food styling & prop styling: Tasha Seccombe
This post has also been featured on The Pretty Blog.