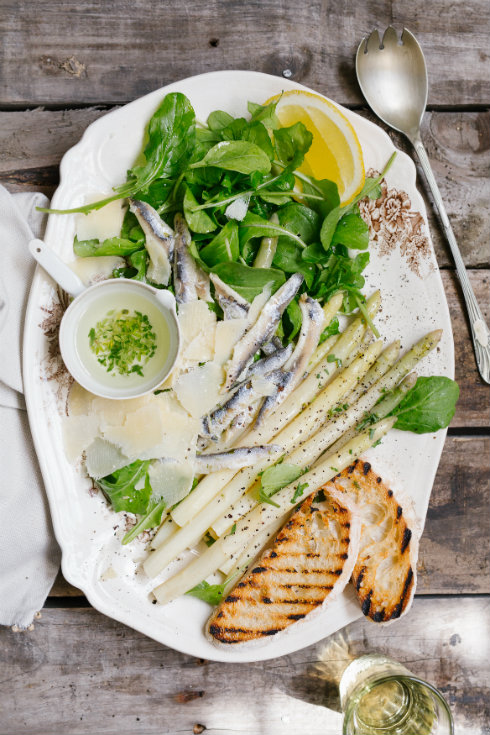 I've always loved dark little anchovy fillets in oil, salty as hell with a strong fishy flavour. But last year I discovered white anchovy fillets – larger, silky in texture, tender, more delicate in flavour. These days you can buy them "ready for tapas", marinated in a fantastic garlic & herb vinaigrette that is good enough to use as is over bruschetta or salad.
This white anchovy salad is such a simple yet fabulous starter. I came across fresh white asparagus and used it here because of its strange pale beauty, although you can easily substitute with regular green asparagus.
Tip: To create a slightly more bulky main course, top with softly poached eggs and serve with toasted bruschetta.
Ingredients: (serves 4 as a side dish or starter)
a medium/large bunch of rocket leaves
a handful of white or green asparagus, poached in water (or grilled) for 1-2 minutes
about a cup of white anchovy fillets in garlic & herb vinaigrette (reserve liquid for dressing)
chunky shaved parmesan cheese
salt & pepper
fresh lemon wedges
Method:
On a large salad platter, arrange the rocket leaves, cooked asparagus, anchovy fillets and parmesan cheese. Season well with salt & pepper, then drizzle with the anchovy vinaigrette.
Serve immediately with lemon wedges and (optionally) toasted ciabatta.
Credits:
Recipe, food preparation, food styling & text: Ilse van der Merwe
Photography & styling: Tasha Seccombe