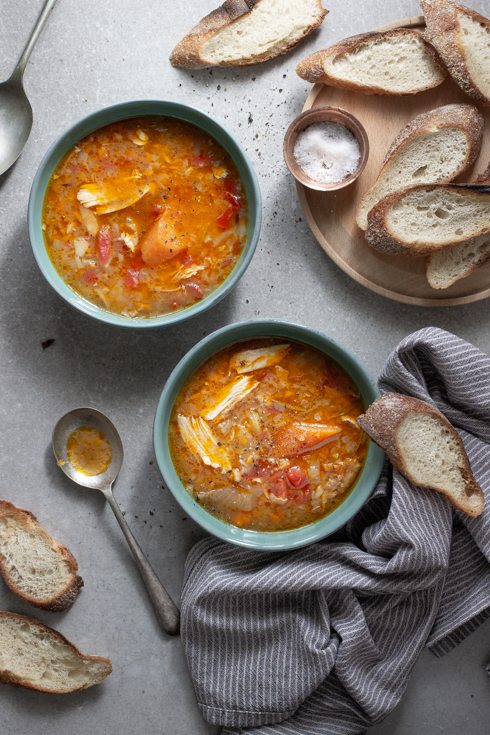 While we're all at home, we're trying to make the most of lockdown spending quality time with our families. A lot of comforting home cooking is going on. Part of the goal is to stretch food as far as we can and not to waste a single crumb. A few days ago, I made my first trip into town after the lockdown started. Among a few essentials, I bought one "boerhoender" from my local butchery – a 2,4 kg chicken for R170 in total (great deal). I knew I had to make it count, so I planned to get at least 3 different meals out of it.
On day one, I made a chicken pot roast – in my oven at 180 C, 0n a bed of quartered onions and potatoes, sliced carrots and garlic, some herbs, lots of salt & pepper, and good quality olive oil. If you follow my Instagram stories, you might have seen it. We're a family of 3, so we usually go for the thighs, legs and wings first (and of course, some of the crispy roasted skin).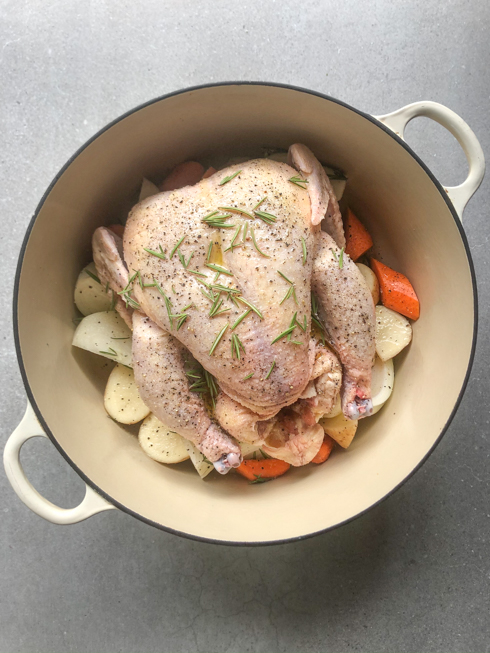 I then removed the breasts, chopped them up, added mayonnaise and some leftover chopped fresh coriander (optional), seasoned well with salt & pepper, and those will be our chicken mayo mix for sandwiches on another day. To the fridge it goes (it will be good for at least 3 days).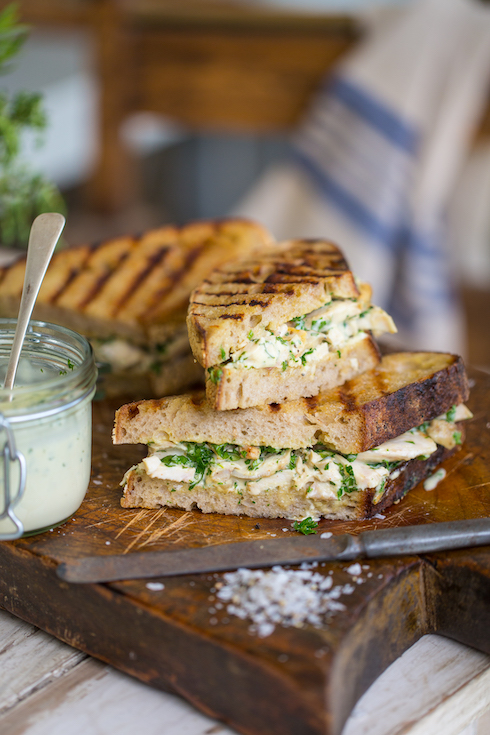 On day 2, I made a very hearty chicken and vegetable soup using the leftover chicken carcass (with little meat left but all of the goodness of the roasting pot). I skimmed off most of the fat before doing so, but I do love some of those comforting fatty droplets on the surface of the soup – delivering a velvety mouthfeel with every spoonful. You can add whatever you have in your vegetable pantry, mostly finely chopped or shredded – I used more potatoes, onions, garlic, carrots, cabbage and a few ripe tomatoes. To that, I added a few stock cubed dissolved in water and a few aromatics from my spice cupboard (again, use what you have on hand). The result is a large pot of hearty, fragrant, comforting soup to count as lunch or dinner, plus a few portions for the freezer. If you want to stretch it even more, serve it over freshly cooked pasta. It's a super versatile and economical way to use one chicken!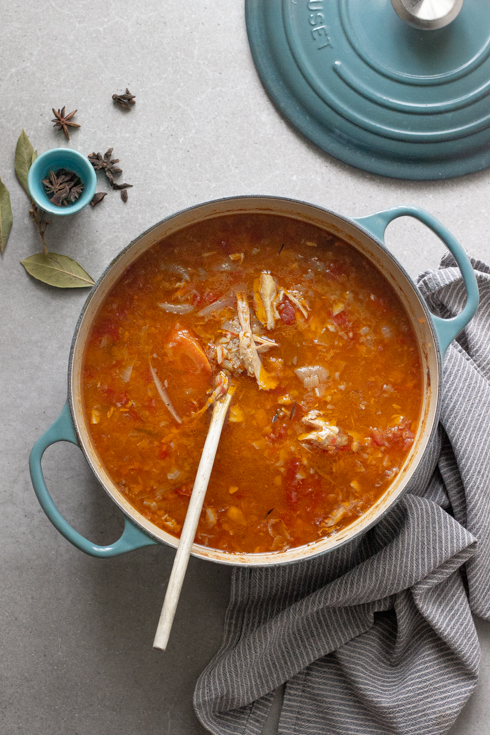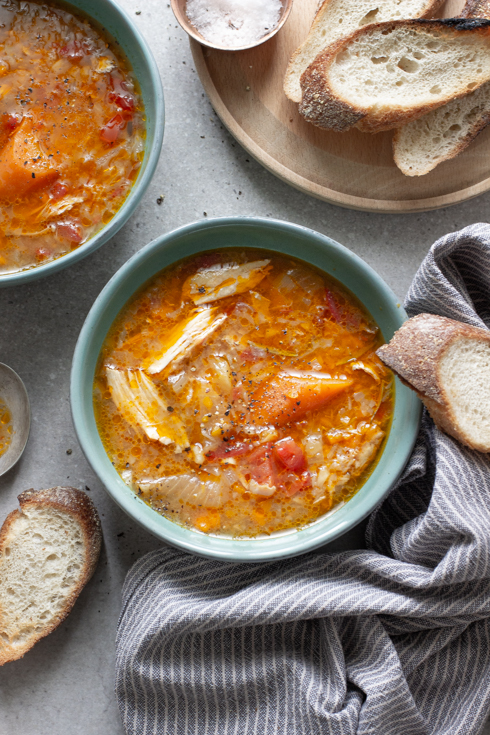 Ingredients for Yesterday's-roast-chicken and vegetable soup: (makes about 3,5 liters)
leftovers of a homemade roast chicken, including everything that remained in the pot (sticky bits, vegetables, carcass, gravy – skim off any excess fat)
2 onions, finely chopped
3 carrots, finely chopped (or roughly grated or shredded in a food processor)
4 ripe tomatoes, diced
4 garlic cloves, finely chopped
2 large potatoes, peeled & roughly grated
1/4 large cabbage head, finely chopped or shredded
a few rosemary sprigs, woody stems discarded (or 1 teaspoon dried rosemary /dried mixed herbs)
2 liters chicken stock (about 5 stock cubes dissolved in 2 liters recently boiled water)
salt & pepper, to taste
Optional aromatics:
2 bay leaves
1 star anise
1 teaspoon fennel (ground or seeds)
1/2 teaspoon ground cumin
1 cinnamon stick
1 teaspoon curry powder
Method:
If you're refrigerated the leftovers the day before, return it to a clean large pot (at least 6 liters capacity).  Add the onions, carrots, tomatoes, garlic, potatoes, cabbage, herbs and stock. Add whatever aromatics you want – look at the list above to see what I've added, giving the soup a deep, fragrant quality without being spicy. Stir well and bring to a boil over high heat, then turn down the heat and simmer slowly for 1,5-2 hours. Turn off the heat. Remove the leftover carcass with tongs (be careful), and shred any leftover meat into the soup, discarding the bones. Season well with salt & pepper. Serve in bowls with some bread, or over freshly cooked pasta. I love to grate some mature cheese over it, but that's optional. Bon appetit!