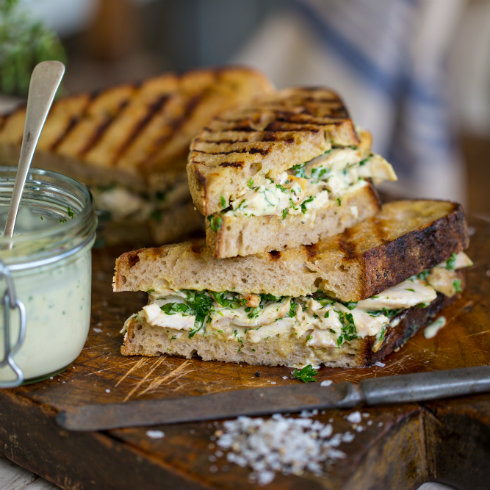 If there is one sandwich that I cannot resist, it's a good chicken mayonnaise. Sometimes I buy a cheap one at my local supermarket when I don't have time for lunch – some days they even have chicken mayo vetkoek (almost like a massive doughnut filled with chicken mayo). But some days I sit down for a proper chicken mayo at Schoon de Compagne. Nothing beats a proper sourdough toasted sarmie. And when it's filled with freshly roasted chunks of chicken swirled in homemade mayonnaise, it's the king of sandwiches.
If you're feeling lazy, use your favourite good quality store-bought mayonnaise and a ready roasted chicken. I won't tell a soul.
Ingredients: (makes 2 large sandwiches)

 2 chicken breasts, bone in and skin on
15 ml olive oil
salt & pepper
about 1/2 cup (125 ml) home-made mayonnaise (see below)
about 1/2 cup (125 ml) finely chopped herbs (I used a mixture of parsley & chives)
1 medium size sweet & tangy dill cucumber, finely chopped (optional)
a squeeze of fresh lemon juice
4 slices of sourdough bread (I use the middle of a round loaf to get the largest slices possible)
butter for spreading
Method:
Pre-heat oven to 220 C.
Place the chicken breasts skin side up on a baking sheet lined with baking paper. Use a pastry brush to coat them with olive oil, then sprinkle generously with salt & pepper (I sometimes use a Cajun spice when I'm in the mood for a kick). Roast in the oven for 15-20 minutes, or until the skin is golden and the thickest part of the breast is just cooked (juices should run clear). Leave to cool for at least 15 minutes.
Remove the roasted chicken from the bone, then cut the meat into chunky slices. If the skin is nice and crispy, I like to leave the skin on – it adds a whole lot of flavour. Place the chicken slices/chunks in a mixing bowl, then add the mayonnaise and herbs and mix well. Season with a little extra salt & pepper and a squeeze of lemon juice.
Butter the slices of bread on both sides, then fill each sandwich with a generous amount of filling. Use a hot griddle pan (or normal pan) to toast the closed sandwiches on each side until they're crisp and golden – press down gently on the sandwich using an egg lifter, while toasting. Serve at once.
For homemade mayonnaise: (makes about 1 cup)

1 whole free range egg, as fresh as you can get
1 egg yolk
30 ml lemon juice
10 ml Dijon mustard
salt and pepper to taste
3/4 cup (180 ml) canola oil
Method for mayonnaise: Using a stick blender and tall cup (or a food processor) add the eggs, lemon juice, mustard and salt & pepper. Give it a good whizz, then start adding the oil in a very thin stream while blending. Continue to blend until you get a thick, creamy consistency. Use immediately or store in a closed container in the fridge for a few days.
Credits:
This post was originally written for The Pretty Blog by Ilse van der Merwe from The Food Fox.
Recipe, food preparation and text: Ilse van der Merwe
Photography: Tasha Seccombe
Styling: Nicola Pretorius