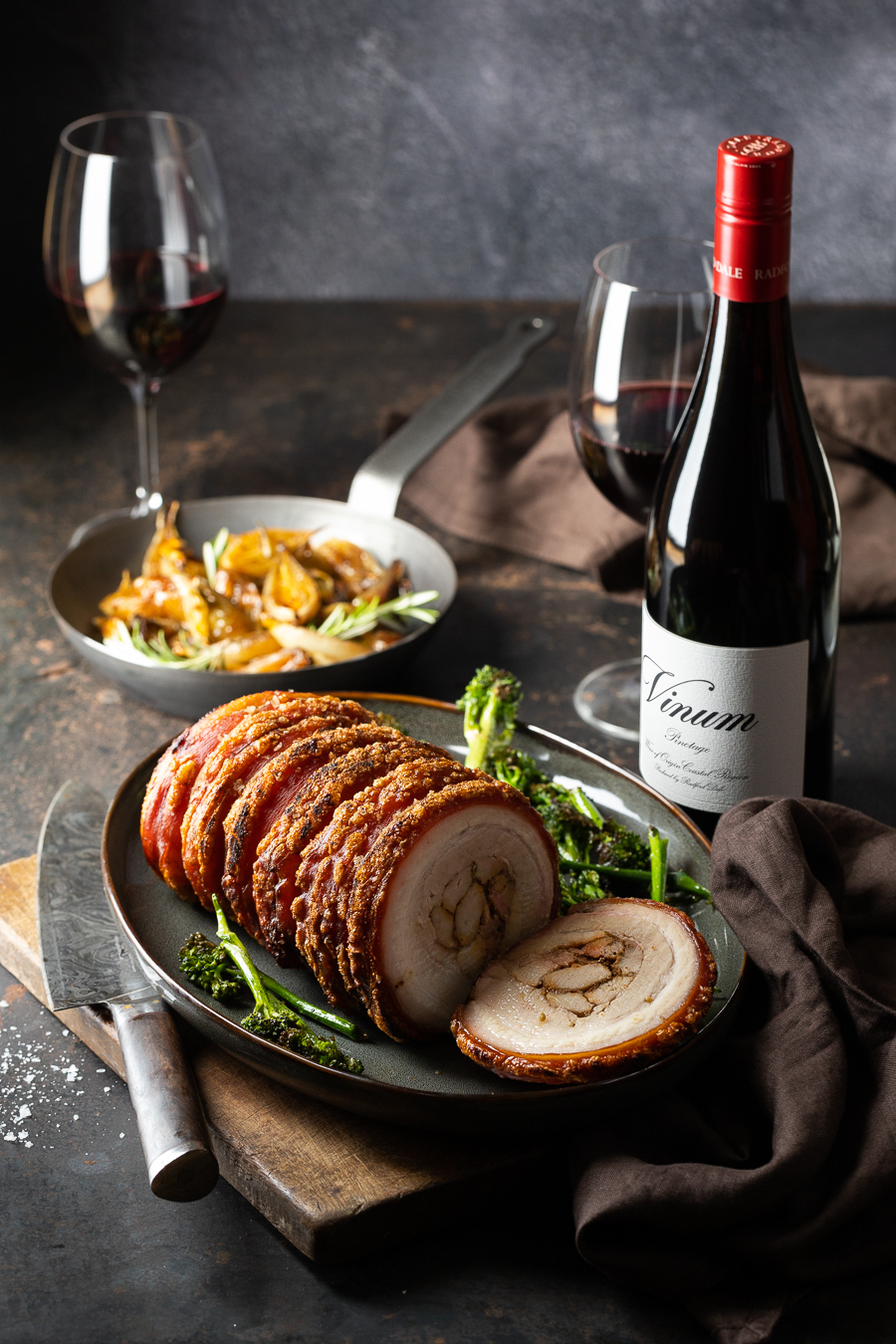 I recently had the privilege of being introduced to Radford Dale Wines, a premium wine producer on the Helderberg slopes between Stellenbosch and Somerset West (with an additional organic farm in Elgin). According to their ethos, they are not afraid to do things differently and it shows in their varied multiple ranges of wines showcasing single varietals like Gamay Noir and Clairette Blanche. Their range of Vinum wines were recently upgraded with a new look, sporting beautifully cursive lettering on textured labels. I've created a recipe to pair with one of the Cape's most celebrated varietals – Pinotage, and in this case, their Vinum Pinotage for Heritage Day. "Hugely enjoyable to drink, the Vinum range is at the intersection of individualism, value and quality", says Alex Dale, founder.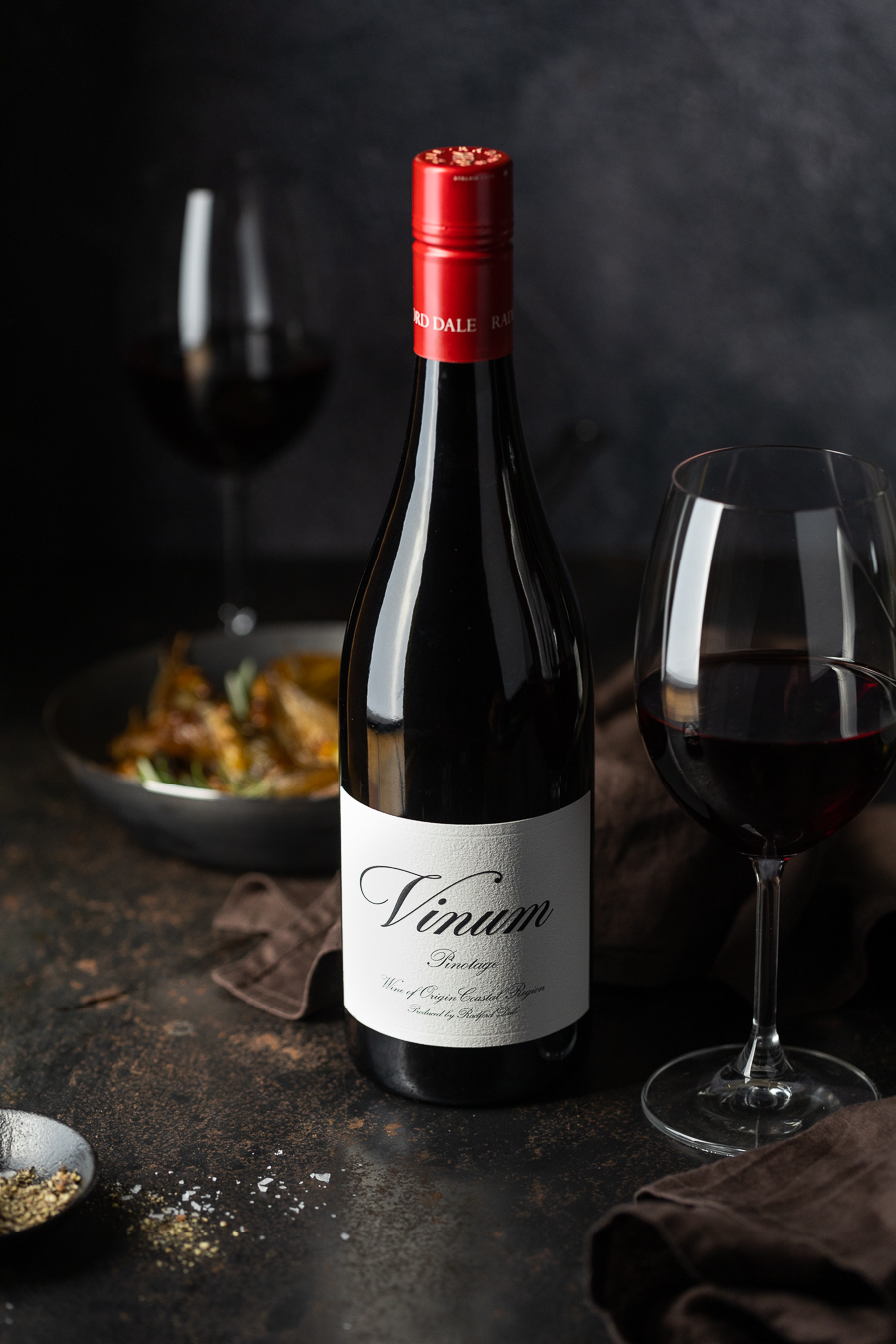 This rolled pork belly is a beautiful centerpiece roast to put on your table for any festive occasion, and it takes a lot less effort than you'd imagine. It's the first time that I attempted to roast a whole belly in my Weber, and the results were spectacular – perfect crunchy crackling, flavourful and tender interior.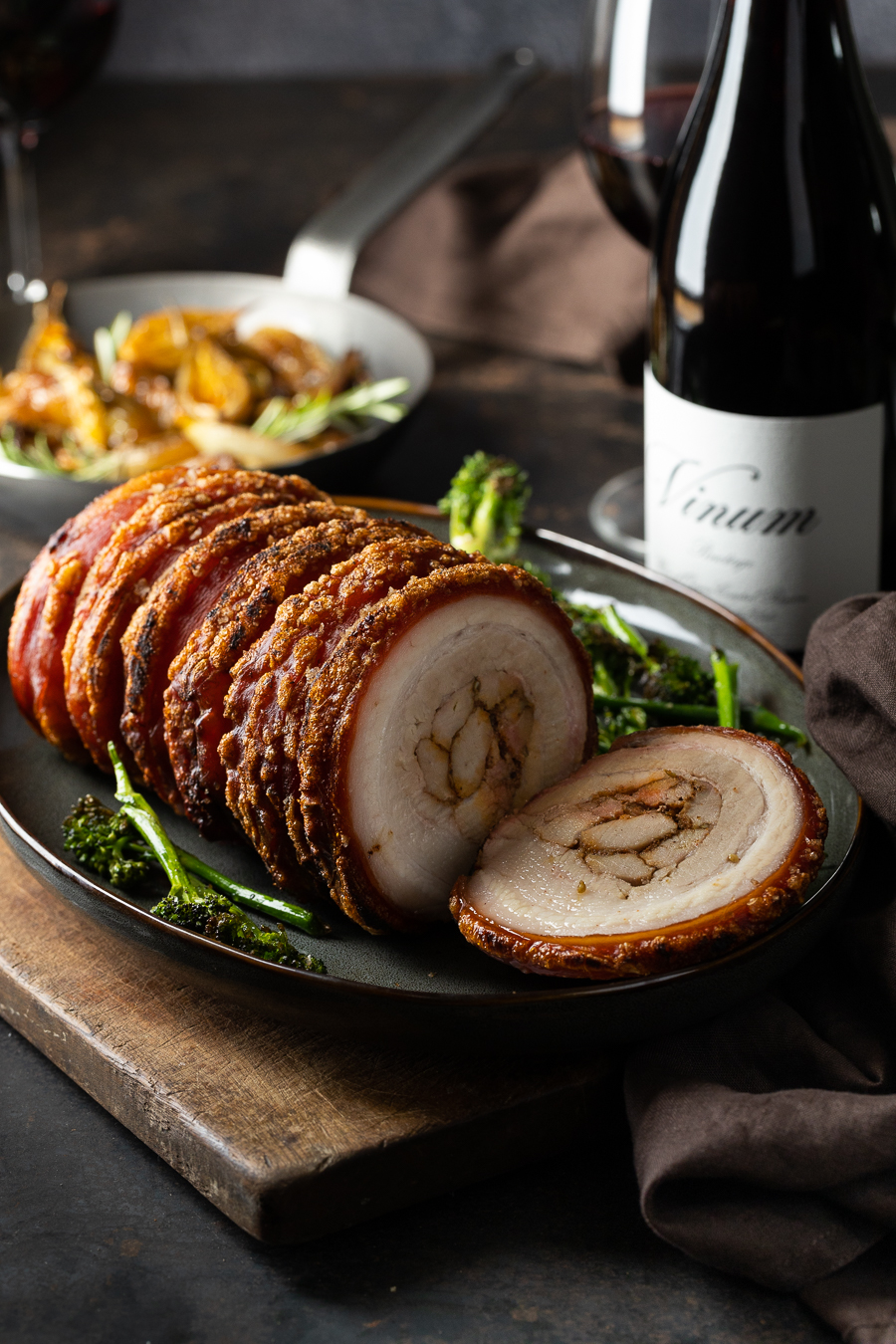 A golden pork belly with crispy crackling always gets rave reviews and it's a stellar addition to your flame-filled Heritage Day celebrations. I've rolled the belly up to keep the leaner meat in the middle as moist as possible – this also helps the rendered fat to roll down the sides and leave no pooling spots on the crackling.
Be sure to acquire your belly the day before you need to cook it, as the skin needs some time to dry out in your fridge overnight, for best results. Follow my Weber tips to a tee and you'll have lots of time to enjoy a glass of Radford Dale Vinum Pinotage while your meat slowly roasts to perfection. Serve with your choice of greens and these delightfully sweet and sticky balsamic onions, or add some salted halved potatoes to your drip tray for an extra indulgent side dish of pork fat roasted potatoes.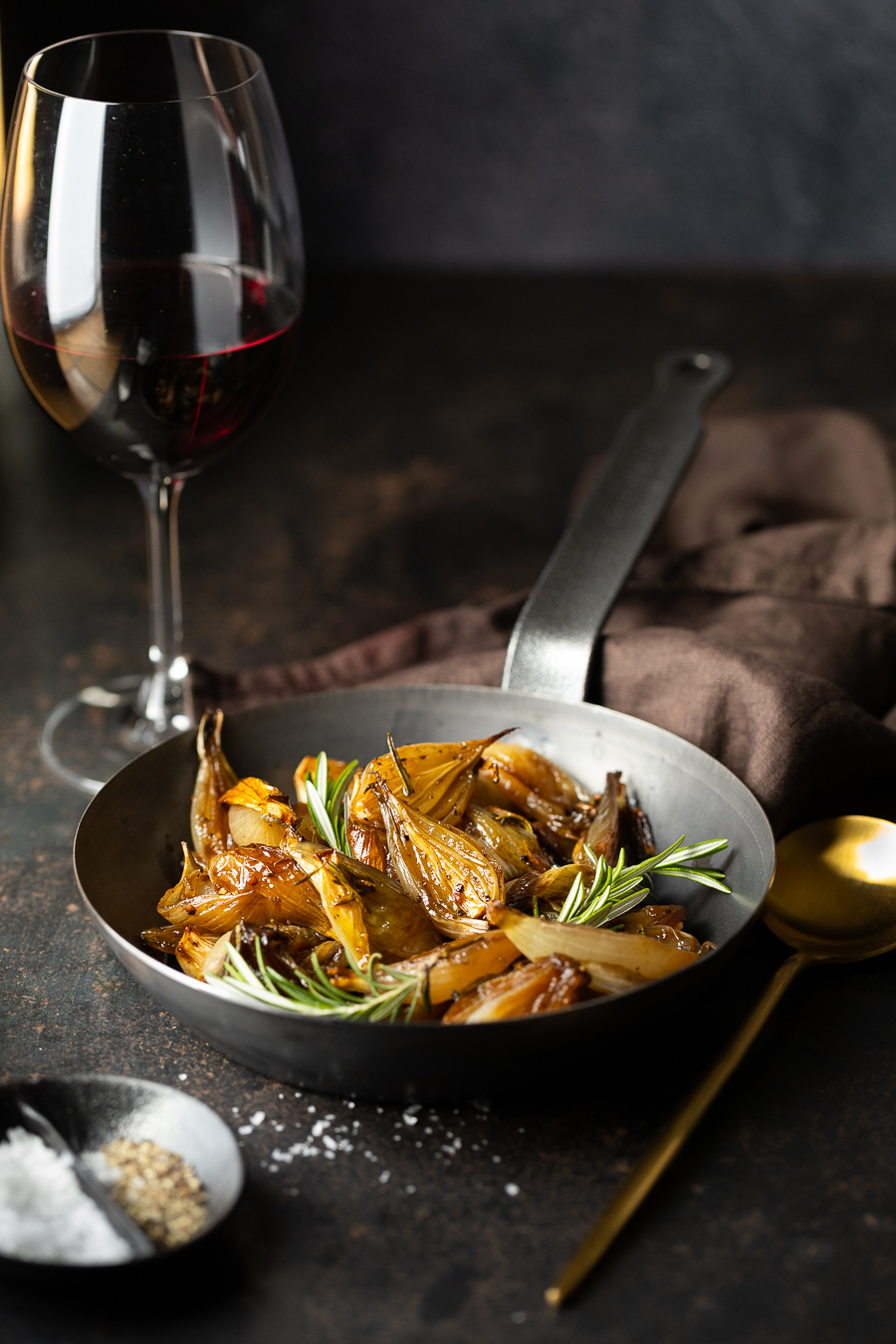 Ingredients: (serves 6)
2 kg boneless fresh pork belly (ask your butcher to score the skin)
10 ml salt
For the rub:
10 ml ground Chinese 5-spice
5 ml ground smoked paprika
5 ml salt
2,5 ml ground black pepper
15 ml extra virgin olive oil
For the onions: (can be made ahead and reheated)
500 g small pickling onions or shallots, **peeled and halved (keep smaller ones whole)
45 ml extra virgin olive oil
1 sprig rosemary, chopped (woody stalk discarded)
salt & pepper, to taste
15 ml sugar
45-60 ml balsamic vinegar
(**Save time by buying ready-peeled baby onions at some supermarkets like SPAR.)
Prepare the belly: Remove all packaging from the belly and place on a clean cutting board. Use kitchen paper to wipe it dry of any moisture. Place it on a clean baking/serving tray and salt the skin side liberally to draw out extra moisture (don't salt the meat surfaces yet). Protect the open meat edges with a thin strip of foil to prevent it from drying out, then place the belly uncovered in the fridge for a few hours (preferably overnight). The next day, use kitchen paper to wipe the damp salt from the surface (don't rinse it off).
Rub & roll the belly: In a small bowl, add the 5-spice, paprika, salt, pepper and olive oil. Stir to mix. Lay out the prepared belly skin-side down on a clean working surface or board, then use a pastry brush (or clean hands) to rub the mixture all over the meat-side. With some kitchen twine ready, test to see which side your belly needs to be rolled – the skin edges should just come together, not overlap (push the meaty side to the inside of the roll, compressing it together to form a neat log). Bind the twine tightly at intervals, trimming the edges. Lay the rolled belly seam side down, then cover/refrigerate until an hour before cooking (it needs to come to room temperature before cooking).
Roast the belly: Prepare your Weber / kettle braai for indirect heat (use a full chimney or about 42 briquettes) and light the charcoal. When the charcoal is white hot (after 15-20 min), place a drip tray where your meat will roast, place the lid on with vents open and let the Weber become very hot (about 15 minutes). Put the prepared belly on the grid over the drip tray (indirect heat), and cover immediately with the lid. Without peeking, roast for 30 minutes. Check if the belly has crisped up (give it 10-15 minutes more if needed), then half-close the vents on top and bottom to lower the temperature, and roast for another 2-2,5 hours (a good time to pop the onions into the oven, see below). Open the Weber and check with a meat thermometer – you're looking for an inner temperature of 80-90 C, depending on your liking for pork. Remove the belly and leave to rest for 15 minutes before carving (cover the sides if you want to, but don't cover the crackling). Carve and serve immediately with your choice of sides.
Prepare the onions: Preheat the oven to 180 C. In a large skillet or medium size roasting tray, add the halved onions then drizzle with olive oil, scatter with rosemary and season with salt, pepper and sugar. Roast for 40 minutes, then remove from the oven and pour the vinegar all over. Give it a gently stir, then turn up the heat to 200 C and roast for another 20 minutes until dark brown on the edges and soft in the centres. Remove and cool. Serve warm or at room temperature.
(*Notes for oven roasting: Preheat your oven to 230 C for at least 20-30 minutes and place a rack just above the middle. Line a roasting tray with foil and place a roasting rack inside with the rolled belly on top. Roast for 30 minutes until golden and crispy, then turn down the heat to 170 C and roast for another 2-2,5 hours until cooked to your liking. Rest the meat for 15 minutes, then carve and serve.)