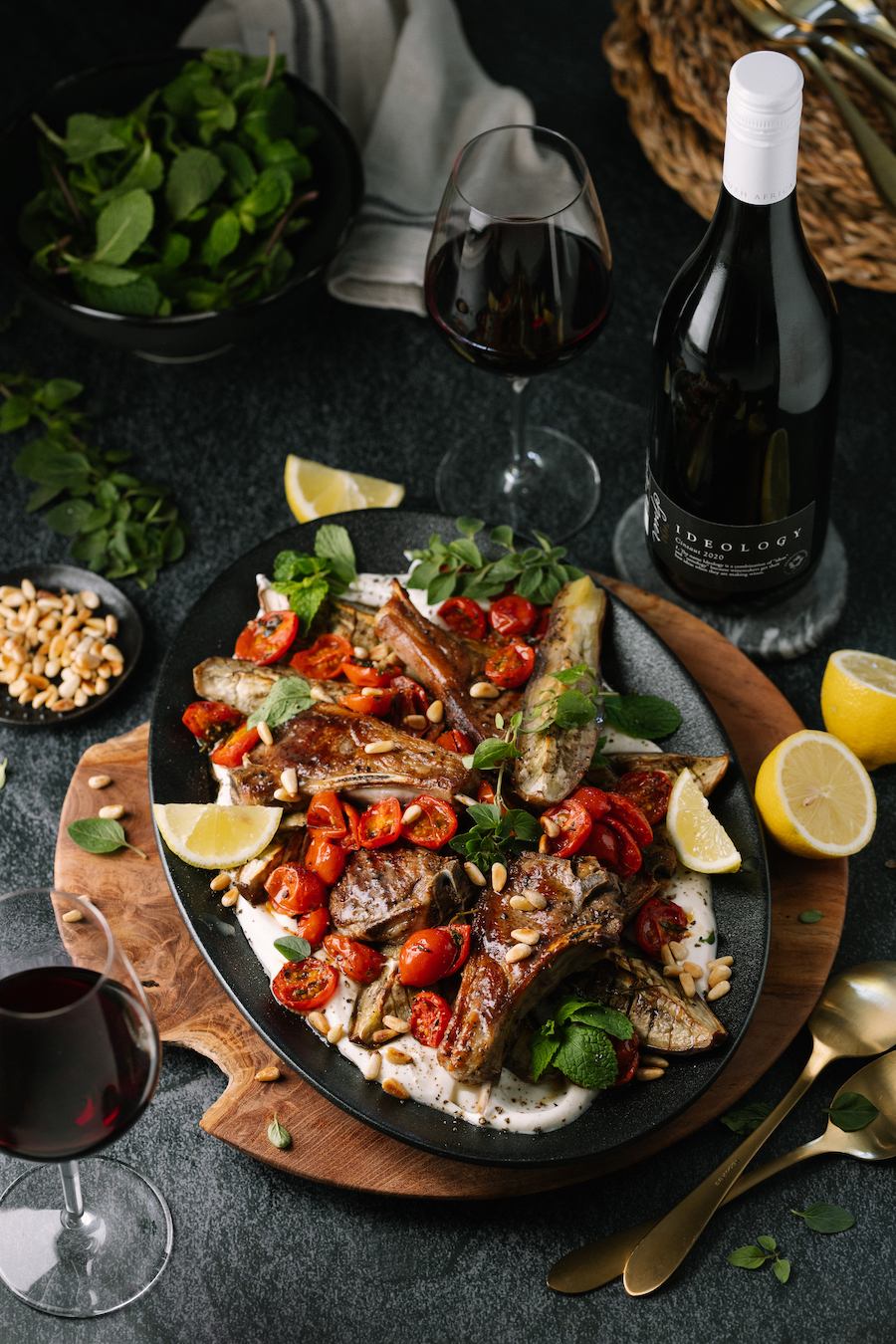 Welcome to another recipe in our Heritage Month Lamb and Wine pairing series with SA Lamb & Mutton. Everybody loves a classic braaied lamb chop, and these rib and loin chops were cut extra thick for that legendary crispy rendered fat edge. The chops were kept traditional with salt, pepper and a squeeze of lemon juice, but we've served them Mediterranean-style on a bed of creamy ricotta yoghurt with roasted aubergine, tomatoes, fresh mint and toasted pine nuts. It's a flavour packed addition to your Heritage Day celebrations, and the perfect partner to Spier Wine Farm's Ideology Cinsaut. Stand the chance to wine a case of this wine by checking out our giveaway on Instagram.
This recipe is the fourth in a series of five, created in proud collaboration with South African Lamb & Mutton and Spier Wine Farm for Heritage Month, September 2022 (photography by Tasha Seccombe).  Also check out our cooking video on Instagram (filmed by Reel Productions at Klipheuvel Farm's Jangroentjie Cottage).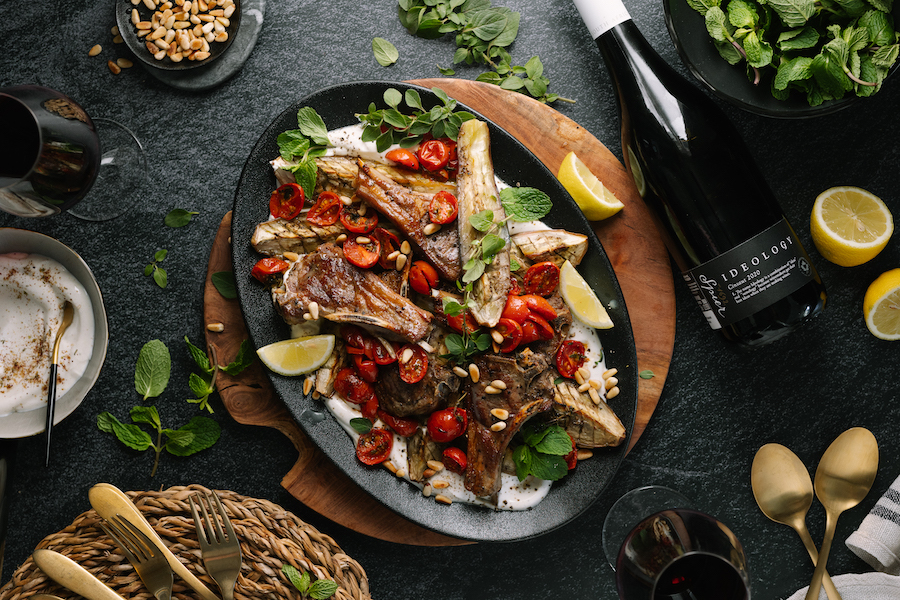 Ingredients: (serves 4)
For the roasted veg:
2 medium aubergines, quartered lengthways, scored diagonally with a knife
250 g baby tomatoes, halved
45-60 ml extra virgin olive oil (plus extra)
a few sprigs thyme, woody stalks discarded
salt & pepper
10-15 ml red wine vinegar
For the ricotta yoghurt:
250 g ricotta cheese
1 cup double cream yoghurt
½ teaspoon ground cumin
finely grated rind of a lemon (you'll use the juice for the chops, see below)
salt & pepper
For the chops:
8 mutton loin chops, thick cut
salt & pepper, to taste
1 lemon, halved
To serve:
lemon wedges
2-3 tablespoons pine nuts, toasted (or almond flakes)
a handful fresh mint leaves and/or fresh origanum leaves
a drizzle of extra virgin olive oil
Method:
Prepare the veg: Preheat the oven to 220 C. On a roasting tray lined with baking paper, arrange the scored aubergine quarters & tomato halves, then drizzle all over with olive oil, sprinkle with thyme and season with salt & pepper. Roast for 20-25 minutes or until the aubergines are soft and the edges are turning brown. Remove from the oven, then drizzle the tomatoes with vinegar, and the aubergines with a little more olive oil. Set aside.
Prepare the creamed ricotta: in a blender, add the ricotta, yoghurt, cumin, lemon rind and season lightly with salt & pepper. Process until smooth, then cover and set aside until ready to serve.
For the chops: Season the chops with salt pepper on both sides and grill over hot coals until the fat edges are crispy and the meat is just cooked. Remove from the fire and leave to rest for 5 minutes. On a platter, swirl the ricotta mixture on the bottom, then top with the roasted veg and chops. Finish with lemon wedges (focus on the chops), a drizzle of olive oil, and some fresh herbs. Serve at once.