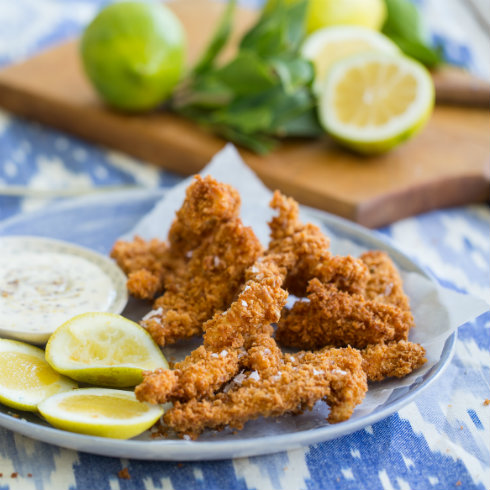 My 3-year old daughter is not a big meat lover. I've always had to find inventive ways of getting her to eat more proteins, so when I discovered that she liked my paprika chicken strips I was over the moon.
I started making these strips because I simply love the taste of a crispy crumbed piece of chicken, and they make amazing snacks for my husband's favourite pastime (watching rugby). I found that really fresh chicken breasts (never frozen, preferably free range) give the best results, and that a whole-grain loaf of bread gives fantastic extra crunch in terms of the crispy outer coating – yes, it's really better than regular white.
Although I'm sure you could also bake these in the oven, I prefer to deep-fry my chicken strips in canola oil. We don't eat deep fried food often in my house, but the effect in this case is so light and perfect that I would really recommend it. And remember, canola oil is very high in Omega 3 and 6, so we're cooking with the good stuff!
These strips are a great way of stretching a regular packet of 4 chicken breasts – you'll be surprised how many mouths it will feed as a snack, especially if you add a dip like my honey mustard yoghurt mayo (or guacamole, or any dip of your choice). Very addictive for old and young alike. Enjoy!
Ingredients:
about 8 slices of whole grain bread, processed to crumbs in a food processor
1/2 cup flour (white or whole wheat)
10-15 ml smoked paprika (or regular paprika)
1/2 teaspoon salt and some freshly ground pepper to taste
3 XL eggs, lightly whisked
4 medium size chicken breasts, skinless and boneless
about 750 ml canola oil for frying
Method:
Place the breadcrumbs in a wide shallow bowl (I use a few pasta bowls to create a nice prepping station).
In a second wide bowl, mix the flour, paprika, salt & pepper.
In a third wide bowl, place the whisked eggs. You should now have a prepping station of 3 bowls.
Slice the chicken breasts into thin strips of about 0.5 cm thick, against the grain of the meat. Take one strip at a time, then firstly dip it into the flour mixture, then the egg mixture, and directly into the crumbs. Lightly pat the crumbs onto the eggy chicken strip to ensure the crumbs stay in place, then lay the crumbed strip on a tray/platter. Continue until all of the strips are coated and ready for frying.
In a medium size pot, heat the oil over medium high heat (we're looking for about 180 C, if you have a thermometer). Carefully add about 6-8 strips into the hot oil at a time, frying them for about 2-3 minutes a side until they are golden brown. Remove with a slotted spoon and drain on kitchen paper. Repeat in batches with the remaining prepared strips, changing the kitchen paper when necessary.
Serve warm or at room temperature with a dip of your choice.
For my honey mustard yoghurt mayo: Take about 1/2 cup of mayonnaise, 1/2 cup of Greek yoghurt, 2 heaped teaspoons of whole grain mustard, and a good squirt of honey. Mix together and serve as a dip with the chicken strips.
Credits:
This post was originally written for The Pretty Blog by Ilse van der Merwe from The Food Fox.
Recipe, food preparation and text: Ilse van der Merwe
Photography: Tasha Seccombe
Styling: Nicola Pretorius