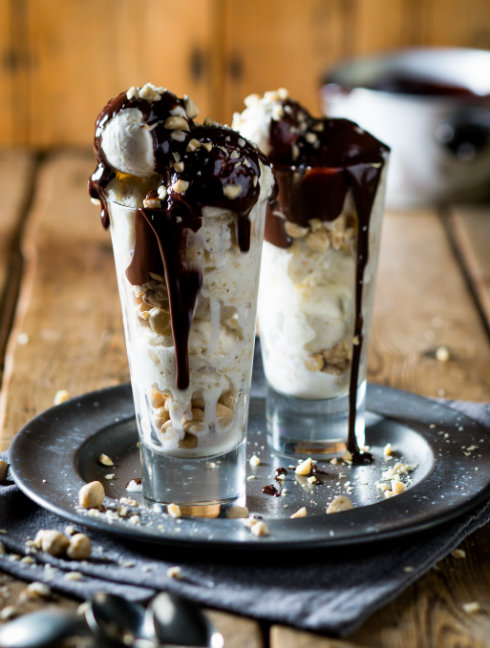 Woolworths recently approached me to become involved with their very exciting Flavour Society campaign (#wwflavoursociety), where the flavour of the month is chocolate. Check out their amazing pin board this month on Pinterest.
As a part of this campaign, they asked me to develop a special recipe of my choice using chocolate. Seeing that I'm already a sucker for all things cocoa, there was no problem in finding inspiration. I thought about doing a chocolate cake, or maybe a chocolate terrine. Or what about some chocolate truffles? It had to be something that really tickled my emotional connection with chocolate, and maybe something that brought back some sweet childhood memories – an easy recipe with maximum results and instant drool-worthy craving satisfaction. So I decided to make a chocolate sundae. When last did you have one?
As an adult, I don't order a chocolate sundae very often these days. But if someone would offer it to me, there's just no way of saying no. In fact, now that I think of it, it's probably the best way of ending any dinner – offering your guests something that would make them feel like kids again.
So here's a recipe for some of the best chocolate peanut butter sundae sauce you'll ever taste, plus a recipe for making your own cheat's versions of roasted banana ice cream using real bananas, brown sugar, and a tub of store-bought vanilla ice cream. Add as many extra chopped nuts, fresh banana, pieces of fudge or whipped cream as you want. It's going to be a messy, happy, affair – I can promise you that. I'll be the one drinking the sauce from the jug.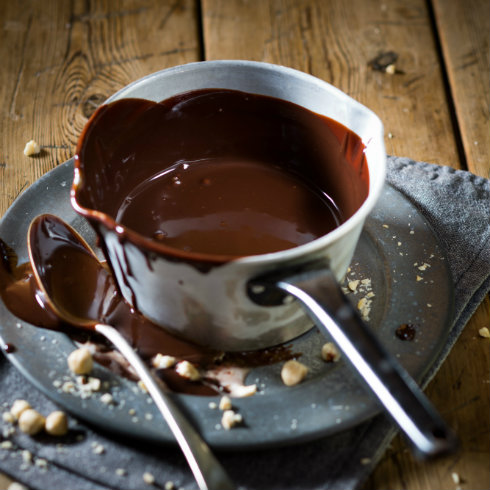 Chocolate peanut butter sundae sauce:
Serves 6
200g dark chocolate, roughly chopped
125ml (1/2 cup) smooth peanut butter
250ml (1 cup) cream
45ml (3 Tbsp) golden syrup
15ml (1 Tbsp) butter
a pinch of salt
Method:
Place all the ingredients in a small saucepan over medium heat on the stove top, then stir regularly until the chocolate has melted and the sauce is smooth and glossy. Use a wire whisk right at the end to whisk the mixture vigorously if it still looks grainy – it should be totally smooth.
Cheat's roasted banana ice-cream:
Serves 6
3 large ripe bananas
15ml (1 Tbsp) demerara sugar (or brown sugar)
2 litres store-bought vanilla ice cream
Method:
Pre-heat oven to 220C. Line a baking sheet with baking paper.
Peel the bananas and half them lengthways. Place the bananas on the lined baking tray and sprinkle with the sugar. Bake for 10 minutes at 220C, then remove from the oven and leave to cool completely. In the meantime, take the ice-cream out of the fridge to become soft – about 30 minutes.
When the bananas are cool, transfer the bananas to a blending cup and use a stick blender (or food processor) to blend to a smooth pulp.
Transfer the ice cream to a large mixing bowl and add the banana pulp. Mix thoroughly, then return to the ice-cream container and refreeze for a few hours until it is hard enough to serve with an ice-cream scoop.
For assembling the sundae:
Makes 6 large sundaes
1 batch chocolate peanut butter sundae sauce, warmed
1 batch cheat's roasted banana ice cream (or your favourite flavour store-bought ice cream)
about 250g roasted nuts (I used hazelnuts, but peanuts also work very well)
Method:
In a tall glass or dessert bowl, place some nuts at the bottom, then follow with a scoop of ice-cream, more nuts, and more ice cream. Top with hot chocolate sundae sauce and more chopped nuts. Serve immediately. The sauce will get thick and fudgy when left to cool on top of the ice-cream.