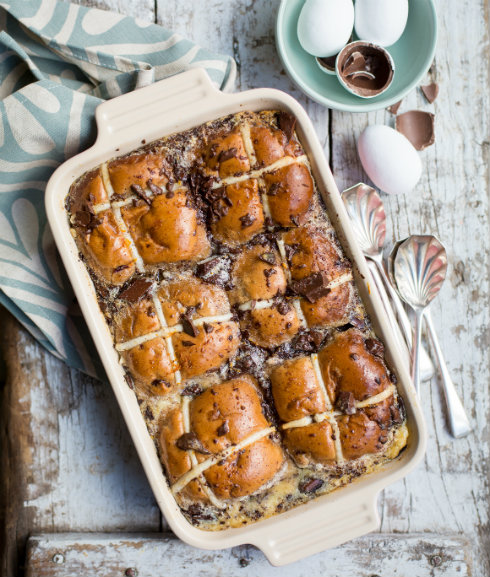 I love the idea and smell of a tray of fragrant hot cross buns – not only for Easter, but anytime of the year. The thing is, they need to be really fresh in order to be enjoyed as they are, maybe with a few lashings of farm butter. Otherwise they can be quite disappointing.
Well, here's a way of turning your store-bought hot cross buns "the day after" into something a bit more crave-worthy: a bread and butter pudding. In this case, no butter is added, so we'll just call it a hot cross bun pudding.
I've used a combination of cream, milk and eggs to make the custard base, then added some finely grated orange rind, mixed spice and some chopped dark chocolate to the party. The trick is to let the buns soak for 30 minutes to an hour to get really soft, that way you won't be stuck with dry pieces here and there.
This pudding is fabulous for your Easter celebrations this long weekend, and I promise your family will go back for seconds. No extra custard is needed, but a scoop of vanilla ice cream won't hurt.
Ingredients:
500ml (2 cups) cream
250ml (1 cup) milk
80ml (1/3 cup) caster sugar
6 eggs
about 15ml finely grated orange rind
5ml ground mixed spice  (a mixture of ground cinnamon, nutmeg & cloves)
6-8 hot cross buns (I chose ones with added pecans & cranberries)
80-100g dark chocolate, roughly chopped
Method:
In a mixing bowl, add cream, milk, sugar, eggs, orange rind and mixed spice. Whisk to combine thoroughly, and to make sure the sugar has melted.
Cut each hot cross bun in half horizontally, then arrange the bottom halves inside a medium size deep baking dish. They should fit snugly, so cut them to size if needed.
Pour the custard mixture over the bun bottoms, so that they are just covered with the mixture, then sprinkle with half of the chopped chocolate. Now arrange the top halves of the buns on top of the bottom layer, pressing down gently, and pour the rest of the custard mixture over the buns until you almost reach the rim of the baking dish (you might still have some custard mixture left, wait for the buns to soak up some of it, then pour over some more). Sprinkle with the rest of the chocolate.
Let the pudding soak for 30-60 minutes, then bake in a pre-heated oven at 160 C for 55-60 minutes. The top should be golden brown, and the middle should still have a slight wobble to it. Remove from the oven and leave to rest for about 15 minutes before serving. Serve warm or at room temperature.
Credits:
This post was originally written for The Pretty Blog by Ilse van der Merwe from The Food Fox.
Recipe, food preparation and text: Ilse van der Merwe
Photography: Tasha Seccombe
Styling: Nicola Pretorius