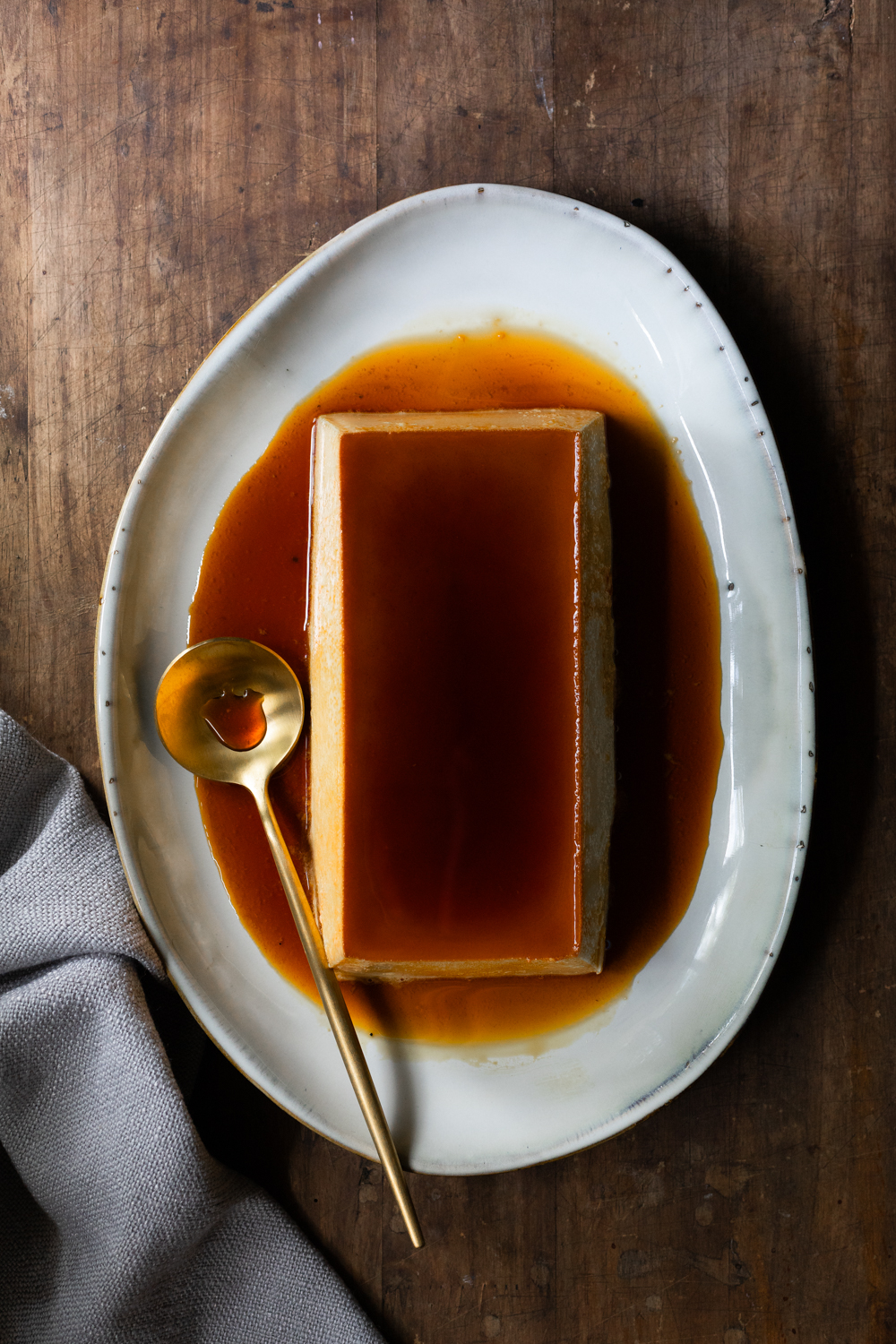 To me, baked custard is the ultimate dessert. Whether it's creme caramel, creme bruleé or any variation on it, it's where my mind sinks into a dreamy state of bliss. It must be the combination of soft milky dairy enriched with silky egg and deep sugary caramel flavours – there's just no match for it. No crust, no base; simplicity defined.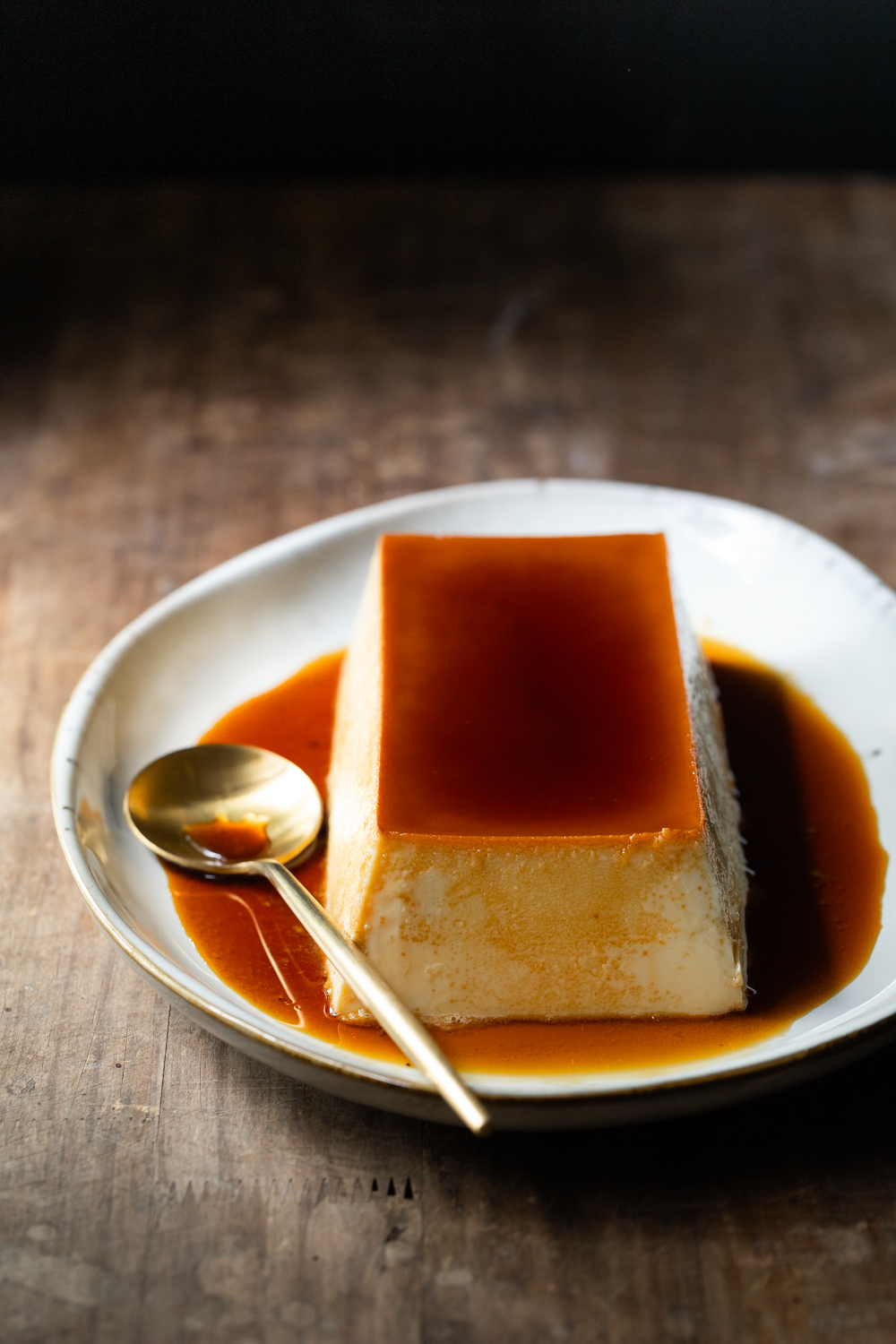 Over the years, I've made countless variations on a classic crème caramel (even including a recipe in my second book, Simply Seasonal) – mostly using milk, eggs and sugar. But recently, I remembered that I once came across a recipe on the back of a condensed milk can's label for an easy "Peruvian-style flan", very similar to crème caramel but made with condensed milk. After searching for it online, I found various recipes that matched it, then made my own notes to find the middle ground. All of the custard ingredients (sweetened condensed milk, fresh milk, eggs and vanilla) are simply mixed together in a blender without the need for tempering custard on the stove-top, and poured into the prepare tin with caramel at the bottom, baked in a water-bath. The effort is small, yet the result is the silkiest I've ever come across. I then adjusted the ingredients to fit a small loaf tin, and adjusted the baking temperature and time after testing it in my oven.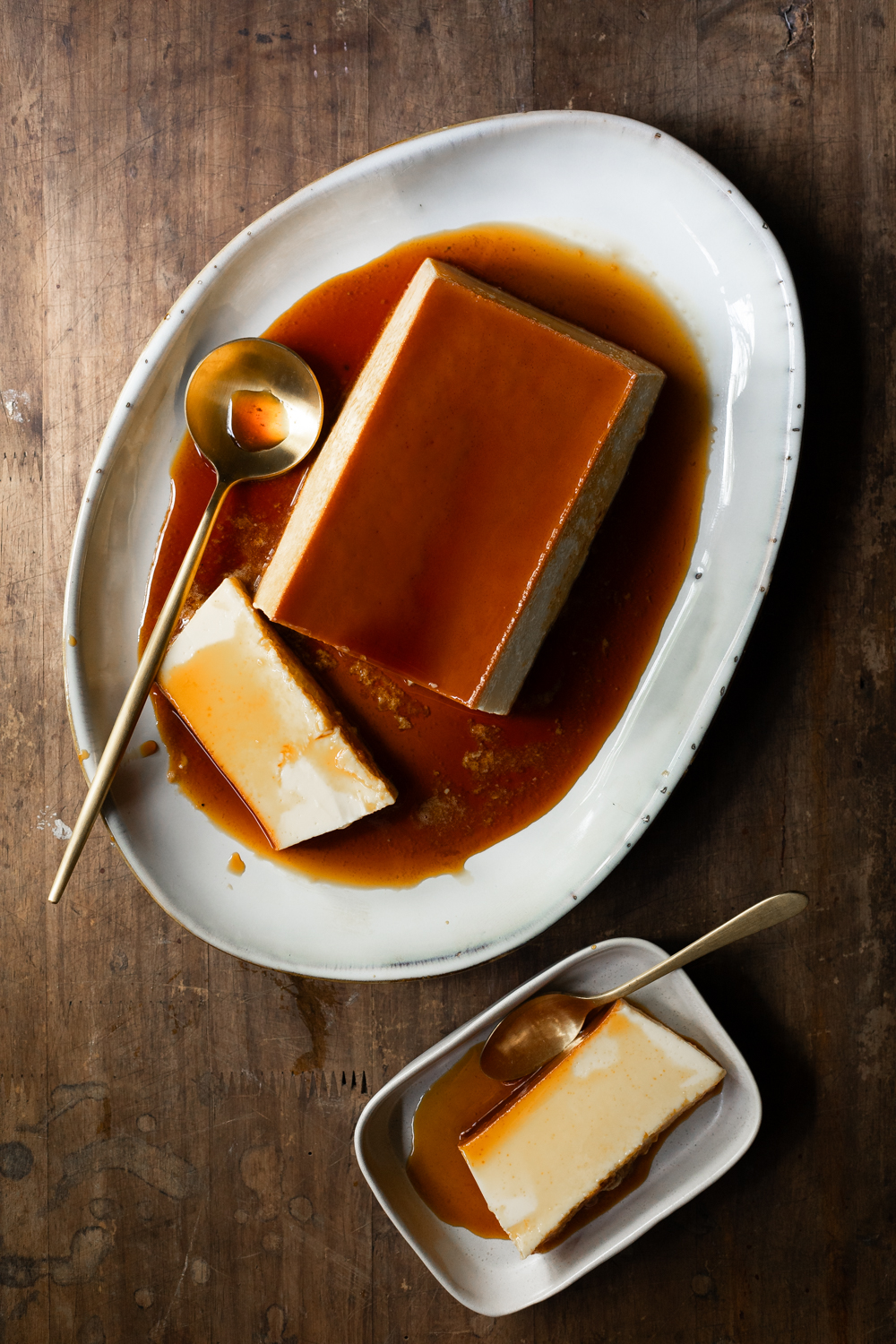 Making one large flan looks gorgeous, generous, and might I say, even daring. I've always been a little cautious of having to flip that gentle flan over and keep it in one piece, but I promise you it's not difficult at all! If you prefer, you can certainly also bake them in individual ramekins (just adjust the baking time as mentioned below).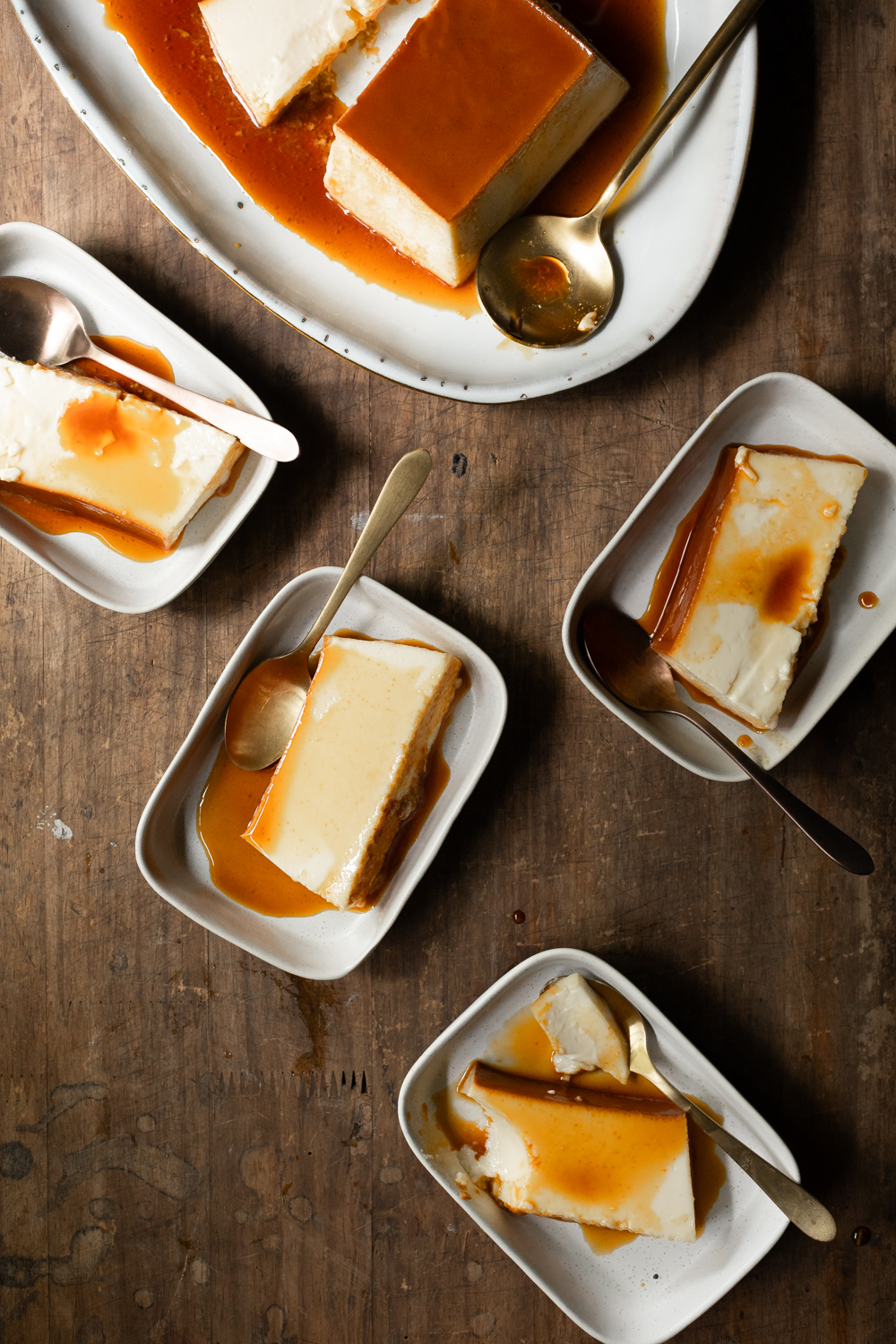 This is a wonderful make-ahead dessert, as the flan needs to set overnight in the fridge, and the caramel layer needs time to melt upon standing (mine never fully melts, but I do recommend to make it at least a day head, preferably 2 days, and even 3 days for optimal sauce yield).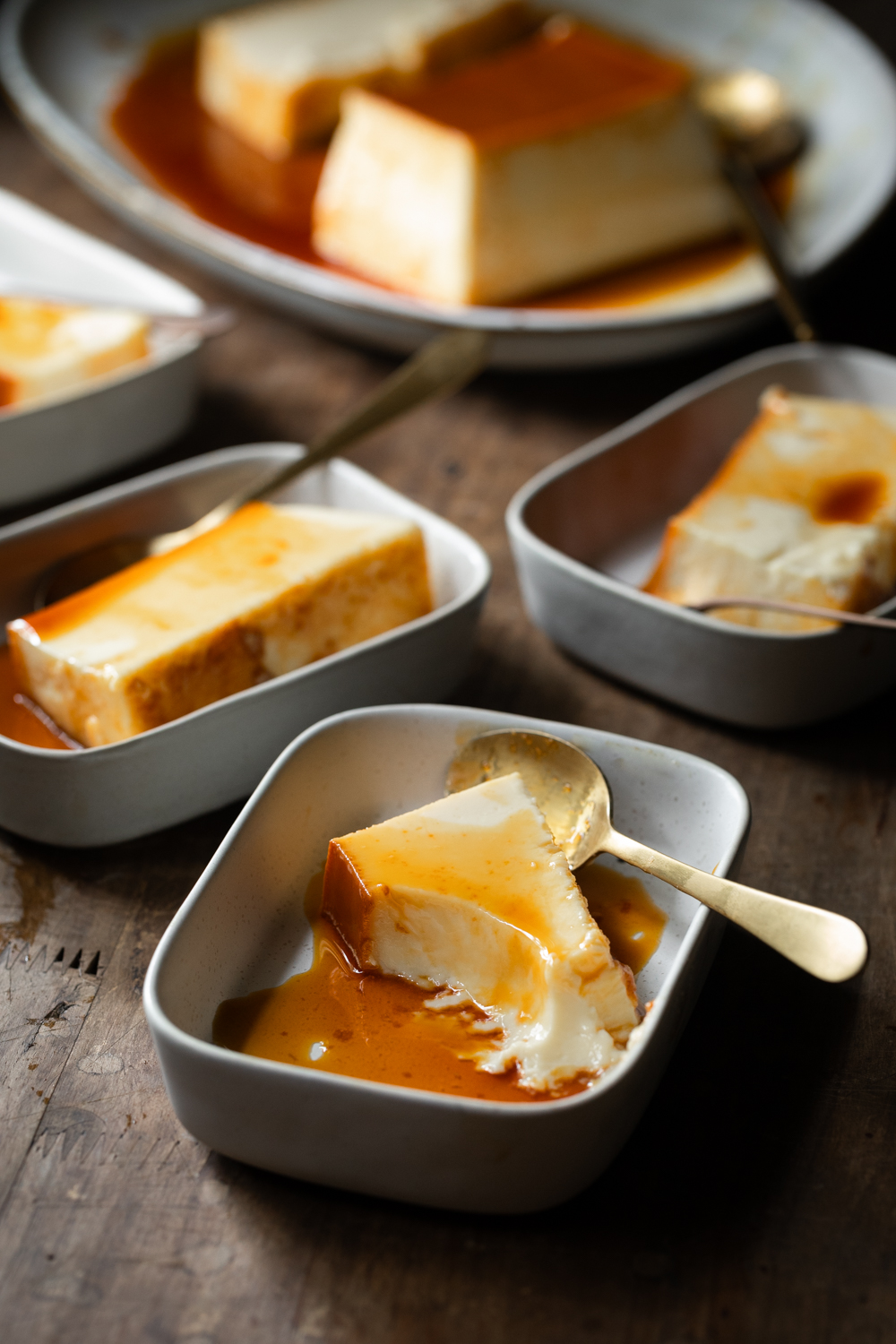 Notes: 1) I always use free-range XL eggs in my kitchen – if you use smaller eggs, you might have to add another for the flan to be stable enough for cutting and serving. 2) This flan is baked in a 1 liter capacity loaf tin and will yield 6 small servings or 4 generous medium size servings. 3) If you prefer to bake this mixture in individual ramekins, reduce the baking time to 40 minutes for 6 small ramekins.
Ingredients: (serves 4-6)
150 g (3/4 cups) white sugar
30 ml (2 tablespoons) water
4 XL eggs
1 x can sweetened condensed milk
300 ml fresh milk (fill up the empty condensed milk can to the top, it's the perfect amount)
2,5 ml (1/2 teaspoon) vanilla extract
a pinch of salt (optional)
Method:
Using a 1 liter capacity metal loaf tin (or cake tin), spray lightly with non-stick spray. Keep a second loaf tin ready, slightly larger than the one you'll be using for your flan, and boil a filled kettle of water for later. Heat your oven to 150 C with rack in the middle.
Prepare the caramel: Place the sugar and water in a small pot or saucepan over medium heat. Tip the pot from side to side every now and then while the mixture is heating up, allowing the sugar to melt without stirring. Bring to a boil and continue to cook for a few minutes until the mixture starts to take on a light golden colour. Swirl the pot again, carefully, and turn down the heat to low, while the colour starts to darken. When you have reached a beautiful amber, carefully remove from the heat and immediately tip the hot caramel into the sprayed tin – leave it to cool while you prepare the custard mixture. Tip: Set the hot pot aside to cool completely – you can fill it with water later to dissolve any remaining hardened caramel.
Prepare the custard mixture: To a blender, add the eggs, condensed milk, fresh milk, vanilla and (optionally) salt. Blend well, then pour it into the loaf tin with the caramel already at the bottom (I pour it over the back of a spoon to prevent an indent in the caramel, if it hasn't hardened completely yet.) Place the tin inside the slightly larger tin, and fill the gap between the tins with recently boiled water, about 3/4 of the way up the smaller loaf tin's sides. Place the prepared tins in the heated oven (middle rack) and bake for 1 hour 10 minutes*. Remove from the oven, then leave to cool completely in the water-bath. Remove from the water-bath, then cover with foil or plastic and refrigerate overnight to set fully.
To serve, remove the foil/plastic cover, then run a thin sharp knife all along the edges to loosen the flan. Turn a large serving plate over on top of the tin. Gripping it firmly together, turn them over (with plate now on the bottom) and give it a gently shake – you'll hear a soft shucking noise as the flan releases itself from the tin. Carefully lift the tin and use a spatula to scrape the remaining caramel into the serving plate (there might still be some hardened caramel left which you won't be able to get out – just add water and let it soak before washing). Serve cold, sliced carefully and plated with a cake spatula into small plates, with some caramel sauce drizzled over.
Notes:
If left to cool to return to room temperature after releasing the flan from the baking tin, the flan will become less firm and more difficult to slice and handle. It is therefor best to slice and serve while still cold.
*Your flan will get some colour in the oven, but if it looks too dark at any stage, just cover with a layer of foil and continue to bake.
After the full baking time, the flan should still be very wobbly, but not runny. It will continue to firm upon cooling and will only set fully once completely refrigerated, preferably overnight.
This flan can be made up to 3 days ahead. Turn out right before serving.