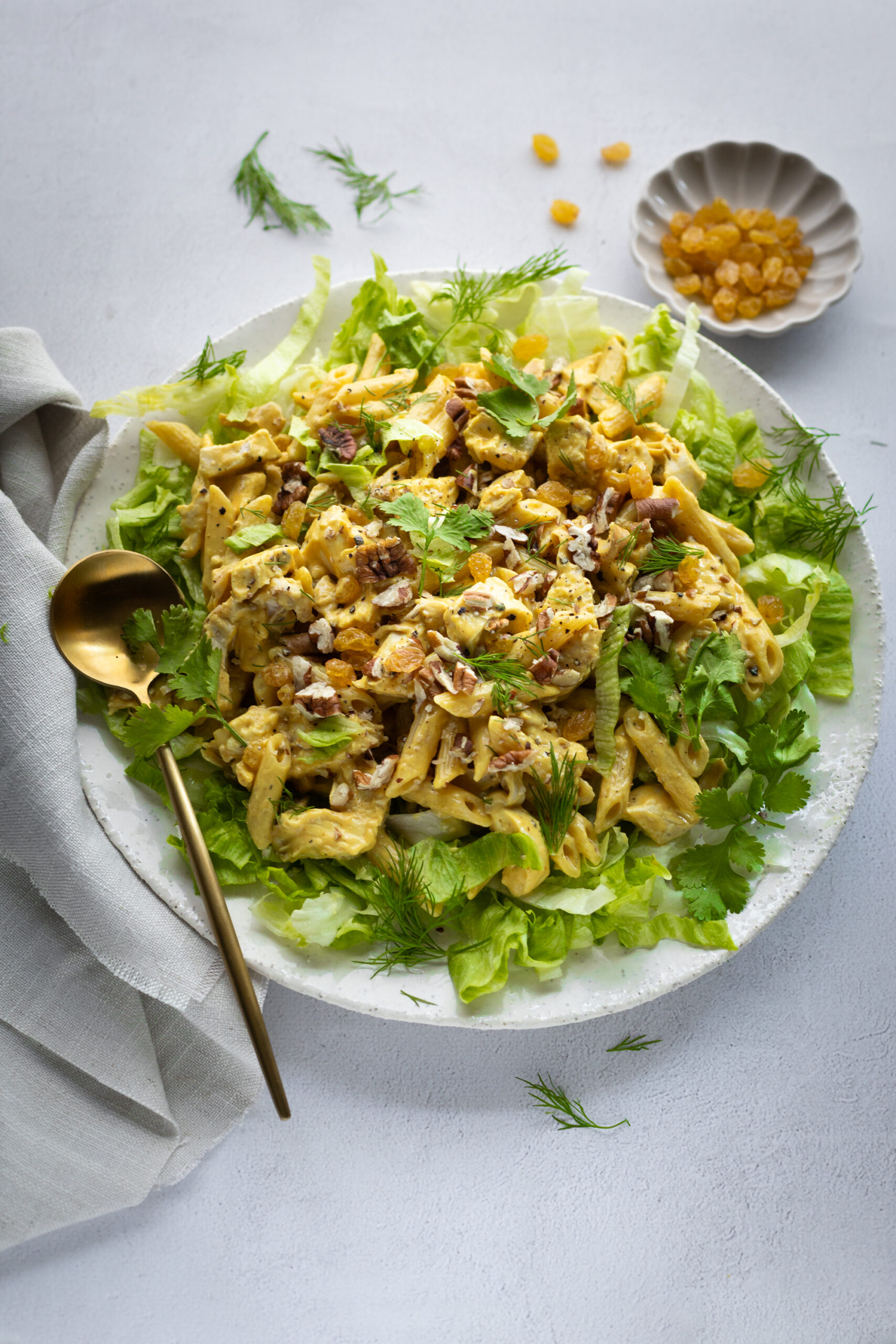 As the earliest signs of Spring are rearing their fragrant heads around me, I start longing for the comfort of cold and room temperature picnic food. This super easy coronation chicken pasta salad ticks all the boxes, and is made with the help of a few store-bought products – for when you really want to put something together in a flash.
It was sometime within the past year that my friend Tasha Seccombe casually mentioned coronation chicken in a chat while we were working together on set, only to find out that I had no clue what it was. I simply had never come across it, and my parents never made it for us as kids. Well, retro as the dish may be, it is undeniably a classic – creamy curried sauce with a hint of sweetness, stirred through cooked shredded/sliced chicken, often used as a sandwich filling. Then I recently saw Ina Paarman's ready-to-use Creamy Curry Sauce on the shelf, which is a coronation-style sauce, so I simply had to try it.
This salad is hearty and forgiving, and makes superb left-overs (or office lunches for the next few days). The added sultanas provide a fabulous chewy sweetness, and the toasted pecan nuts some welcome crunch. Without the pasta, it will make a lovely sandwich filling too.
Friends, the year will be screeching towards Festive Season soon, as the first Black Friday sales are also starting to make headlines. Get the early lowdown on Superbalists' Black Friday 2023 deals.
Coronation chicken pasta salad INGREDIENTS: (serves 4)

1 medium (or 1/2 large) rotisserie chicken, meat deboned and chopped
3-4 tablespoons sour cream (or plain yoghurt or mayonnaise)
1/2-3/4 cup golden sultanas or yellow currants
1/2 cup pecan nuts, lightly toasted and roughly chopped (or walnuts)
a handful fresh coriander/dill, roughly chopped
250 g pasta (I used penne, but fusilli or small shells will also do), cooked al dente, rinsed under cold water and cooled
salt & pepper, to taste
2-3 cups shredded crunchy lettuce, optional
Method:
In a large mixing bowl, add the chopped chicken, curry sauce, sour cream, sultanas, nuts and herbs. Give it a good stir, then add the cooked cooled pasta and stir through, seasoning with salt & pepper. Serve on a bed of shredded lettuce (optionally), and store leftovers in the fridge for up to 3 days.