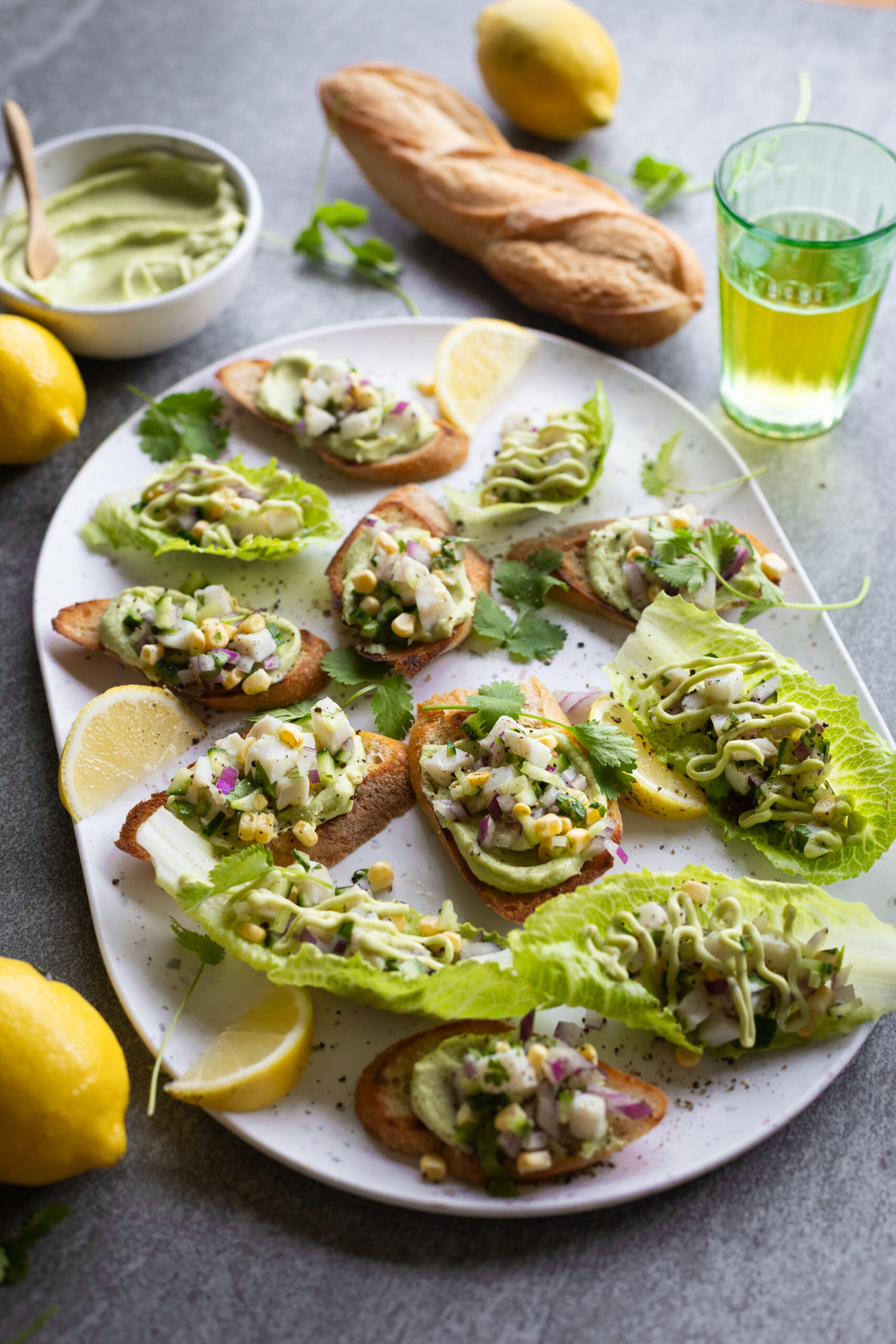 Ceviche can be enjoyed any time of year, for brunch, lunch or as an elegant dinner starter. If you're not familiar with this classic Peruvian dish, it is fish (or sometimes other kinds of seafood), naturally cured with fresh citrus juice like lemon or lime. I've taken a fresh look at ceviche as a canapé with the zesty flavour of LemonGold juice, fresh corn, red onion, cucumber and coriander, served on olive oil toasted crostinis with a generous scoop of smooth guacamole. For a gluten-free option, spoon into crunchy lettuce leaves. LemonGolds are virtually seedless and extra juicy, so they're a joy to work with!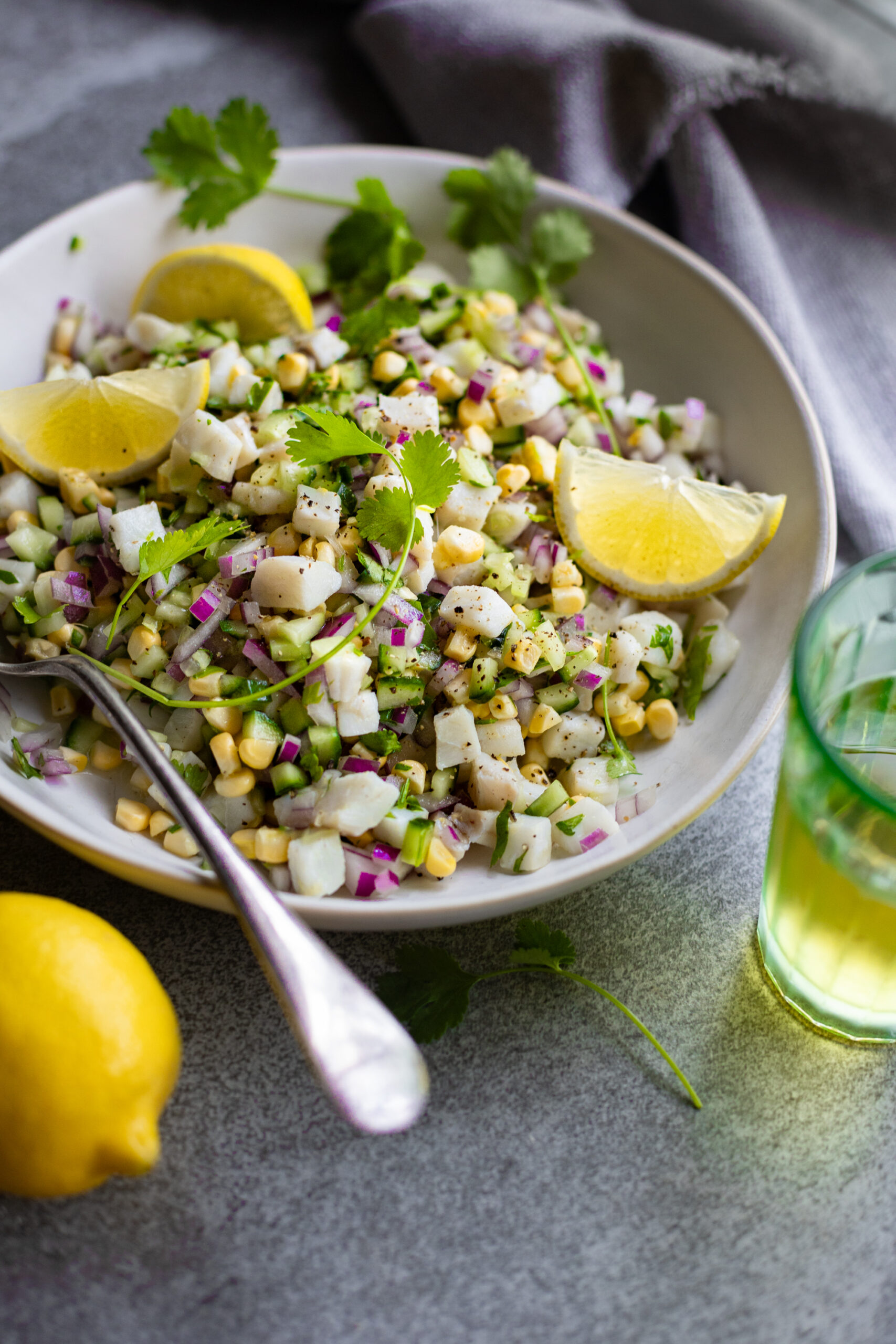 Note: Use only the freshest white fish fillets you can find, otherwise, flash frozen kingklip or something similar will also work perfect. Cut the kingklip while still slightly frozen, then only add the juice when completely thawed.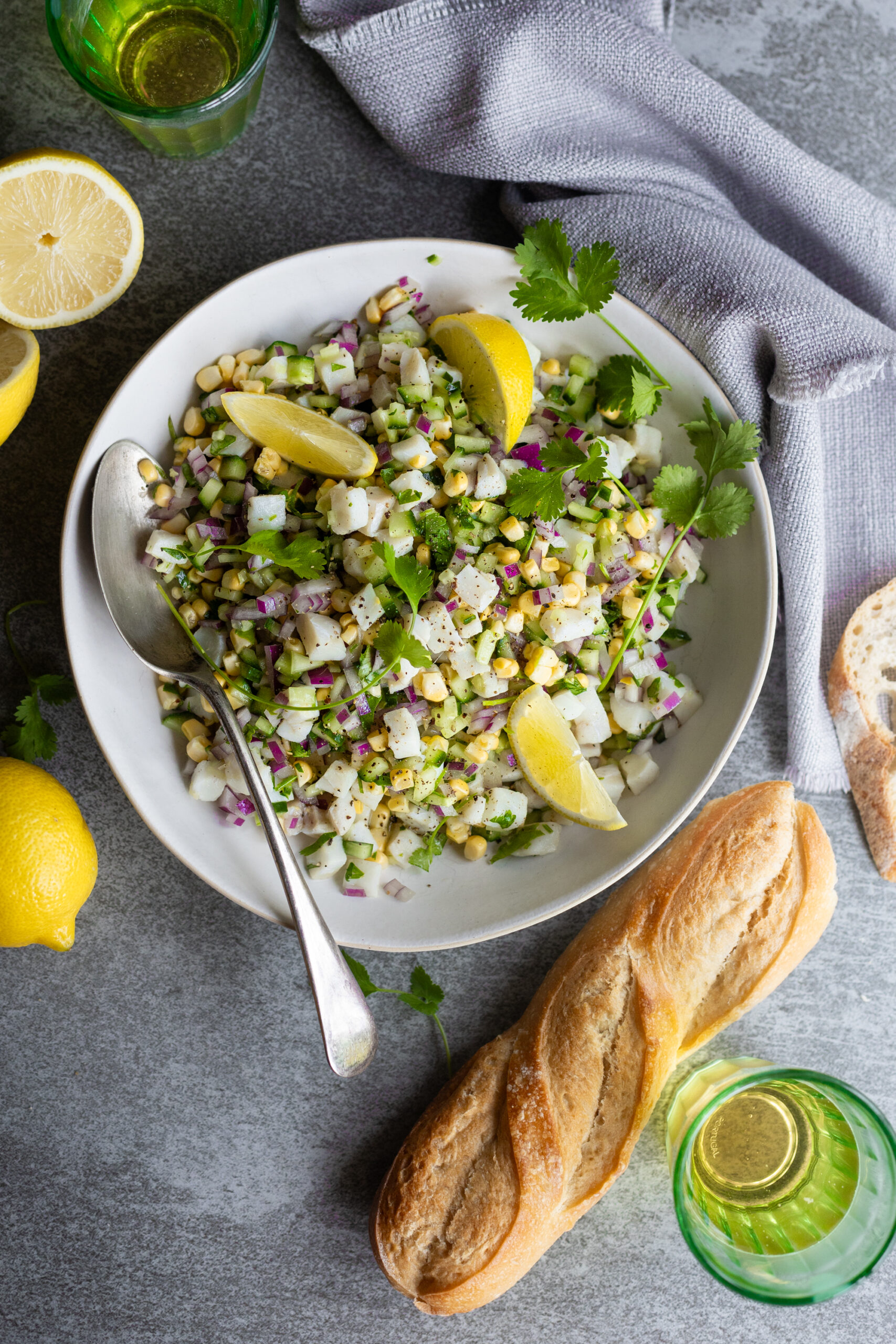 Watch my Instagram reel to see how I make it.
Ingredients: (serves a crowd)
For the ceviche:
300-400 g fresh boneless white fish fillets, skin removed
juice of 2-3 LemonGolds
a pinch of salt
2 mealies, corn sliced from the cobs (cobs discarded)
1 small red onion, finely chopped
½ small/medium cucumber, seeded, finely diced
a handful fresh coriander, chopped
30 ml extra virgin olive oil
salt & pepper, to taste
For the guacamole:
2-3 medium size ripe avocados, skinned and pip removed
juice of a LemonGold
¼ teaspoon ground cumin (optional)
salt & pepper, to taste
To serve:
1 long baguette, sliced thinly into rounds
olive oil for brushing
a small bunch baby gem lettuce, leaves washed & drained
Method:
For the ceviche: Slice the fish into small cubes and place in a medium mixing bowl. Top with the LemonGold juice, pinch of salt and stir to mix – you want to almost cover the fish with juice, but not completely. Cover and leave in a cool place to cure for 25-30 minutes until white/opaque, stirring half way through (during warmer months, leave in the fridge). When the fish is ready, drain the excess juice. Add the corn, chopped onion, cucumber coriander and cured fish to a bowl, top with olive oil and season with salt & pepper. Stir to mix, then set aside, covered in the refrigerator until ready to plate. Arrange the sliced baguette on a roasting tray, brush with oil and toast at 200 C until just golden (4-6 minutes). Remove from the oven, transfer to a serving platter, then spread with guacamole and top with the ceviche mixture. Serve at once, as the crostinis will lose their crunch on standing.
For the guacamole: Into a blender, add the avocado, LemonGold juice, cumin, salt and pepper. Blend to a smooth puree, then transfer to a bowl and drizzle all over with Lemongold juice to prevent browning. Cover until ready to use (don't make too far ahead, it is best used immediately).
Note: For the lettuce cups, spoon the ceviche mixture into each hollow lettuce leaf, then use a piping bag to pipe guacamole on top.
(This post was created in proud collaboration with LemonGold.)