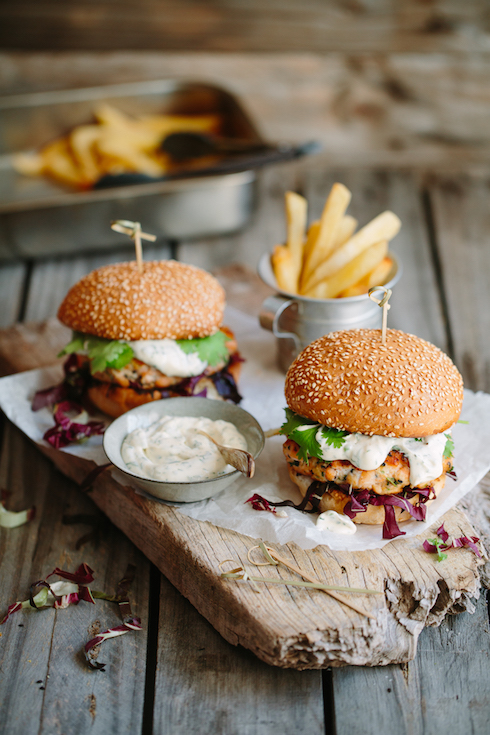 I had the pleasure of developing a burger recipe for the Hellmann's #rockyourburger campaign last year via The Pretty Blog. I realized today that I haven't posted it here, and with such a delicious recipe it simply has to be featured.
Seeing that all the classic burgers have been done over again, I decided to give a new twist to a less common yet luxurious favourite: a hand-chopped salmon trout burger made from fresh, raw fish (not cooked, like most other fish patties), pan-fried to pink perfection and served with a sharp and creamy Hellman's dill mayonnaise.
My salmon trout burger is, surprisingly, eggless and contains very little bread crumbs – just enough to get the right texture. For a binding agent, I've pulsed a small piece of fresh salmon-trout with some Dijon mustard and mixed it into the fish cubes along with fresh ginger, chopped coriander and grated lemon rind. The result is a textural fish patty with phenomenal flavour that holds shape, but also with the added ability to slightly undercook the centre, which is just what you want with beautiful fresh salmon-trout.
The dill mayo is perfect with the burger, but also great with some crisp, oven roasted potato chips. Layer your burger with shredded red lettuce and more fresh coriander to taste. Fish burgers don't get better than this.
Note: Salmon trout is a common term given to describe freshwater or seawater trout that resembles salmon. Trout and salmon are from the same family, and therefor can be easily substituted for one another. Choose sustainably farmed local rainbow trout for this recipe above imported salmon.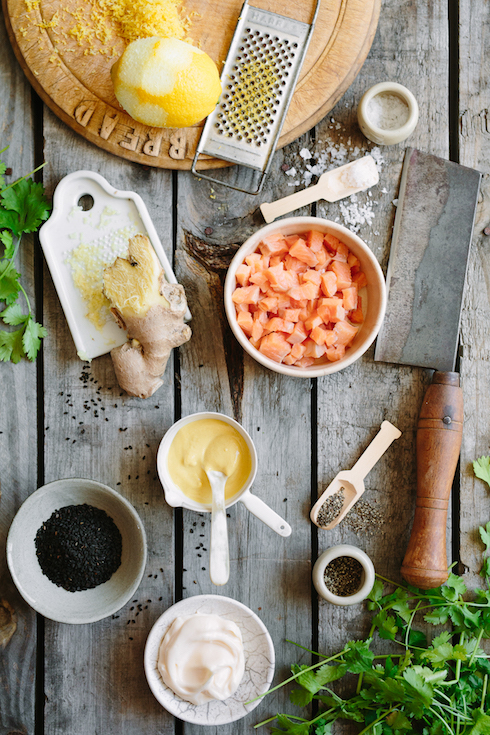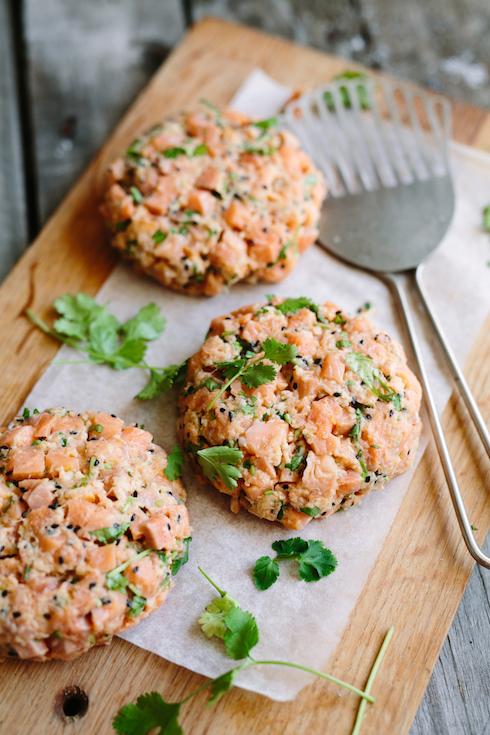 Ingredients for the patties: (serves 4)
600 g fresh salmon trout fillets, skinless and boneless
15 ml Dijon mustard
15 ml fresh ginger, finely grated
rind of 1 lemon, finely grated
15 ml black or white sesame seeds
1/2 cup fresh white breadcrumbs
a handful of coriander leaves, finely chopped
salt & pepper to taste
30 ml olive oil, for frying
Place about 1/5 of the fish in a food processor with the mustard and pulse to a smooth pulp.
Use a sharp knife, cut the remaining fish into small cubes of maximum 1 x 1cm in size.
In a mixing bowl, add the diced fish, fish pulp, ginger, lemon rind, sesame, bread crumbs and coriander with a generous amount of salt & pepper. Mix well (clean hands work well).
Divide the patty mixture into four, then shape with your hands into discs.
Heat the olive oil in a non-stick pan, then fry the patties on both sides until golden brown on the outside. Do not overcook.
For the dill mayo:
1 cup Hellmann's mayonnaise
juice of half a lemon (use the lemon that you've already used for the rind)
a handful of fresh dill, finely chopped
Mix all the ingredients together in a small mixing bowl.
Assembling the burgers:
4 large sesame burger buns, cut horizontally, buttered and toasted
a small bag of red lettuce, shredded
4 salmon trout patties, cooked (see above)
1 batch dill mayonnaise (see above)
a handful of fresh coriander leaves
cooked potato chips, for serving (optional)
Place some shredded lettuce on the bottom half of each bun, then top with the patties and a generous dollop of dill mayo. End with more coriander and the top half of the bun. Serve immediately.