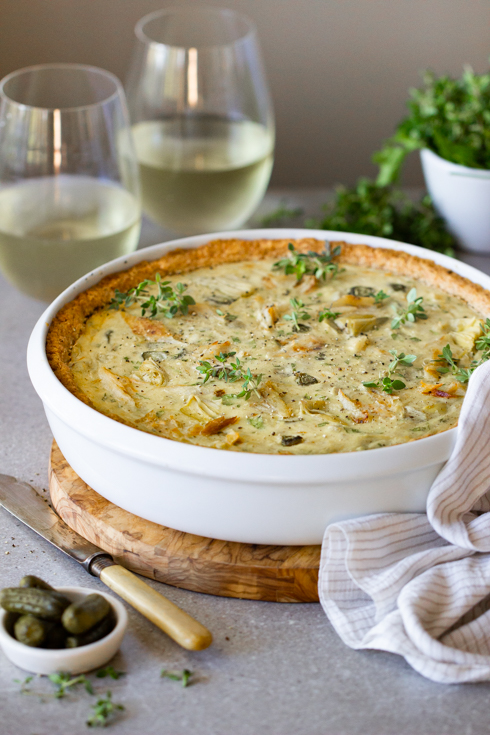 I've been craving a smoked fish pie for weeks (because of a packet of smoked snoek in my freezer) and I finally got to baking one. This must be one of the most comforting things to eat – creamy and packed with smoky flavour, plus an easy press-in crust with zero sogginess that's made with cheese, resulting in a crispy, flaky coating all around the pie that tastes like grilled cheddar crackers.
I've combined a few recipes into one, consulting my sister's notes from her handwritten recipe collection plus her favourite recipe from Kook & Geniet, as well as Heilie Pienaar's chapter for savoury pies and tarts from The Ultimate Snowflake Collection cookbook. I wanted something that had an easy, tasty crust (not store bought puff pastry) that required little skill, plus something that wouldn't require me to separate eggs and fold in whisked egg whites at the end. I don't mind making a white sauce for a base, as it was specifically the mouth-feel that I was after, but I didn't want to use a separate pan for frying any other ingredients like onions.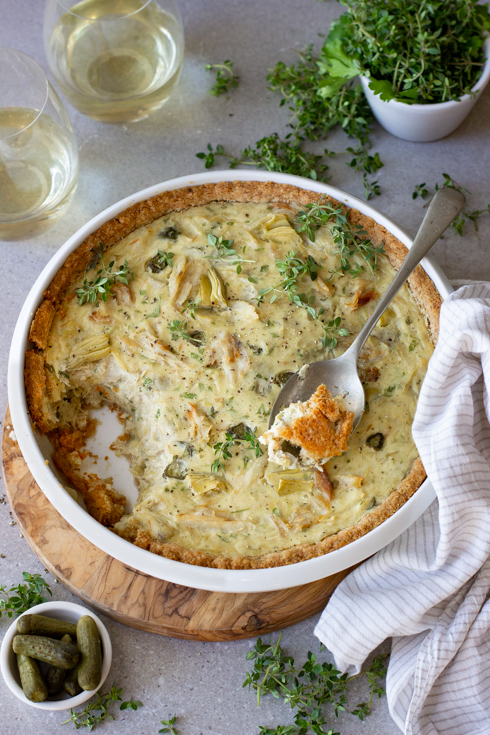 The result was the following: I used Heilie's recipe for a press-in crust (no rolling out of dough) that involves flour, digestive bran, butter and cheese (you already know this is going to go well) and a white sauce based filling that involves stirring in a few whole eggs at the end. Into the filling went deboned flaked smoked snoek, chopped canned artichokes (you can also use canned white asparagus or mushrooms), chopped gherkins, more cheese, Dijon mustard and some parsley (use dried herbs if you don't have fresh).  It gets baked for about 40 minutes at 180 C, filling your kitchen with the most delicious smell. It's a deep pie, so you can use a large spoon to dish up generous helpings. Creamy, smoky, cheesy filling with a crisp bite of tangy gherkins here and there, coupled with a heavenly toasted flaky cheese crust. Serve with a crisp salad, if you want to.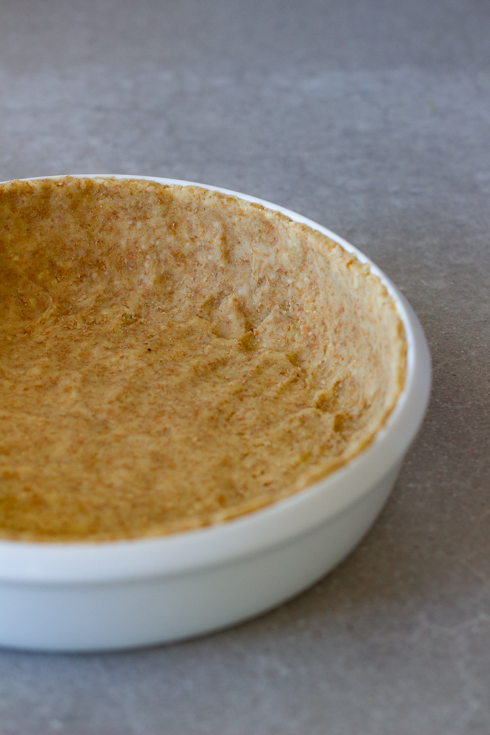 Note: I used a round baking dish of 25 cm diameter and a depth of 5 cm. That means you can use any deep baking dish (round/square/rectangular) with a similar depth and a total volume of around 2,4 liters.
Ingredients: (makes one large pie; serves 8)
For the press-in crust: (crust recipe from Heilie Pienaar's "Spinach & Cheese Pie" featured in The Ultimate Snowflake Collection)
200 ml (110 g) cake flour
125 ml (1/2 cup or 20 g) digestive bran
125 g cold butter, cubed
a pinch of salt
250 ml (1 cup) grated mature cheese like cheddar/gruyere etc. (I've used Dalewood's Huguenot)
For the filling:
60 ml (4 tablespoons) butter
60 ml (4 tablespoons) cake flour
500 ml milk
10 ml (2 teaspoons) Dijon mustard
1 ml (1/4 teaspoon) ground nutmeg
salt & pepper, to taste
4 XL eggs, lightly beaten
2-3 cups (about 325 g) boneless flaked smoked snoek (start with about 500 g snoek with bone-in; I ordered a large frozen packet from Wild Peacock Products)
1 cup mature cheddar cheese, grated
2 cups canned artichoke hearts/quarters, chopped into smaller pieces (or substitute with canned chopped asparagus or mushrooms, or any cooked chopped vegetables of your choice, like peas/spinach/corn/broccoli/cauliflower/courgettes etc.)
about 1/3 cup gherkins, chopped
a handful fresh parsley, finely chopped
Method:
For the crust: place the flour, bran, butter & salt in a food processor and pulse until it resembles bread crumbs. Add the cheese and process until its starts to clump together. Turn it out into a large greased baking dish of about 2-2,5 liters (I used a round 25 cm dish with a depth of 5 cm).  Using clean dry hands, press the crust evenly into the bottom and sides of the baking dish. Distribute thicker patches to cover the base and sides all over. Set aside.
For the filling: before you start, make very sure that your smoked fish is completely free of any small bones – this will take a little time, but it's essential. Now make a white sauce: in a medium size pot over medium heat, melt the butter. Add the flour and stir for a minute. Add the milk all at once and stir vigorously with a whisk until it starts to thicken, getting rid of any lumps. When the sauce has thickened to the consistency of a medium-runny custard, remove it from the heat. Add the mustard and nutmeg and season with salt & pepper. Stir well. Add the eggs and stir very well until it's smooth and incorporated. Add the snoek, cheese, artichokes (or veg), gherkins and parsley. Stir well, then transfer the filling into the prepared baking dish. Smooth the top. Bake at 180 C for about 40-45 minutes, or until the crust is golden brown (the top of the filling won't brown too much). Remove from the oven and serve hot with a crisp green salad.