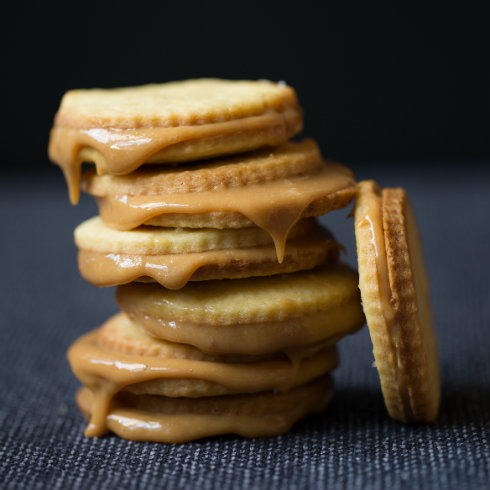 The South Americans have a dessert called "alfajores" – crumbly biscuits sandwiched together with thick and creamy caramel. A few years ago, I tasted this for the first time in a Peruvian retaurant in Cape Town. It was absolutely heavenly.
Thanks to my Donna Hay fixation, I recently came across her recipe for homemade dulche de leche. In South Africa, we know it as "caramel treat", or boiled condensed milk. Donna bakes her condensed milk in the oven, then whisks the mixture afterwards to form a delicious and beautiful caramel that is even tastier than the boiled version. We made easy butter cookies to use as sandwiches, and the result was totally out of the world.
This is a great dessert for your summer braai this season. Make the cookies and the caramel a few hours ahead, then just quickly assemble when it's time for the sweet stuff. Even the most hardened braai kings will weep for this one, trust me.
Ingredients for the caramel: (makes 2 cups)
2 x cans condensed milk  (about 400g each)
Method:
Preheat oven to 220°C.
Place the condensed milk in an ovenproof baking dish and cover tightly with aluminium foil. Place the baking dish in a larger deep-sided baking tray and fill with boiling water until it reaches ²⁄³ of the way up the sides of the dish. Bake for 1 hour 30 minutes or until caramel in colour.
Spoon the caramel into a bowl and whisk until smooth. Spoon into sterilized glass jars and cover with lids. Keep in the fridge for up to 1 month.
Ingredients for butter cookies:
250 g butter, cubed
2 cups cake flour
1/2 cup corn flour (corn starch / Maizena)
5 ml vanilla essense
1/3 cup caster sugar
3-4 tablespoons cold water
Method:
Place all the ingredients except water in a food processor. Process until it forms "crumbs".
Add the water a little at a time until the mixtures just comes together in a ball. Remove from the processor.
Divide into 4, then roll out each part between 2 grease proof baking sheets to prevent it from sticking. Roll out to a thickness of about 5mm, then remove top layer of baking paper and cut into rounds.
Place rounds on a lined baking tray, then bake for about 12 minutes at 180 C until just lightly straw coloured, not too dark. Remove and cool on a rack.
When completely cool, sandwich together with the caramel.
Credits:
Text: Ilse van der Merwe
Recipe for baked caramel: Donna Hay
Recipe for butter cookies: Ilse van der Merwe
Assistant & food preparation: Elsebé Cronjé
Photography: Tasha Seccombe
Venue for shoot: the demo KITCHEN