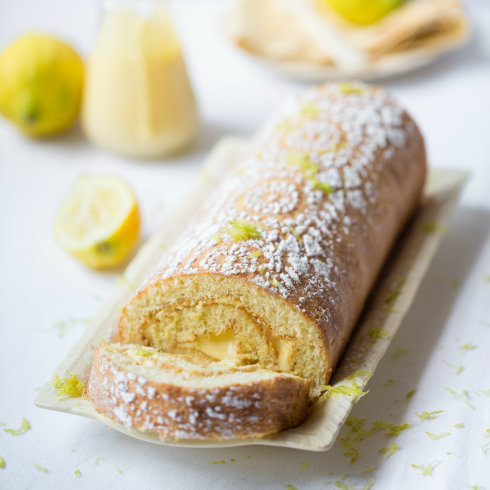 As mentioned before, I just adore South African food icon Phillippa Cheifitz and her recipes. She's probably the reason that I want to write my own recipe book (and will, soon – watch this space). Her recipes are so stylish, simple, classic, doable and beautiful.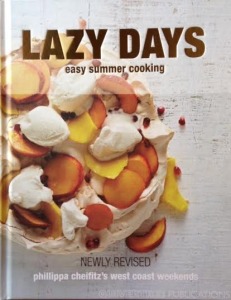 Phillippa's popular book "Lazy Days – Contemporary Country-style Cooking" was recently revised. I attended Phillippa's book launch a week ago, and finally had the privilege of meeting this iconic and stylish woman. I still have the original version of Lazy Days and it remains one of my absolute favourites on my shelf. It's a collection of recipes that you'd want to cook over and over again, containing classic staples like whole-egg mayonnaise, anchovy butter, onion confit and buttermilk pancakes. Phillippa writes about the food that she cooks on their West Coast weekends – the type of food that totally speaks to my heart.
Phillippa's recipe for a lemon curd Swiss roll is so effortless and delightful, so I decided to feature it as a tribute. We also loved photographing this cake, as it was the first time that we worked inside my new kitchen. The natural lighting was just fantastic and we are so happy with the results. Looking forward to many more shoots in here.
Thank you Phillippa for the endless inspiration – you rock my world.
Ingredients for the cake:
4 XL eggs
1 cup sugar
1 cup cake flour
1 teaspoon baking powder
a pinch of salt
Method:
Beat the eggs with the sugar until very light & foamy.
Sift the flour with the baking powder and salt, then sift over the beaten egg mixture and fold in gently but evenly.
Turn into a buttered baking Swiss-roll pan lined with nonstick baking paper. Bake one shelf above the middle at 200 C for about 12 minutes or until nicely risen.
Turn out and pull off the paper carefully. Place a clean sheet of baking paper on top, then roll up, lengthways, in a tea towel.
Ingredients for the lemon curd:
2 XL eggs
2 egg yolks
1/2 cup caster sugar
1/2 cup strained lemon juice
grated rind of 2 lemons
125 g chilled butter
Method:
Beat the whole eggs and yolks until frothy, then gradually beat in the sugar until thick and pale.
Mix in the lemon juice and rind. Turn into a heavy saucepan and cook over medium heat, whisking in the butter bit by bit. Cook for about 5 minutes, until thickened, but take care not to allow it to boil and curdle.
Once thickened, remove from the stove and place a piece of nonstick paper direcly on the surface. Leave to cool completely. Refrigerate for a few hours until it is a good spreading consistency.
To assemble: carefully unroll the sponge cake, spread with the lemon-curd fulling and roll up again. Dust with icing sugar, if you want to.
Credits:
Recipe: Phillippa Cheifits (Lazy Days: Easy Summer Cooking – Quivertree Publications)
Text: Ilse van der Merwe
Food preparation: Elsebé Cronje
Photography: Tasha Seccombe
Venue for shoot: The Demo Kitchen, Stellenbosch
Thank you to Catalyst Communications for the copy of Phillippa's revised book. I will treasure it.