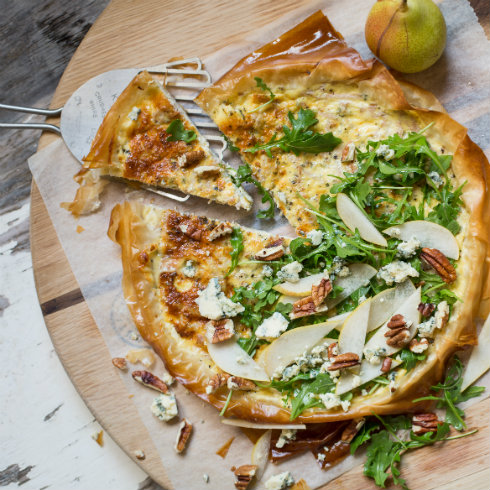 There are few things as underrated as a good quiche. It's so easy to make and one of the best options for a light lunch or a tea table during Spring time.
I love the combination of pears, blue cheese, rocket and pecan nuts in a salad. I've decided to combine the quiche and the salad to create a fresh and vibrant meal-in-one. A festive salad on top of a beautiful quiche – what could be better than this?
Goats cheese also works very well in this combination, so use whatever you prefer.
Ingredients:
4-6 sheets filo pastry
100 ml butter, melted
4 eggs
250 ml full cream milk
salt & pepper
1 small pear, coarsely grated (no seeds)
125 g blue cheese
a bunch of rocket leaves (toss in a drizzle of olive oil and a squirt of lemon juice)
a handful of pecan nuts, toasted in a dry pan
1 small pear, thinly sliced
Method:
Pre-heat oven to 220 C.
Lay the pastry sheets out on a flat surface, then use a pastry brush to cover them with melted butter. Place the sheets on top of each other inside a greased loose bottom tart tin (about 23 cm). Trim the edges if you prefer, or leave them hanging over the edge. Place the lined tart tin inside a bigger rectangular baking tray.
Beat the eggs & milk and season with salt & pepper. Pour the mixture into the lined tart tin, then add the grated pear and crumbled blue cheese (save about 1/3 of the cheese for later). Bake for 30 minutes or until golden and the middle just set.
Remove from the oven and cool for 15 minutes. Top with rocket leaves, the rest of the blue cheese, the pecan nuts  and some sliced pear.
Credits:
This post was originally written for The Pretty Blog.
Recipe, text & food preparation: Ilse van der Merwe
Assistant: Elsebé Cronjé
Photography: Tasha Seccombe
Venue for shoot: the demo KITCHEN