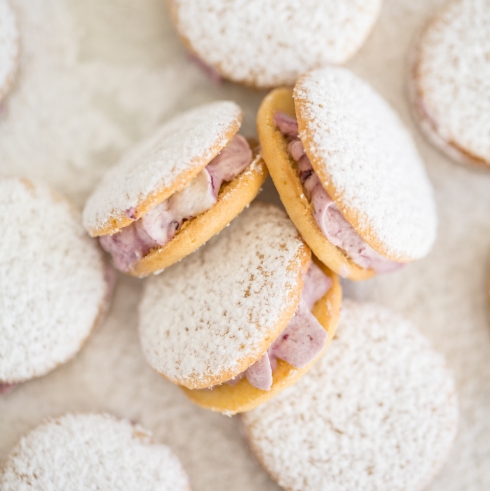 There is a universal love all over the world for cake with cream and jam; it's an age-old trend. You'll find it in the form of swiss rolls, cream cakes, cupcakes, whoopie pies, scones and cookies – it's just one of those combos that work.
These soft little cookies were made from regular cupcake batter, piped onto a lined baking sheet, then filled with a swirl of jam and cream. And yes, they resemble French macarons. But they are so much easier to make than macarons, with none of the frustration or effort!
You can also fill these treats with caramel or your favourite version of butter icing. They are delicate, yet really simple – perfect for a special teatime treat.
Ingredients for batter:
125 g cake flour
125 g butter (soft)
125 g sugar
5 ml baking powder
2.5 ml baking soda
a pinch of salt
2 eggs
5 ml vanilla essence
30 ml milk
Method:
Pre-heat the oven to 180C. Line a large baking tray with non-stick baking paper.
Place all the ingredients except the milk in a food processor, then process for about 15 seconds. Scrape down the sides, then process again. With the motor running, add the milk, then process for another 30 seconds until the mixture becomes very silky and smooth.
Transfer the batter to a piping bag fitted with a relatively small nozzle, then pipe the batter in circles of about 2-3cm in diameter, leaving enough space inbetween for rising.
Bake in the pre-heated oven for 5-8 minutes, depending on the size of your cookies. They should be firm and lightly straw coloured, but not brown.
Remove the cookies from the oven, then carefully transfer them with a spatula to a wire rack to cool completely. Repeat this process to use up all the batter.
Ingredients for the jam and cream swirl filling:
about 1/2 cup berry jam (I used black currant jam)
250 ml cream
icing sugar for dusting
Method:
If the jam you are using is quite chunky, use a stick blender and a tall cup to process it to a smooth pulp. This will make it easier to pipe.
Whisk the cream in a separate mixing bowl until just stiff (but not too stiff), then gently stir in the smooth jam – it doesn't have to be mixed completely.
Transfer the cream and jam mixture into a piping bag fitted with a large star nozzle of your choice, then pipe the mixture on the inside of the cooled cookies. Use more cookies to close them up like little sandwiches. Dust with icing sugar, then serve.
PS: You can also just use thick cream or cream cheese and chunky jam to spread it onto the cookies with a knife – the 2 separate layers also look quite beautiful!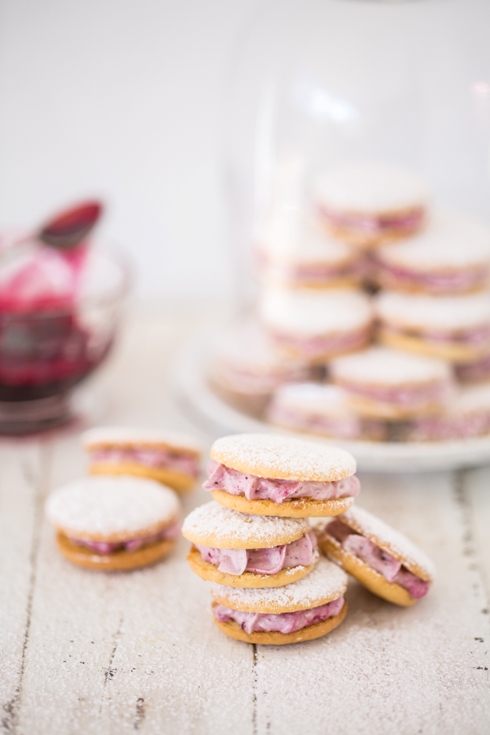 Credits:
This post was especially written for The Pretty Blog by Ilse van der Merwe from The Food Fox.
Recipe, food preparation and text: Ilse van der Merwe.
Photography: Tasha Seccombe.
Styling: Nicola Pretorius & Tasha Seccombe.