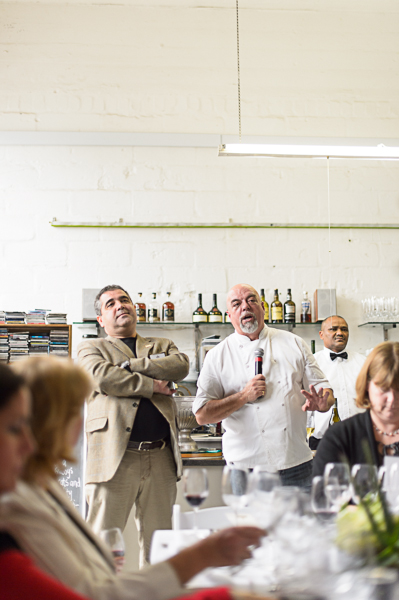 Nederburg recently launched a new member of their Heritage Heroes gourmet wine selection: The Beautiful Lady, a 2012 Gewurtztraminer. I was invited to join in the celebrations at Kitchen Cowboys Canteen in Woodstock, "home" of MasterChef South Africa judge Pete Goffe-Wood. We were in for a very unusual and special treat in the shape of a six course "nose to tail" lunch, paired with some of the wines in the Heritage Heroes range.
I was totally keen to get my very first taste of meat cuts like veal sweetbreads and pork cheeks – items that I've just never had the opportunity to eat before. Pete and his team did a phenominal job on serving us course after course of absolutely delicious terrines, jellies, roasts and barbecues, all bursting with umami and deep complex savoury flavours. Paired with the right combination of wines by wine master Razvan Macici, this experience was simply unforgettable.
I also have to mention that Pete's vanilla brulee custard was probably the best custard I've ever tasted – I could have finished the whole jug (meant for the table). I was fortunate enough to be seated next to my friend, the phenomenal photographer Christine Meintjes – co-founder of The Pretty Blog, and she agreed to send me some of the pictures that she took on the day. Thank you Christine!
Here is the full menu of Nederburg's Nose To Tail lunch, as part of the launch of The Beautiful Lady, a 2012 Gewurztraminer:
Sauté of veal sweetbreads, pancetta, capers and sage beurre noisette,
served with The Young Airhawk 2012, a wooded Sauvignon blanc
Jellied ham terrine and sourdough toast
served with The Anchorman 2012, a wooded Chenin blanc
Barbecue short rib of beef, sweet corn custard and salsa
served with The Beautiful Lady 2012
Roast pork belly, mash, prune and peppercorn sauce
served with The Motorcycle Marvel 2010, a Rhône-style blend
Pork cheeks
served with The Brew Master 2010, a Bordeaux-style blend
Strawberries of a Thousand Leaves with brulée custard
served with the award-winning Winemaster's Reserve Noble Late Harvest 2012
Thank you very much to Nederburg for a truly memorable event.
(All images courtesy of Christine Meintjes – click to view larger photos)