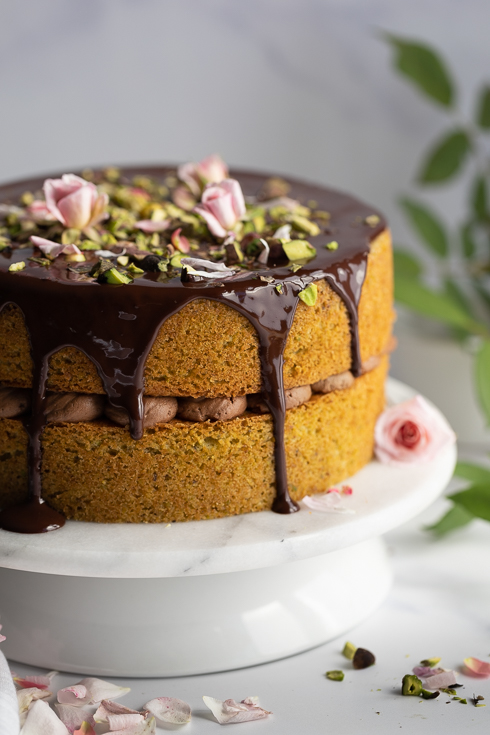 This is my ode to Mothers Day 2021 – a celebratory double layered cake made with bright green locally farmed pistachios, lightly infused with almond extract, vanilla and rose water, sandwiched with Joostenberg Deli's ready-made decadent chocolate mousse and topped with an easy dark chocolate ganache glaze. The texture of the cake is so tender and moist, and it bakes beautifully even on top (so you don't have to slice off any humps). It is slightly sweet and a little salty, golden with a tinge of green, and invitingly fragrant.
Pistachios have always been one of my absolute favourite nuts – breathtakingly beautiful and the most delicious delicate flavour. They're more expensive than other nuts, so I usually use them sparingly. But this year, I feel like we all need a little extra pampering. On a recent trip to Joostenberg Deli, I discovered the unrivalled quality of Senqu River Pistachios from the Prieska area. They sell it in 150 g packets at R112 – the most beautifully vibrant, fresh, large, bright pistachios I've ever seen. I decided to celebrate pistachios as an ingredient, baking it into a delicately green cake, pairing it with fluffy, rich chocolate mousse and glossy ganache for a show-stopping centrepiece. Although the recipe might seem exuberant, the ingredients will cost you around R300 in total (maybe less) and considering that the cake will feed at least 12 people, it's truly worth making for a special occasion.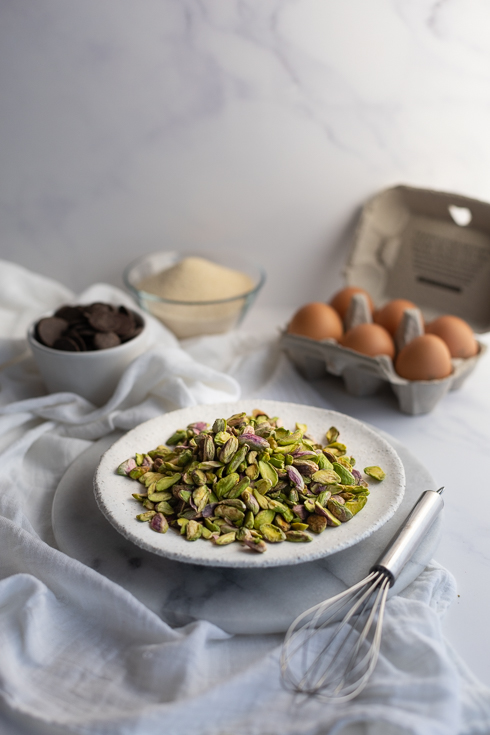 Joostenberg Deli will also stock Valrhona's dark chocolate disks available in smaller tubs soon, which means that you'll have access to chef's quality chocolate in convenient small shapes for melting without having to buy bulk. Other ingredients that make this cake fabulous are Natura's golden caster sugar and Usana's free range eggs – all available from Joostenberg's Deli.
This cake is best served at room temperature, but do store it in the fridge if you're not serving it right away, as the mousse is made with fresh cream. Other frostings that will work very well are 1) classic cream cheese frosting, 2) vanilla, rose or chocolate buttercream or 3) creme patissierre. You can also make a fragrant rosewater syrup, pouring it over the cake when warm from the oven, and serving the cake with a dollop of whipped cream or a scoop of ice cream – Joostenberg makes a fabulous pistachio ice cream which will be the perfect partner.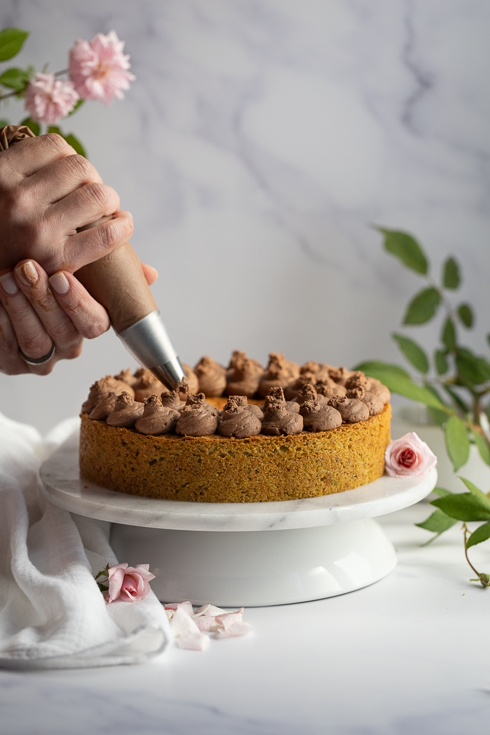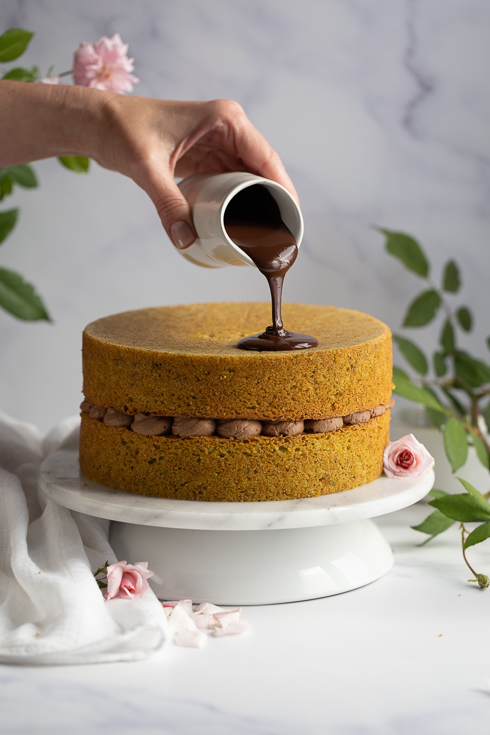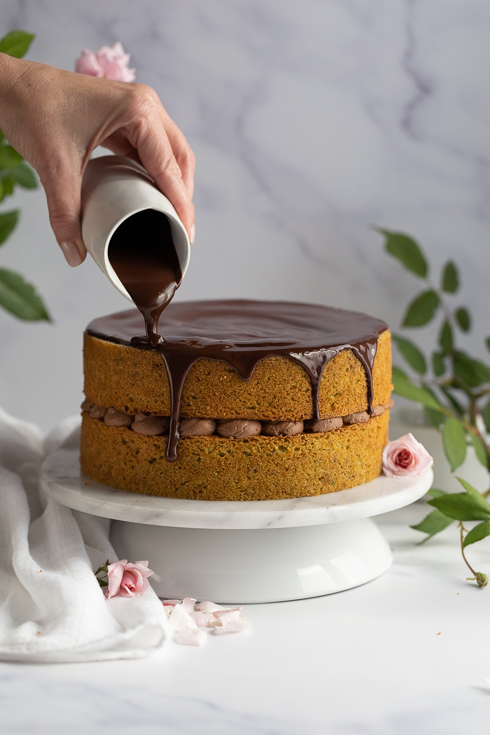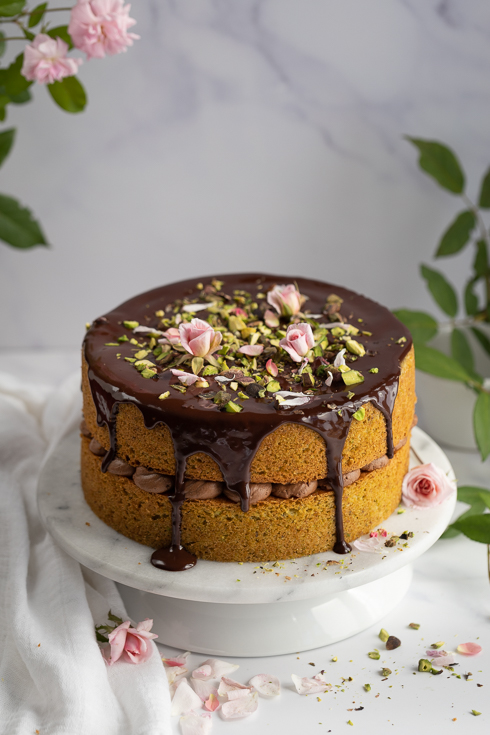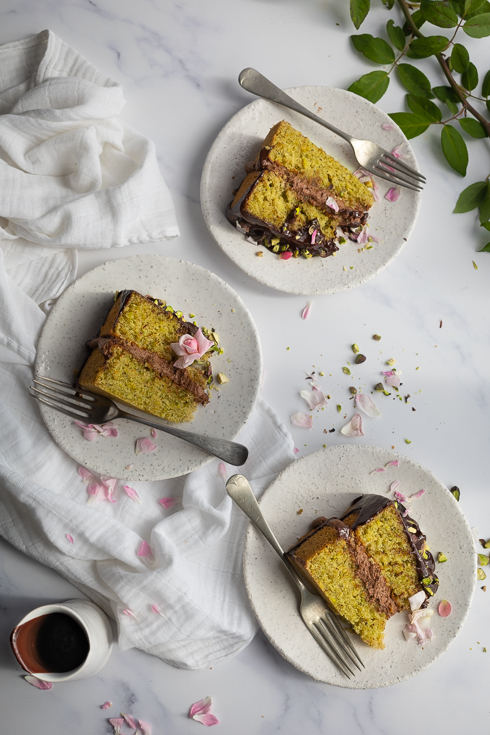 For the cake: (makes a double layered 20 cm cake, serves 12)
(Notes: Recipe adapted from the fabulous Broma Bakery. This recipe uses 3 large eggs – if you only have XL on hand, use 2 whole eggs plus 1 egg white).
150 g (1 + 1/3 cup) raw pistachios – reserve a tablespoon for topping
280 g (2 cups) cake flour
5 ml (1 teaspoon) salt
15 ml (1 tablespoon) baking powder
2,5 ml (1/2 teaspoon) baking soda
125 g butter, softened
60 ml vegetable oil
300 g (1 + 2/3 cups) golden caster sugar (or regular caster sugar)
3 large eggs
5 ml (1 teaspoon) vanilla extract
5 ml (1 teaspoon) almond extract
5-10 ml (1-2 teaspoons) rose water (optional)
180 ml (3/4 cup) double cream yoghurt (or sour cream)
180 ml (3/4 cup) milk
For the ganache glaze:
30 ml (2 tablespoons) butter
70 ml (4 tablespoons + 2 teaspoons) milk
100 g dark chocolate, 70% cocoa (I used disks, but you can also just chop a chocolate bar)
Other:
500 ml ready-made chocolate mousse (find it in the fridge at Joostenberg Deli)
a few rose petals for decoration, optional
Method:
1) Preheat the oven to 180 C (regular convection) and arrange the rack in the middle of the oven. Grease 2 x 20cm loose bottom cake tins with non-stick spray and line the bases with non-stick baking paper, spraying the paper's surface too.
2) In a food processor, process the pistachios to fine crumbs (don't use a power blender, because you might end up with a paste). Add it to a mixing bowl along with the flour, salt, baking powder and baking soda, then stir with a whisk to mix.
3) In the bowl of an electric mixer, add the butter and oil and beat until well mixed and creamy. Add the sugar and beat until light and creamy. Add the eggs, vanilla, almond extract and rose water and mix until very light and creamy.
4) Add the yoghurt and milk and beat slowly until the mixture start to look curdled (don't overmix), then add the dry ingredients and continue to fold it in by hand, continuing until the mixture is very smooth and creamy with speckles from the nuts.
5) Divide the mixture between the two prepared pans and smooth the tops, then bake at 180 C for 35 minutes or until golden and fully cooked (an inserted toothpick should come out clean). Remove from the oven, leave to cool in the tins fo 15 minutes, then carefully remove from the tins and leave to cool completely.
6) To make the glaze, heat the butter and milk in a heat proof jug in the microwave until the butter has melted (don't let the milk boil). Add the chocolate discs/pieces and leave to melt for a few minutes, then stir until smooth. Now assemble the cake: Place one layer on a cake stand, then use a piping bag filled with chocolate mousse to pipe mousse all over the surface (or just spread it with a knife). Top with the second layer of cake, then pour the ganache glaze all over, edging some of the glaze over the sides. Decorate with the reserved pistachios (roughly chopped) and a few rose petals. Serve at once, or store in the fridge and return to room temperature before serving.
This recipe is part of a proud collaboration series with Joostenberg Bistro & Deli.