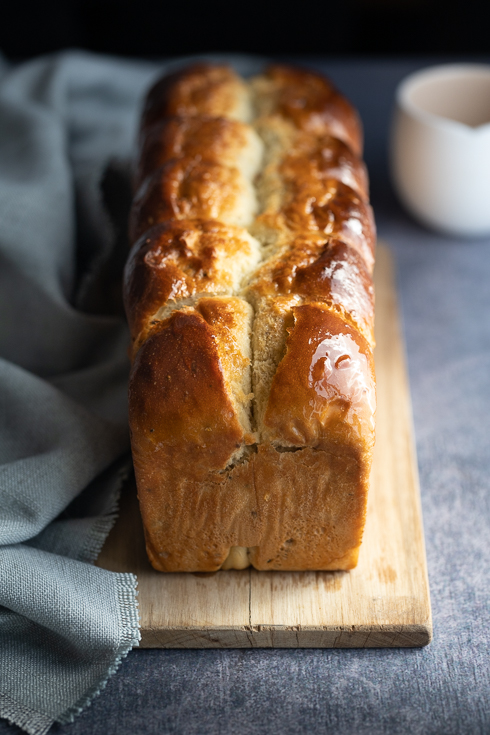 For the past 30 plus years, my mother Erna Uys has been baking the best aniseed brioche I've ever tasted. I say aniseed brioche and not "mosbolletjies", because although this loaf might look like mosbolletjies, it simply isn't. She calls it "anysbeskuit", but I've also read that it is known as "soetbeskuit" – a tall and feathery sweet brioche flavoured with aniseed that you can also break into tufty fingers for drying out as rusks. My mother's recipe doesn't contain any fermented grape juice, which is the key ingredient to traditional South African mosbolletjies – an identical looking loaf that is usually made shortly after grapes are harvested in the Boland. What makes her recipe different is that it contains condensed milk, and more than double the amount of aniseeds that are found in other aniseed brioche recipes.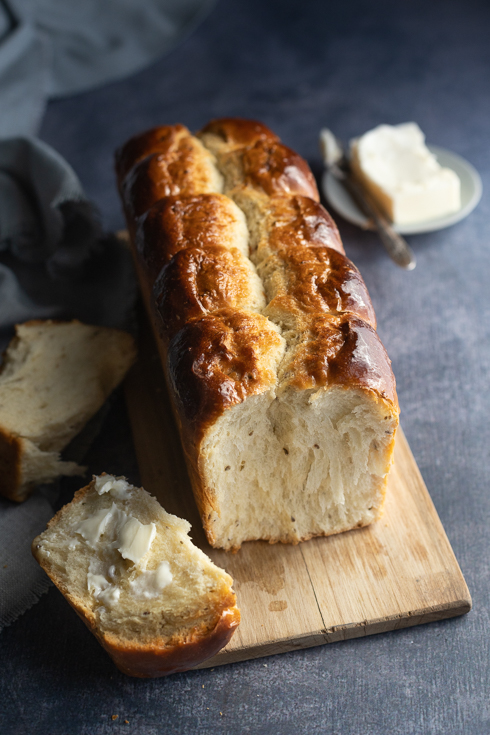 When I was a child, my mother used to bake for a local bakery called "Die Koskas" (The Food Cupboard) here in Stellenbosch. Her aniseed brioche (which most people just called mosbolletjies because it looked exactly like it) were baked in massive loaf pans, still luke warm when she delivered them, keeping the bags open to release the last bit of steam. People used to wait in line to buy these, so her loaves never really even hit the shelves before being lapped up.
Aniseed brioche is a labour of love, mostly because you need patience. It takes long to make because the rich dough needs a few hours to proof properly, a second proof of about an hour or two when inside the tin and another 50 minutes of baking time. But once you've tasted the warm feathery tufts slathered in butter, you'll know why it's special and why people go crazy for it. I'm sharing this special family recipe in collaboration with Gideon Milling, using their South African grown, stone ground cake wheat flour – a fantastic all-purpose flour that I use very often for anything from cakes to pizza.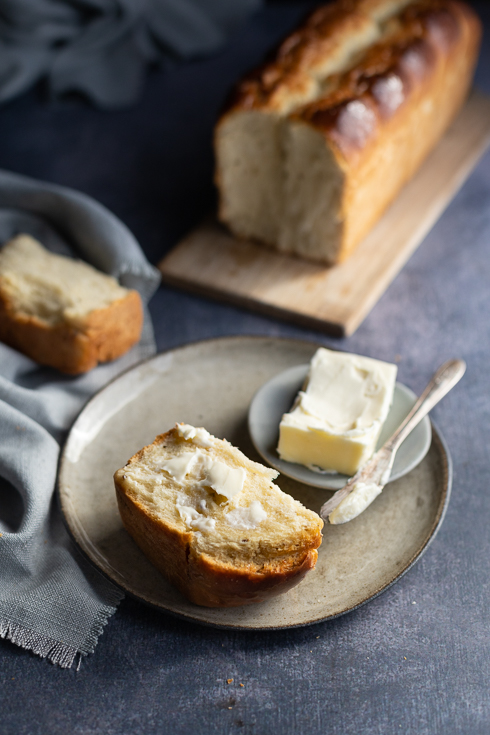 Here are a few notes on this recipe:
My mother's original recipe calls for 2,5 kg cake flour, which is just too large a batch for regular home baking (it yields 3 extra large loaves which might feed at least 30 people). I changed the recipe to use 850 g cake flour, still resulting in an extra large loaf by anyone's standards.
*If you want to bake this loaf in one extra large pan, you're going to look for something about 35 cm long and 15 cm wide. The largest pan that I own (pictured in this post) is 34 cm long and 9 cm wide, resulting in the tops rising above the pan's sides if I use all of the mixture, so I've recently started filling it with only 75% of the dough, filling a very small second pan on the size with the remaining dough. However, my mother's pans are large and wide enough to "contain" the dough and result in two rows of very neat looking smooth rounds on top. You can certainly also split the dough up and bake two large loaves of about 25 cm x 10 cm, or three medium loaves of 20 x 9 cm – this way you can gift one or two loaves to a friend.
My mother insists on frothing her instant yeast in water with some sugar, although technically you should be able to add it in with the dry ingredients. I follow her guidance.
If you want to make sure that your loaf doesn't stick to the pan, rather just line it with baking paper. Most modern pans are relatively non-stick these days, but some older pans tend to stick, even when greased well. The brioche is VERY tender when warm from the oven, and will break if it cannot slide out easily.
This loaf will last quite a few days on the shelf, wrapped in plastic. It might become a lot firmer, but will regain its magic with the help of a toaster. The great thing is that it slices very neatly the older it gets, so you can make beautiful melba toasts (dry out in the oven at 70 C for about 1 hour) that will keep for weeks in an airtight container. Perfect addition to your next cheese platter.
This loaf makes wonderful rusks – sliced each individual segment lengthways (or break it with the use of a fork to keep the feathery look), then dry out at 70 C for about 5 hours without it getting any colour.
Aniseed are small little spice seeds and have a distinctive liquorice flavour. They cannot be substituted with similar sounding whole star anise or similar looking cumin seeds – it's a completely different spice.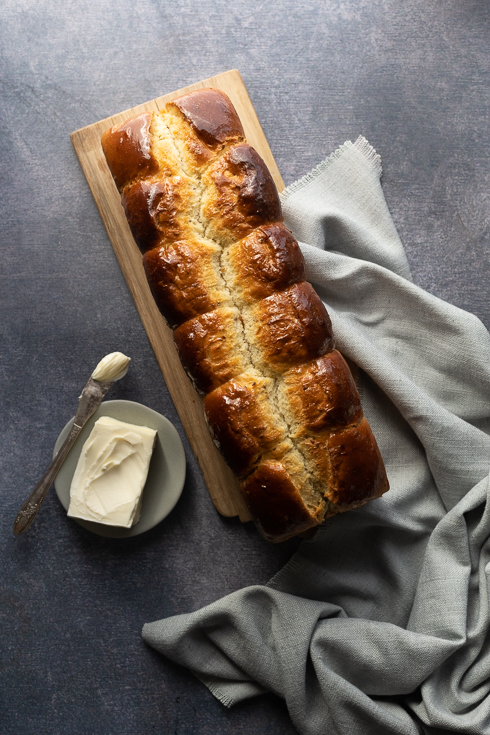 Here are some how-to photographs to guide you through your first "anysbeskuit" adventure: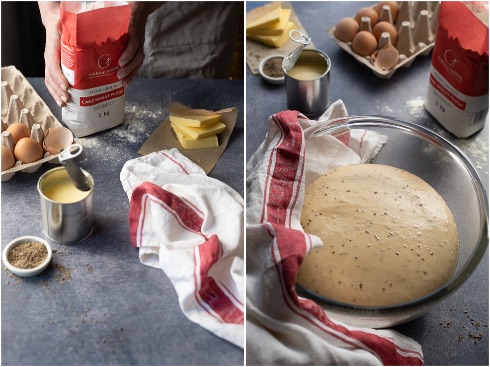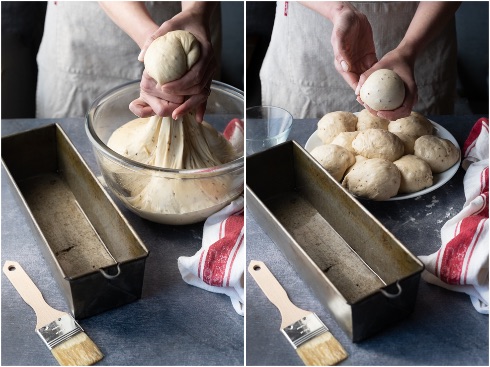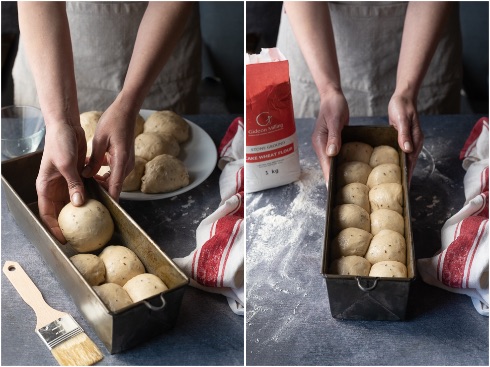 Ingredients:
(makes 1 XL loaf or 2 large loaves or 3 medium loaves – see *pan size guides in notes above)
Prep time: 20 min for mixing & kneeding, 2-4 hours for proofing, 15 minutes for shaping, 1-2 hours for second proof, 50 minutes for baking.
180 ml (3/4 cup) luke warm water
10 g (3 teaspoons) instant yeast
200 g (250 ml) white sugar
850 g (6 cups) Gideon Milling cake flour
10 ml (2 teaspoons) salt
20 g (3 tablespoons) aniseed
60 ml (4 tablespoons) condensed milk
100 g butter, melted
1 XL egg, lightly whisked
250 ml warm water (warmer than luke warm, but not boiling)
oil, for brushing the bowl & tin
for the syrup: 1/2 cup sugar and 1/2 cup water
Method:
In a medium jug/bowl (about 500 ml capacity), add the warm water, yeast and 1 teaspoon of the sugar. Stir, then leave to froth for about 10 minutes while you get the rest of the ingredients ready. To the bowl of a stand mixer (or just a large mixing bowl, if doing this by hand), add the rest of the sugar along with the flour, salt & aniseed. Stir to mix. When the yeast mixture is frothy, add the wet ingredients to the mixing bowl in the following order: condensed milk, butter, egg, warm water and then the frothy yeast mixture. Mix on low speed using the K-beater for about 30 seconds, then switch to the dough hook and knead on low speed for 10 minutes (if working by hand, stir with a wooden spoon until the mixture become sticky, then knead for at least 10 minutes until the mixture is very smooth and soft, adding a little flour if the mixture is sticking to the working surface). Lightly oil the inside of a large bowl with room for proofing, then shape the dough into a smooth ball and add it to the bowl. Cover with plastic and leave to rise in a warm area until tripled in size – 2 to 4 hours depending on weather conditions.
In the meantime, oil the inside of your preferred *tin/s using a pastry brush. When the dough is ready, divide it into 12 balls of the same size (about 170 g each). Lightly oil your hands, then shape each ball by pushing it from below through the hole you make by pressing your thumb and forefinger together, pinching it at the bottom to stay round, then arrange tightly in rows in your tin/s. Again, cover with plastic for a second proof – you need the dough to almost reach the top of the tins. While it is proofing, preheat your oven to 170 C and arrange your oven rack to be in the lower third. Remove the plastic from the tin when the dough has proofed enough, then bake the loaf for 1 hour at 170 C. In the meantime, make the syrup by stirring the sugar and warm water together in a cup.
When the baking time is up, have a clean, thick folded tea towel ready, then turn the freshly baked loaf out onto the towel (the loaf is too soft for a cooling rack at this stage). Brush with the syrup, then leave to cool slightly before serving warm – tearing off the "bolletjies" one by one to reveal their natural feathery nature. The loaf can also be sliced (when cooled), if preferred. Best served with butter (and optionally also jam).
– In proud collaboration with Gideon Milling. –