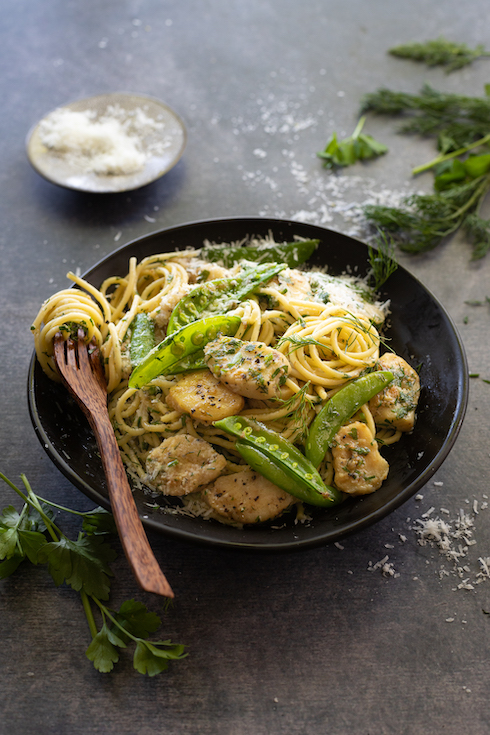 September is Heart Health Awareness Month and I've partnered with I&J and MSC to bring you this scrumptious, easy, #feelgoodseafood hake pasta recipe.
In case you don't know, the heart-healthy mark (Heart Mark) and the blue MSC label (the Marine Stewardship Council that certifies sustainable seafood) on I&J's hake fillets & medallions boxes are a great form of assurance that I'm playing my part for the environment and for my health. I have a family history of heart disease and have been diagnosed with light arrhythmia at the age of 30 (an irregular heart beat), so I'm very aware of heart health and making responsible health choices.
I&J's Deep Water Hake
is wild caught in the pristine depths of the Atlantic Ocean, 100% natural, flash frozen for ultimate freshness and peace of mind, free of antiobiotics/preservatives/colourants and high in Omega 3. It's also a great source of proteien, and MJC Halaal endorsed. I chose to use the hake prime medallions, because they're conveniently boneless and skinless.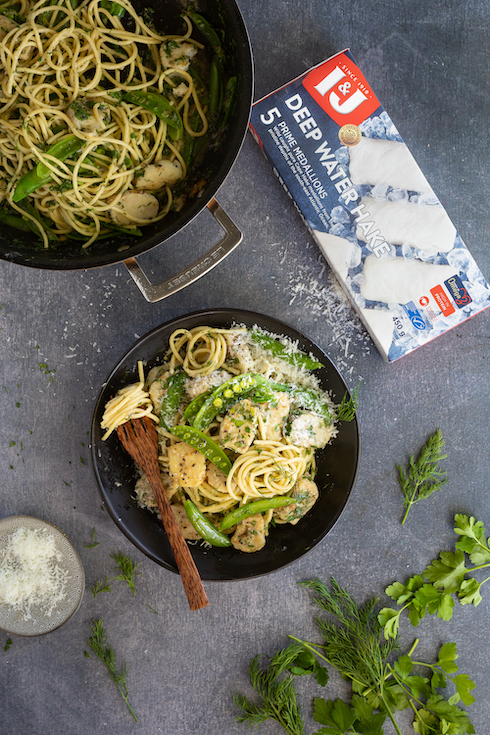 This quick and simple fish pasta recipe takes only about 15 minutes to cook (after prepping and chopping) and is a winner any day of the week. Packed with the bright green flavours of spring, it is a fresh and healthy meal for the whole family!
Have a look at my how-to video at the bottom of this post, and find the full recipe below.
Ingredients (serves 4):
30 ml extra virgin olive oil
450 g frozen I&J Prime Medallions Hake, sliced into 1 cm rounds
salt & pepper, to taste
2-3 garlic cloves, finely grated
rind of 1 lemon, finely grated
5 ml (1 teaspoon) cake/bread flour
250 ml (1 cup) vegetable/chicken stock
about 400g spaghetti (plus salted water, for cooking)
125 g (a medium punnet) sugar snap peas, sliced
1/2 cup Italian parsley, finely chopped
1/2 cup dill, finely chopped
1/2 cup parmesan cheese, finely grated
Method:
Bring a large pot of salted water to the boil for the spaghetti. In the meantime, using a large wide non-stick pan, heat the oil and fry the sliced hake on both sides until lightly golden and just cooked, seasoning with salt & pepper. Remove from the pan and set aside.
Add the spaghetti to the boiling water (stir every now and then to prevent sticking, and place a timer on 7-8 minutes for al dente). While the spaghetti is cooking, add the garlic and lemon rind to the same pan that you fried the hake in, over medium heat. Stir for half a minute, then add the flour and stir briefly. Add the stock and bring to a simmer, stirring. Now add the sugar snaps, fried hake, and the freshly cooked spaghetti, topping with parsley, dill and parmesan. Use tongs to mix well, then plate and serve immediately in bowls.