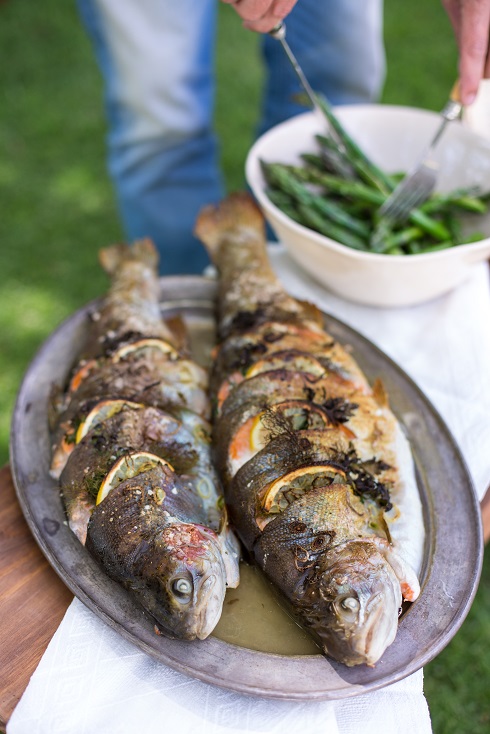 As we are gearing up for another summery festive season, many of us are starting to put together ideas for our Christmas lunches and dinners. To me, it is probably the most festive meal of the year, where family and friends are treated to the best of our bounties and abilities.
Christmas food doesn't have to be formal, though. I've noticed that more people are moving away from heavier red meat roasts and vegetables, opting for  lighter, summery, al fresco choices. With Christmas falling in the middle of summer time in South Africa, I've always loved food that you could eat cold, like my cold Christmas platter, or food that you can braai as part of a relaxing afternoon with family and friends. While most of us are on holiday at the coast during this time, it just makes sense to consider fish as a main course.
Rainbow trout is a sustainably farmed local freshwater fish, and a perfect choice for a Christmas lunch or dinner. It's delicate pink flakes are so beautiful to look at, and wonderfully tasty to eat. If you can get hold of a whole trout from your local fishmonger, make sure that is fresh, gilled and gutted. This way you can just rinse it at home, stuff it, and put it on the braai or in the oven. So very easy.
I love to serve this trout with a crisp green fennel & celery & apple salad, as well as cracked roasted baby potatoes and a fantastic versatile yoghurt mustard sauce. The recipes for the salad and potatoes will follow shortly, but I'll include the recipe for the yoghurt sauce here. Remember that you can use the sauce on the fish, but also on the salad and the potatoes. The fish and potatoes are best served warm, but can certainly also successfully be served at room temperature.
Ingredients for whole stuffed trout:
(Serves: 6)
(Difficulty: easy)
1 x whole trout, gilled and gutted (about 1.6 – 2 kg)
salt and freshly ground black pepper
2 x medium lemons, sliced
1 x large fennel bulb, sliced
a handful of fennel fronds (reserved from the bulb)
a handful of chopped Italian parsley
juice of a lemon
Method:
If you are going to use an oven to cook your fish, pre-heat it to 200 C. If you are going to braai it, get your fire ready to braai the fish over medium hot coals.
Rinse the trout well under cold water, then pat dry with a tea towel.
Using a very sharp knife, make angled incisions in the sides of the fish, about 3 on a side. Season the inside of the incisions well with salt and pepper. Season the inside of the gutted cavity as well.
Use lemon sliced, fennel slices & parsley to stuff into the incisions and cavity, then drizzle the stuffed parts with lemon juice. Season the outside of the fish with salt and pepper, then place it on a piece of oiled foil on a roasting tray and roast in the oven at 200 C for 25-30 minutes. If you are going to braai it, place the fish inside a large hinged grid (without any foil), then braai over medium hot coals on both sides for about 30 minutes in total. Oil the inside of your grid to ensure that the fish doesn't stick to the grid.
Transfer the fish to a large serving platter, and serve with a fresh fennel salad, roast potatoes and a yoghurt mustard sauce.
For the yoghurt mustard sauce:
250 ml double cream Greek yoghurt
2 heaped tablespoons good quality mayonnaise
juice of a medium size lemon
2 teaspoons wholegrain mustard
30-45 ml chopped fresh dill (or fennel fronds)
some cracked black pepper
a pinch of salt
Mix it all together and serve cold, with the fish.
Credits:
This post was originally written for The Pretty Blog by Ilse van der Merwe from The Food Fox.
Recipe, food preparation and text: Ilse van der Merwe
Photography: Tasha Seccombe
Styling: Nicola Pretorius