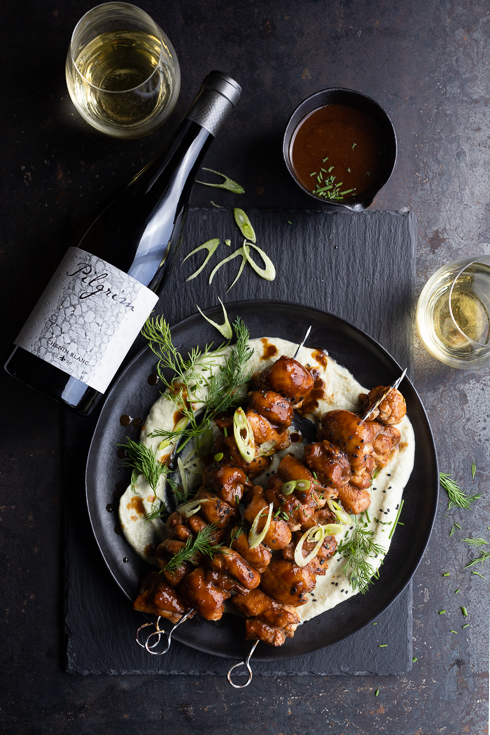 This 4-ingredient miso glaze comes together in only five minutes and is absolutely scrumptious on chicken, fish, vegetables – you name it. But today, I chose a combination of boneless chicken drumsticks and thighs to create generous espetadas on long metal skewers – elegant enough for your next dinner party, yet easy enough for any day of the week. I baked them in the oven, but you can certainly also grill them over an open fire for a more smoky result and basted generously.
The creamy base is a mixture of fennel and cauliflower cooked in cream, blitzed to an ultra smooth puree. It is the most wonderful bed on which to serve these punchy glazed espetadas, with a sprinkle of fresh fennel fronds or fresh dill.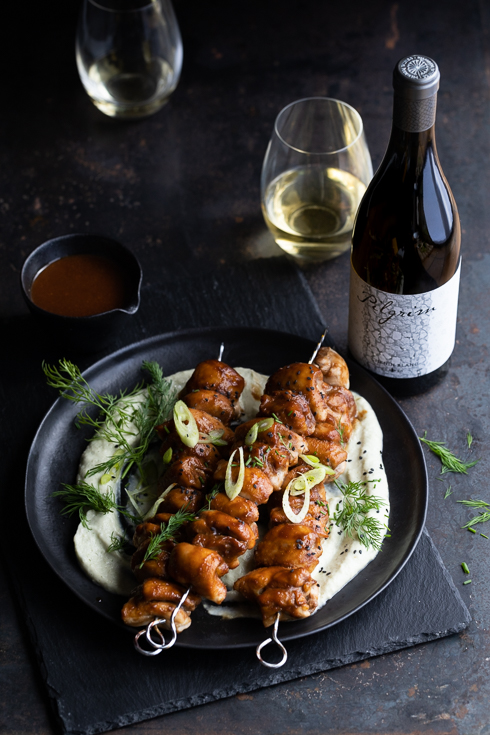 This recipe was created exclusively to pair with Pilgrim Wines' unique Chenin Blanc – made from beautiful 35 year old vines planted in decomposed sandstone and clay in the Voor-Paardeberg. As the winemaker, award-winning Henry Kotzé, says: "The wine has a volume on the mouthfeel that transcends the norm, almost ethereal in a sense as it feels weighty and full but in tasting it, it ends off with a beautiful mineral salinity, so light to the touch with a vibrancy, it leaves you wanting some more." I wholeheartedly agree. It's an elegant, complex wine that will excite wine afficionado's, yet accessible enough for any occasion. It pairs really well with the recipe below.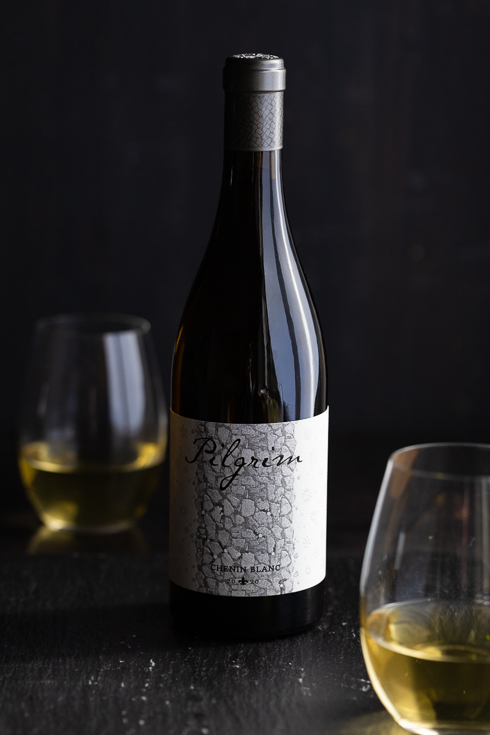 Ingredients: (serves 6)
Note: If you are going to serve these espetadas with the puree, start with the puree. It's easy to reheat in a flash just before the espetadas are cooked through.
For the miso glazed espetadas: (serves 6)
45 ml (3 tablespoons) miso paste – I used yellow, but you can also use white
60 ml (4 tablespoons or 1/4 cup) good quality soy sauce
80 ml (1/3 cup) dry white wine
30 ml (2 tablespoons) muscovado or demerara sugar
about 2 kg boneless chicken (I prefer thighs/drumsticks)
Preheat the oven to 220 C. In a small saucepan over low heat, add the miso, soy sauce, wine and sugar. Stir until the sugar has dissolved, then simmer for 2-3 minutes and remove from the heat. In the meantime, skewer the chicken (if you are using boneless thighs/drumsticks, just fold each piece as you skewer it, but if you're using breast meat, cut it into smaller chunks before skewering. Line a rimmer baking tray with non-stick baking paper, then arrange the skewers on top. Baste generously with the glaze, then bake for 10 minutes. Remove from the oven, turn the espetadas over and baste again, then return to the oven for another 10 minutes. The meat should be just cooked, not dry, so test a centre piece to see if it is tender and ready. Serve hot with your choice of sides/salad, or on a bed of the puree below.
For the fennel & cauliflower puree:
about 500 g cauliflower, cut into smaller florets (you can use the stems too)
1 medium head of fennel, finely sliced, with some fronds
250 ml cream
salt & pepper, to taste
To serve:
a few dill sprigs (optional)
a pinch of black sesame (optional)
Place the cauliflower, fennel and cream in a medium pot and bring to a simmer over medium heat. Turn down the heat to low, cover with a lid (keep it open with a small slit to prevent the cream from boiling over) and cook until tender – about 12 minutes. Transfer the hot cooked vegetables and cream to a blender and blend until very smooth, seasoning with salt & pepper (remember, the miso glaze is very salty, so don't be too heavy on the salt here). Serve with the miso glazed espetadas and a few extra fennel fronds or fresh dill and a sprinkle of black sesame.
(A proud collaboration with Pilgrim Wines.)