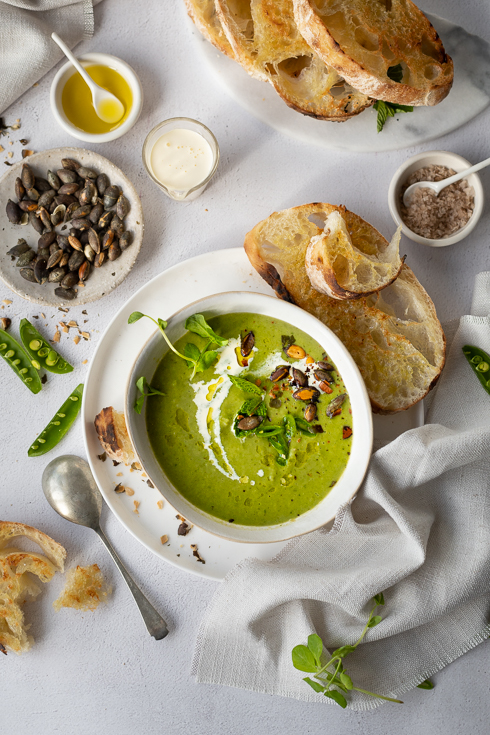 Today marks the officially turn of the seasons from Winter to Spring and for many of us it also marks a celebration of everything green and fresh after a long and cold Winter filled with heavier stews and other rich comfort foods. "Fresh" doesn't always have to be "raw" –  if you can preserve something of that green freshness in the comfort of a smooth and utterly satisfying soup, I'd say you're covering best of both worlds.
I wrote this recipe for First Choice Dairy after they asked me to create something for Spring, preferable something light or a side dish, incorporating their cream. Although I don't associate cream with "light cooking", this soup is indeed light and bursting with the intense green flavours of peas, broccoli, baby spinach, mint and leeks. I pulsed the vegetables (except the peas) in a food processor to match the size of the peas, then cooked it for a mere 5 minutes in vegetable stock. Immediately transferred to a blender, it is transformed into a smooth, beautifully green soup, adding the cool cream to stop the vegetables from cooking any further or losing their colour. By lack of any other fat or oil in the recipe, the cream provides the necessary luxurious roundness and smooth mouthfeel.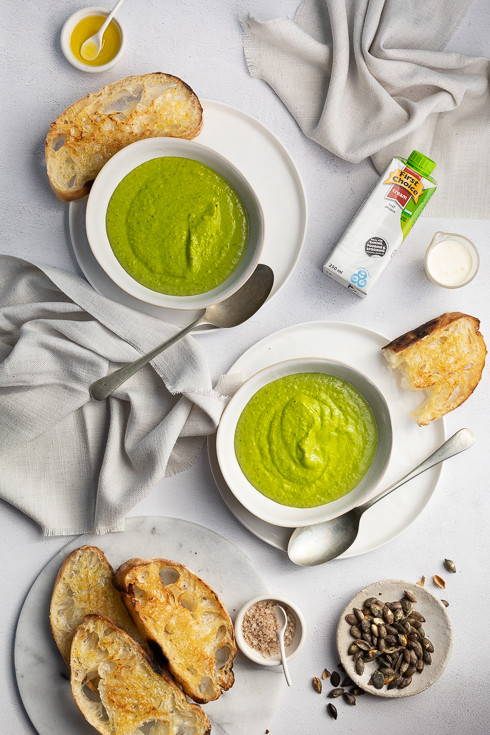 To serve, I love adding as much luxurious goodness and texture as possible: a swirl of cream, a few drops of extra virgin olive oil, some smoked roasted pumpkin seeds, finely sliced sugar snaps, fresh pea shoots and mint leaves, and of course a few thick slices of fresh ciabatta that's been freshly toasted with olive oil. The smoked pumpkin seeds add fabulous flavour and crunch, but if you're looking for a meaty kick, you're welcome to add a handful of crispy fried bacon nuggets.
This soup is wonderful served warm, but just as good served at room temperature. It's a nutrient-packed, mood-lifting, flavourful celebration of a promising new season – happy Spring Day!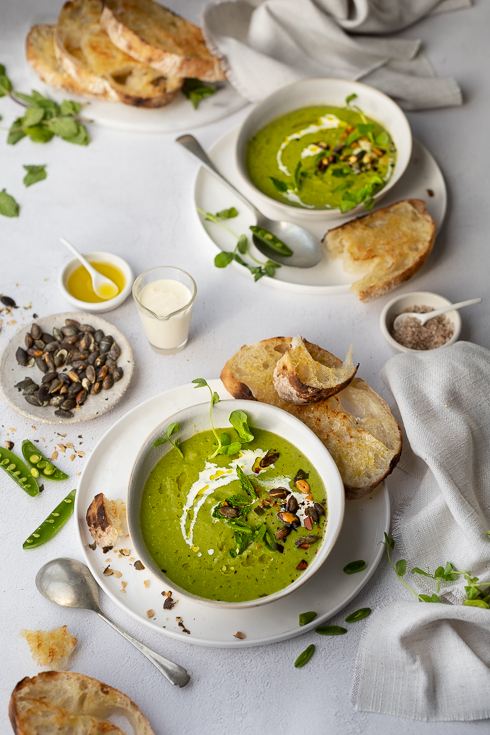 Notes:
First Choice Real Dairy Cream (long life)  is available in 250ml and 1 liter tetrapacks. It has no preservatives and can be stored safely on the shelf for months. Once opened it should be refrigerated and used within 7 days. The tetrapacks are 100% recyclable.
If you don't have a food processor, just chop the vegetables and cook them a little longer, adding the peas half way through the process and cooking until everything is just tender. You'll still need at least a stick blender to blend the soup to a smooth puree.
Ingredients: (serves 4 as a main meal or 6 as a starter)
750 ml (3 cups) vegetable stock (or chicken stock)
200 g leeks, white parts only, sliced into chunks
250 g broccoli, sliced into florets
250 g frozen/fresh peas
a generous handful baby spinach
a small handful fresh mint leaves, stalks discarded
125 ml (1/2 cup) First Choice Cream
salt & pepper, to taste
for serving: (all optional, but you can add all of these and more!)

a swirl of First Choice Cream
a few drops of extra virgin olive oil
a few tablespoons pumpkin seeds, smoked & roasted
croutons, or ciabatta brushed with olive oil and toasted
a few fresh pea shoots
a few mint leaves
a few sugar snap peas, finely sliced
Method:
Place the stock in a medium size pot over medium heat. While it is heating up, place the leeks and broccoli in a food processor and pulse until it matches the size of peas. Add the pulsed vegetables along with the peas to the stock and bring to a boil. As soon as it boils, turn down the heat and simmer for 4 minutes, then add the spinach and simmer for another minute. Remove from the heat and carefully ladle into a powerful blender. Add the mint and cream and blend to a very smooth puree. Season generously with salt & pepper, then mix well. Serve at once, with a swirl of cream and your choice of toppings and bread (can also be served at room temperature).
This post was created in proud collaboration with First Choice Dairy.