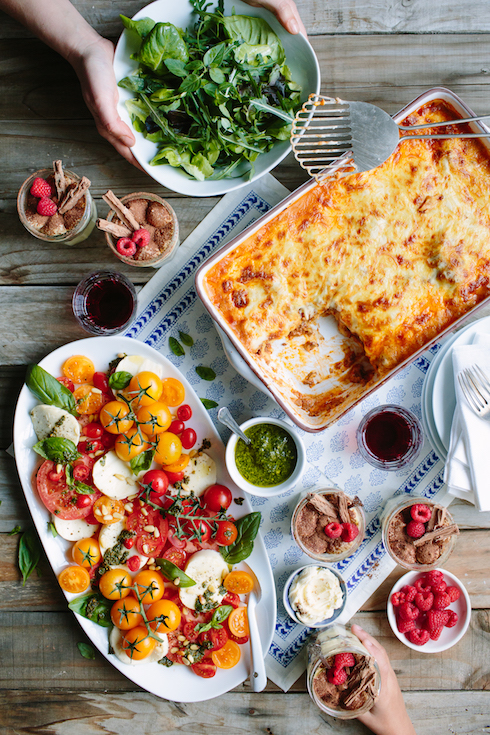 When it comes to laid-back, festive, scrumptious food that's packed with flavour, the Italians just know how. I've taken a few tips from their most popular traditional cheese-themed recipes to come up with my favourite three-course Italian-inspired feast: an over-the-top caprese salad, triple cheese beef lasagne (made with mozzarella, cheddar and mascarpone) and individual tiramisu cups with chocolate flakes and fresh raspberries. You can assemble the lasagne and tiramisu ahead so that you have more time to spend with your guests – the most important thing when hosting friends and family!
All my recipes serve 8, because they deserve a crowd. If you're keen on a smaller gathering, just halve the ingredients to serve 4.
And don't miss my video below – it shows how to make this killer lasagne.
Buon appetito!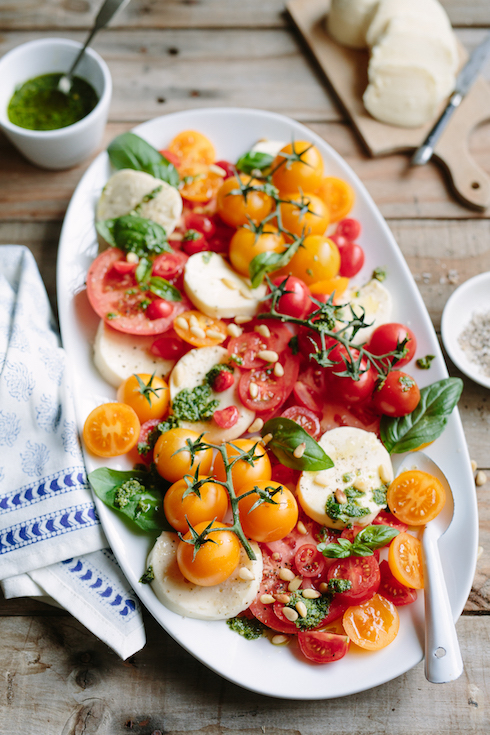 Ultimate caprese salad (serves 8)
3 very big ripe tomatoes, thickly sliced
about 400 g smaller tomatoes on the vine
a handful baby tomatoes, halved
3 x 125 g Galbani soft white mozzarella, sliced into rounds
a handful fresh basil leaves
2 tablespoons pine nuts, toasted in a dry pan
3-4 tablespoons basil pesto
extra virgin olive oil, for serving
balsamic vinegar, for serving (optional)
salt flakes and freshly ground black pepper
Arrange the tomatoes on a large platter, interleaved with slices of mozzarella. Scatter with basil leaves and pine nuts, then drizzle with pesto (add a little olive oil to the pesto if it is very thick). Serve with olive oil and balsamic on the side, seasoned with salt & pepper. Serve immediately.
Note: The tomatoes will wilt on standing, so this salad is best served straight after assembling.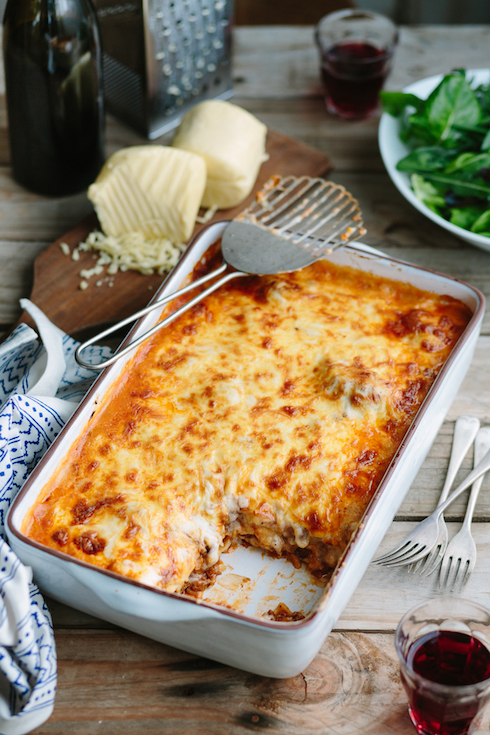 Triple cheese beef lasagne (serves 8)
For the beef Bolognese sauce:
60 ml olive oil
1 onion, skinned & finely chopped
2 carrots, peeled & finely chopped
2 celery stalks, finely chopped
4 garlic cloves, finely chopped
1 kg lean beef mince
2 sprigs rosemary, stalks removed & finely chopped
2 teaspoons chopped thyme (or 2 teaspoons dried origanum)
375 ml (half a bottle) dry red wine
1 beef stock cube dissolved in 250 ml boiling water
3 tablespoons tomato paste
2 cans whole Italian tomatoes, blended to a pulp
1 teaspoon freshly ground black pepper
2 teaspoons salt
2 teaspoons sugar
For the white sauce (béchamel):
80 g (80 ml / 1/3 cup) President Butter
80 ml (1/3/ cup) plain/cake flour
1 liter full cream milk
a pinch of ground nutmeg
a generous tablespoon Dijon mustard
250 g Galbani Mascarpone
salt & freshly ground pepper to taste
For assembling:
1 batch Bolognese sauce
1 batch white sauce
500 g fresh/dried pasta sheets
200 g President Cheddar Cheese, grated
300 g Galbani Creamy Mozzarella (semi-hard), grated
For the Bolognese sauce: Heat the olive oil in a wide, large pot with a heavy base. Fry the onion, carrot and celery over medium-high heat until soft and lightly brown. Add the garlic and stir. Add the mince and stir, breaking up any lumps and scraping the bottom to loosen any sticky bits. Add the rosemary and thyme. Continue to fry on high heat to brown the meat slightly, then add the red wine, stock, tomato paste, canned tomatoes, salt, pepper, sugar and stir well. Bring to a simmer, then turn heat to low, cover with a lid and cook for 2 hours, stirring every now and then.
For the white sauce: Melt the butter in a saucepan over medium high heat, then add the flour and cook for a minute, stirring. Add the milk and stir with a whisk until the mixture becomes smooth and thickens slightly. Add the nutmeg, mustard and mascarpone and season well with salt & pepper. Set aside.
To assemble: Preheat oven to 180 C. In a large rectangular roasting tray or oven dish, start with a thin layer of white sauce, then a layer of pasta sheets (they will swell so don't fit them too snugly), a layer of meat sauce, more white sauce, a layer of cheddar, etc. Continue and repeat, ending with a layer of white sauce and the grated mozzarella on top. Bake for 45 minutes until golden on top, then let it rest for 5-10 minutes before serving.
Note: I sometimes chop my onion, carrot and celery together in a food processor to save time. The cooked lasagne will continue to stabilize on standing, becoming firmer and easier to serve. The assembled lasagne (cooked or uncooked) freezes well – thaw completely before returning to the oven.
Individual tiramisu cups: (serves 8)
5 XL eggs, separated
1 1/4 cups caster sugar
2 x 250 g Galbani Mascarpone
1 Italian-style sponge finger biscuits (Boudoir/ladyfinger)
375 ml strong coffee, warm
75 ml brandy
cocoa powder, for dusting
2-3 chocolate flake bars, for serving
fresh raspberries, for serving
Place the egg yolks and caster sugar in a large bowl. Use and electric whisk to mix until it is very thick and creamy. Add the mascarpone and whisk until smooth.
Clean and dry this whisk, then whisk the egg whites in a separate bowl until stiff. Add half the egg whites to the mascarpone mixture and fold in with a large spoon, continuing with the second half and folding until you have a smooth, creamy, mousse-like mixture. Set aside.
Working quickly, cut the finger biscuits into thirds, and divide the pieces into 8 groups of 9 pieces each (for 8 cups of 250 ml capacity each). Place the coffee and brandy in a shallow flat bowl, then dip 4 cookie pieces at a time into the coffee mixture, and place them into the bottom of each dessert glass/jar. Top with a dollop of the mascarpone mix, then a sifting of cocoa powder. Top with a second round of 5 dipped biscuit pieces, then place the remaining half of the mascarpone mix into a piping bag and pipe dollops of the mixture at the top of each glass to cover the biscuits. Dust some cocoa powder over the top, then cover with plastic or lids (not touching the mixture) and refrigerate for at least 3 hours.
To serve, add some chocolate flakes and berries on top and serve straight from the fridge.
Note: The biscuits need time to soften in the fridge. If you serve them too soon, the cookies will still be tough. The tiramisu cups keep very well in the fridge for up to 3 days and the flavour improves with time.
(This post was created in collaboration with Galbani Cheese.)
Save
Save
Save