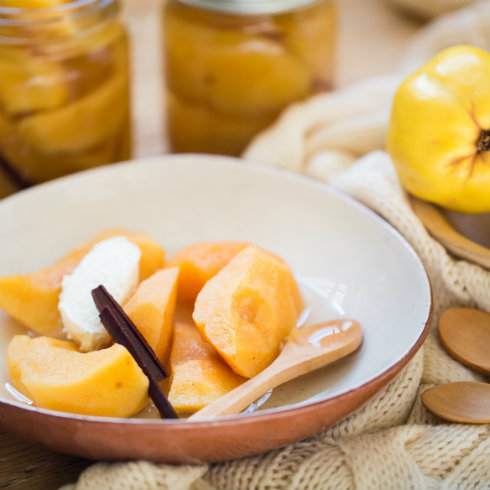 While many South African cooks and food writers often reminisce about their childhoods filled with quince memories, I only discovered these strange fruit in my adult years. At a friend's mom's house, she treated us to her very own preserved quinces with a swirl of canned evaporated milk. It was simply delicious.
Eighteen months ago, I read up on membrillo – a preserved fruit "cheese" made from cooked quince paste. I stored the paste in wax paper and have been maturing it since in a cool dark place in my garage, sampling the batch as it got older. Membrillo is a unique product – a thick, almost spreadable paste that can be cut with a sharp knife and enjoyed as a preserve with cheeses.
A few weeks ago, I found another tray of perfectly yellow and unblemished seasonal quinces at my local farm stall. Although quinces are a prize ingredient, they are very tough to work with. After skinning and coring them, my hands were ruined by their harsh, dry flesh (I would recommend wearing kitchen gloves if you have sensitive hands). Still, it's such a satisfying process to see how these hard, almost inedible raw fruit can be transformed into something so delicate in flavour, colour and texture.
They are fantastic enjoyed as a dessert straight from the jar with a scoop of ice cream or cream, but they are also great to cook with (especially in venison roasts).
Ingredients:
 about 16 large quinces (not too ripe)
water for soaking
a squirt of lemon juice
6 cups water
6 cups sugar
2 vanilla pods, sliced open lengthways, seeds removed and set aside
2 cinnamon sticks
Method:
Peel and core the quinces, then place them immediately as you go into a large mixing bowl filled with water and a squirt of lemon juice. This will prevent them for discolouring while you work.
In a large stock pot, place the water, sugar, vanilla pods, vanilla seeds and cinnamon. Bring to a boil, then simmer for 5 minutes.
Drain the water off the quinces, then add the fruit pieces to the hot syrup (do this in batched in order to prevent crowding). Poach each batch for 15 minutes or until tender (depending on the size of your fruit pieces), then remove with a slotted spoon.
Pack the warm cooked fruit tightly into sterilized glass jars, then fill up with hot syrup to cover the fruit. Cover with sterilized heat proof lids.
Rinse the stock pot used for the syrup, then fill it half-way with warm water and bring to the boil (we are creating a water bath). Using tongs, place a cotton dish cloth at the bottom of the pot, then place the filled closed fruit jars on top of the cloth (to prevent the glass from touching the bottom of the pot). The water should just cover the glass jars. Bring to a slow simmer, then cook for 25 minutes.
Carefully remove the jars from the boiling water, then set them aside to cool to room temperature. If sealed correctly, the jars will last in a cool dark place for up to 1 year.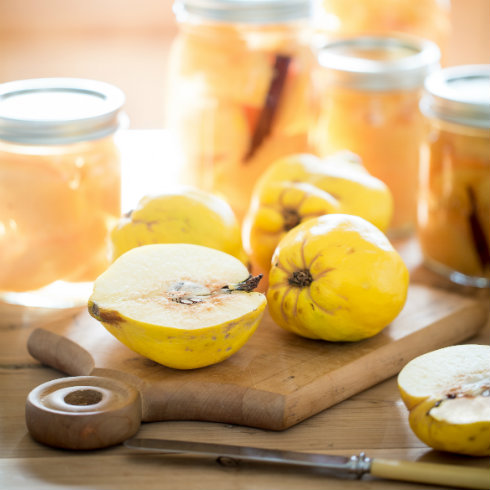 Credits:
Recipe, text & food preparation: Ilse van der Merwe
Photography: Tasha Seccombe
Styling: Nicola Pretorius
As seen on The Pretty Blog.