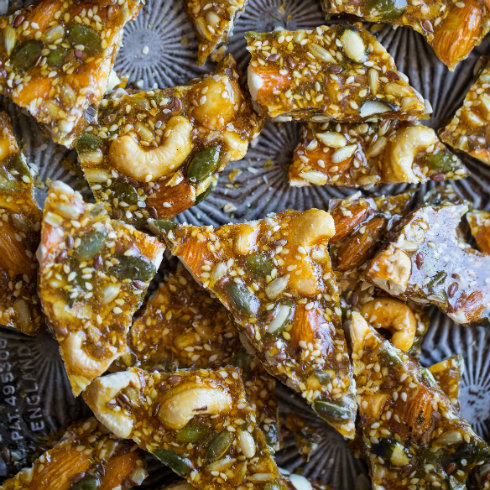 After Nicola and Tasha suggested that we shoot a type of brittle, I did some research and put a recipe together from my previous experience with sugar caramel. Nut brittle makes such a beautiful gift, and everyone loves the seductive crack of nuts and hard caramel. When it was time to test it, I learned  the hard way that a brittle is not always as simple as it seems.
Tasha also tested it at home, and after batch number three she got some beautiful results. With her husband John's help, they used a sugar thermometer to determine the exact stage of when to take the sugar from the heat and added a few handy tips which will make your first try a big success.
In the process, we both realized that non-stick cookware is not the best thing for making sugar caramel. Rather use a stainless steel or cast iron pot/pan. Also, it is best to warm the nuts in the microwave or oven before adding them to the caramel – this ensures that the caramel doesn't cool down too quickly after adding the nuts and will be easier to transfer from the pan to an oiled or lined tray.
Although this recipe takes a little patience, the results are well worth it!
Ingredients:
2 cup white sugar
2 cups mixed nuts and seeds (Tasha used a mixture of almonds, cashews, pumpkin seeds, sesame seeds and linseeds)
1/2 teaspoon salt flakes
Method:
Line a regular baking tray with baking paper. Keep an oiled silicone spatula handy for later.
In a medium size heavy-based pot or pan (not non-stick), carefully heat the sugar over medium heat until it starts to melt – don't stir, just tilt the pan to swirl slowly. Bring to a simmer when all has melted, then cook for about 1015 minutes until it starts to turn lightly golden in colour. Use a sugar thermometer to monitor the temperature: we're aiming for 150-155 C.
In the meantime, sprinkle the nut mixture with salt, then heat them in the oven for a few minutes on 180 C. When the caramel has reached hard crack stage (150 C), add the nuts and swirl to coat them evenly. Transfer the mixture to the lined tray, then use the oiled spatula to quickly flatten the surface. Leave to cool, then cut/break into blocks/chards.
Note: Sugar caramel is very hot and must be handled with caution.
Credits:
Recipe & text: Ilse van der Merwe
Photography, recipe adaptation, styling &  food preparation: Tasha Seccombe & John Seccombe
As seen on The Pretty Blog.