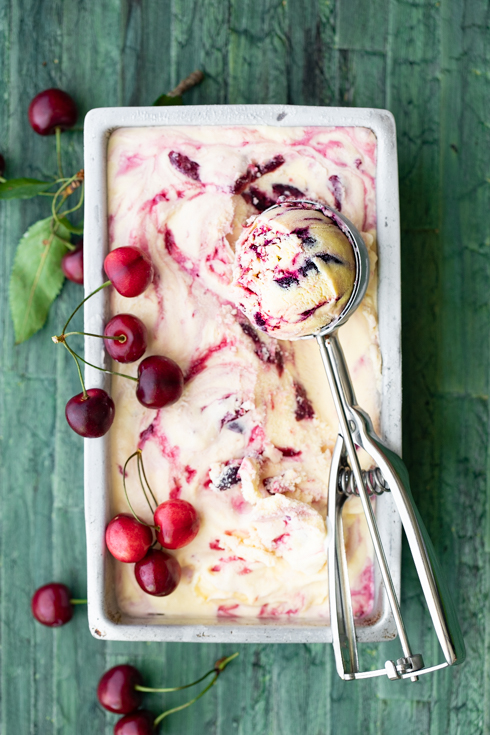 A few weeks ago, my family and I had the privilege of joining a small group of guests at the Cherrytime Farm (part of Dutoit Agri) outside Worcester, for picking our own cherries from their cherry trees. I've never even seen a cherry tree before, so the prospect of picking plush ripe cherries sounded incredible.
After being welcomed, we roamed the vast orchards in the trickling rain and picked a few bags of the most beautiful fruit you can imagine. Most of my images look enhanced, but the cherries really are that vibrant in real life – you have to see it for yourself to believe it. We even enjoyed a delicious picnic-style lunch in the middle of the orchards – what a memorable day!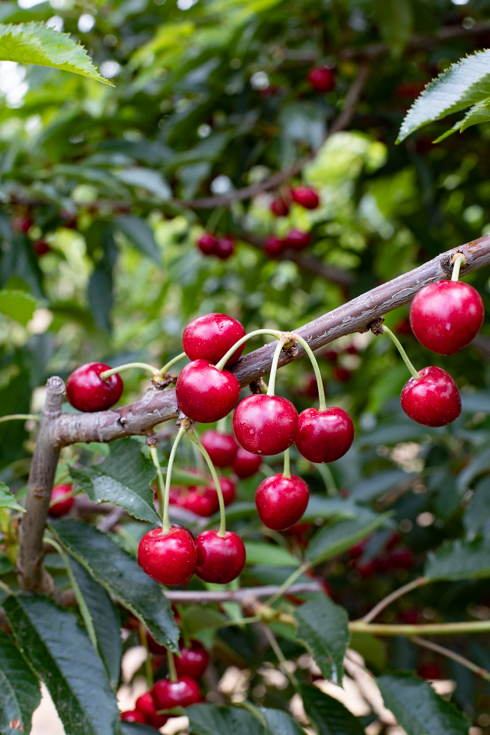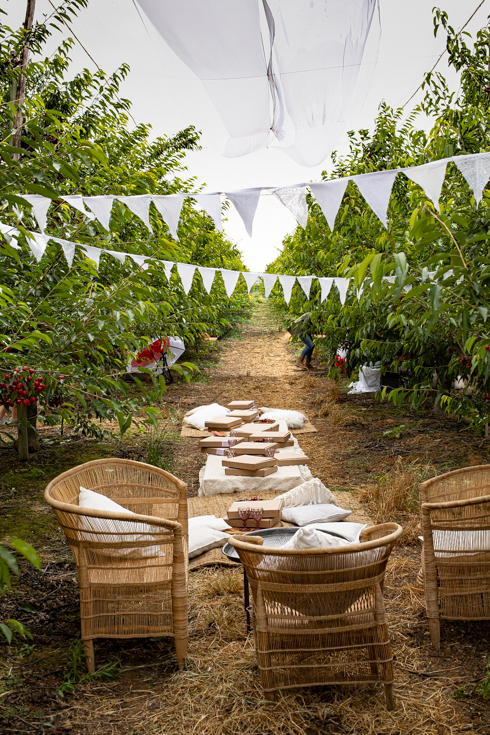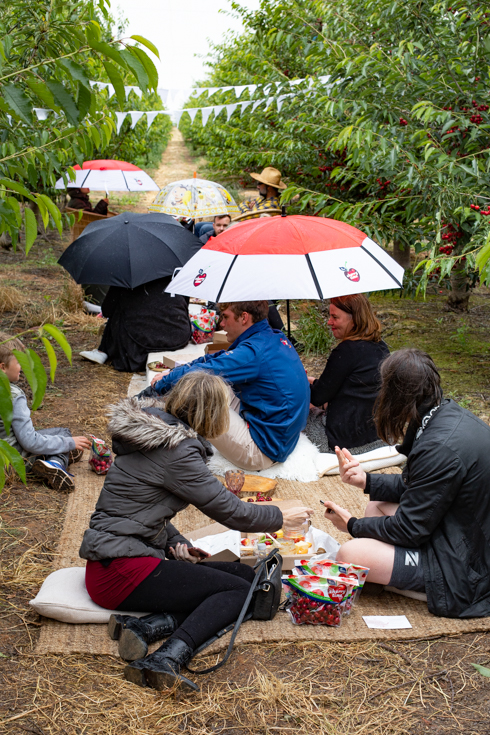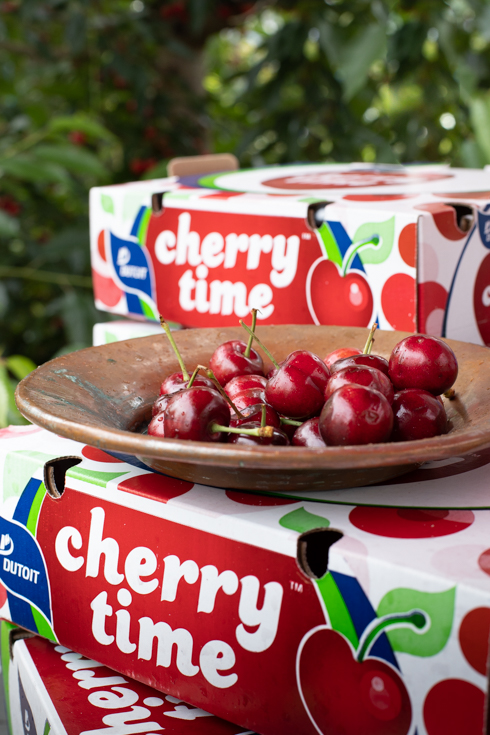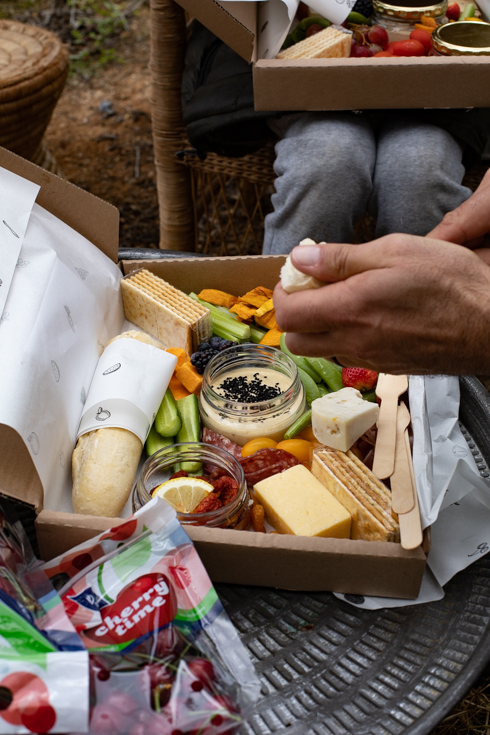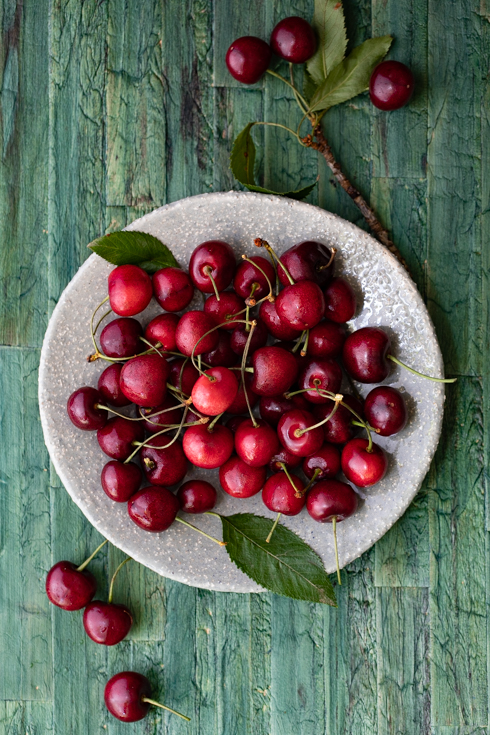 Back home, I was so excited about our freshly picked harvest that I didn't dare to cook them for days – we only enjoyed them daily as it, fresh and juicy and incredibly delicious. My daugher packed a few for her school lunch box daily. Then I used some to cook a fabulous cherry galette for my new seasonal cookbook (part of the Spring chapter, because cherries have a short season of November and December only – look out for the book in stores in September 2021) and a few days later I took on the project of making a proper cherry & almond ice cream from scratch. It was a complete triumph! And with the last few cherries, I made four small jars of cherry conserve that I'll sparingly use over the festive season.
Note: My recipe for cherry and almond ice cream is not a quick one, it is traditionally custard based and you'll need an ice cream machine to churn it. I realize that many people don't have ice cream machines, but perhaps you can subtitute this traditional ice cream recipe for something a little simpler like this no-churn cheat's ice cream (just omit the coffee & brandy) which is made from whipping condensed milk and double-cream. Continue with swirling in the cooked cherries as per the recipe below, and freeze immediately.
Order your fresh cherries today from Cherry Time online. Having a box of plump, juicy cherries in my fridge has brought us so much joy, I cannot even describe it. Some of the most beautiful and delicious fruit in the world!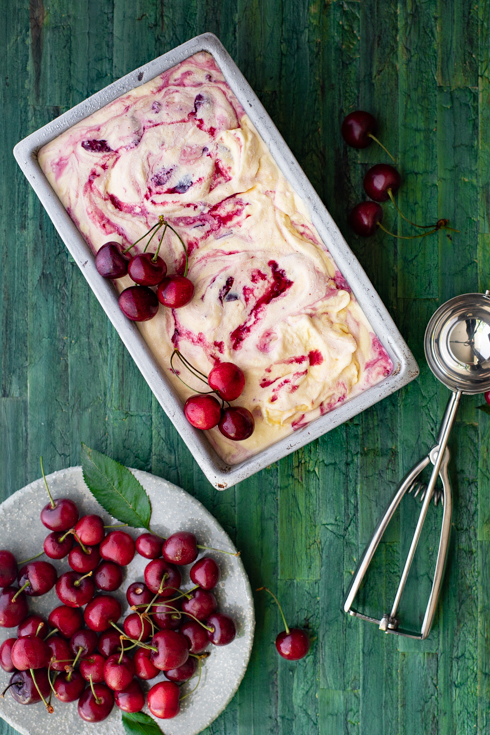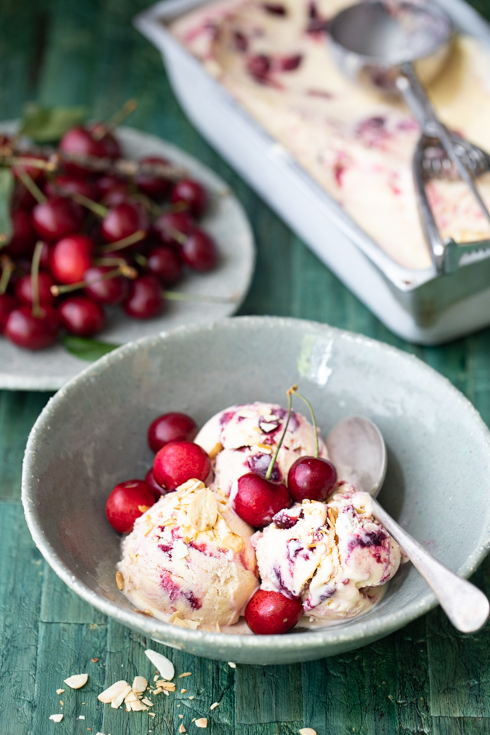 Ingredients: (makes about 1,2 liters)
For the chunky berry swirl: (prep time – about 20 minutes, plus time for stoning and cooling)
500 g fresh cherries, pitted, halved
70 g white sugar
Add the stoned cherries and sugar to a small saucepan, then place over medium heat. When the fruit starts to release their juice, stir every now and then until the sugar has melted completely – it will take a few minutes. Simmer over low heat for about 10 minutes until the fruit is soft but still chunky. Remove from the heat to cool completely, then refrigerate until ready to use.
For the ice cream base: (prep time – 25 min plus 1 hour cooling plus at least 3 hours in the freezer)
6 egg yolks
1 ml (1/4 teaspoon) salt
5 ml (1 teaspoon) vanilla extract
2,5 ml almond extract (optional, but I love the combination of almond with cherries!)
350 ml milk
350 ml fresh cream
a handful flaked almonds, toasted (for serving, optional)
In a medium mixing bowl, whisk the yolks with the salt, vanilla and almond extract until light in colour. Add the milk and cream to a medium pot and heat until you can just still dip your finger into it. Remove it from the heat and add it in a slow stream to the whisked egg yolk mixture, whisking continuously. Now pour the mixture back into the pot and place over medium-low heat, stirring constantly until it thickens to a very runny custard (it must coat the back of a spoon), but it must not boil. Pour the custard into a plastic container and let it cool to room temperature, then refrigerate for at least 3 hours before churning.
Using an ice-cream machine, churn the ice cream according to the manufacturers instructions (mine takes about 45 minutes). When it is ready, pour the chilled chunky berry sauce into the ice cream, giving it a quick few folds with a spoon, then scoop it into a container suitable for freezing. Cover and freeze immediately for at least 3 hours or preferably overnight.
To enjoy, remove the ice cream from the freezer and let it stand for at least 10 minutes before scooping (depending on the temperature outside, but I like mine a little soft). Enjoy as is, or top with toasted almond flakes for a great extra crunch and some toasty almond notes.