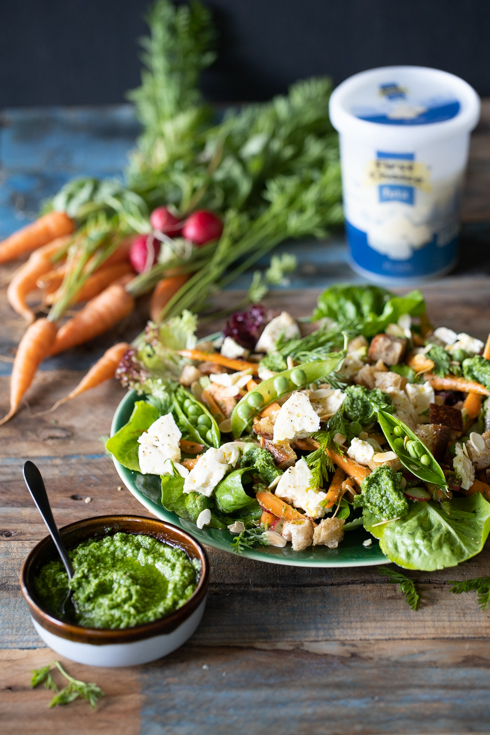 As you might know, I'm currently shooting my second cookbook with a seasonal theme, and I've been acutely aware of seasonal produce over the past few months. Our friendly neighbour has planted a small vegetable garden, and he's offered to share his abundent garden peas for the past few weeks with us – what a pleasure. He recently invited us to harvest the last of his peas, so I wanted to make a garden salad to celebrate this final harvest. In the process, I also came across the most beautiful freshly picked baby carrots and radishes from another farm nearby. Their leaves were so beautifully crisp and fresh that I had to do something with them! I mean, can you even eat carrot tops? I never knew, but yes, you certainly can. And they make the MOST delicious pesto too, as I subsequently discovered.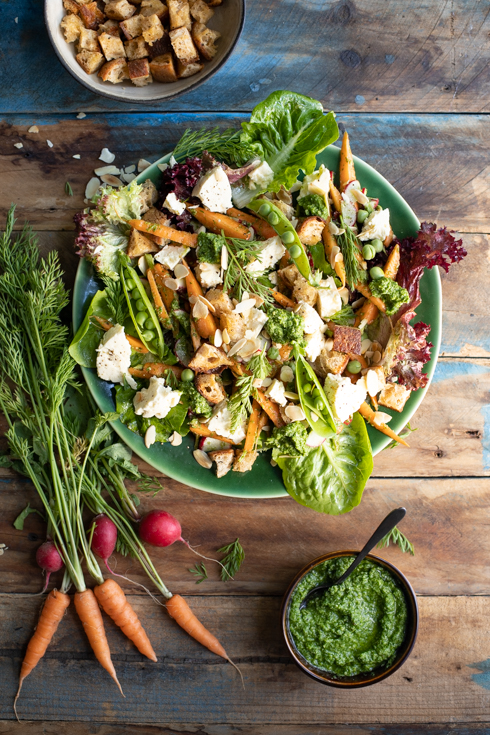 First Choice has asked me to join their #newnorm campaign of making greener life choices and choosing a #zerowaste approach to cooking. I've learned so much during the past few weeks, becoming acutely aware of what I throw away, what I recycle and how I consume. There are many small choices you can make to minimise waste, such as only buying what you need, and making time to consciously preserve (freezing etc) what you won't eat now. But I've always thrown out carrot tops, and now I'll never do that again! My freezer is filled with a few small jars of the most delicious carrot top & radish leaf pesto, and I really urge you to try it!
For the garden salad, use whatever fresh and seasonal produce you can get your hands on. I've also made croutons from the last few slices of a great sour dough loaf – never toss those stale slices out! It's a celebration of a few very simple ingredients that might have otherwise ended up in the bin, yet turned into a feast. Watch my video here:
Which choices do you make to work towards #zerowaste cooking?
Ingredients for the pesto:
a bunch of fresh carrot tops, washed & drained – I've also added some radish leaves (you can also add a handful of your favourite herbs, if you want to use some)
1/2 cup mature cheese, grated (any hard cheese will do, I've used a mixture of mature gouda and pecorino)
1/4 cup nuts (I've used flaked almonds, but most nuts will do)
a squeeze of fresh lemon juice
salt and pepper to taste
about 1/4 cup extra virgin olive oil (I've used Fresh Choice's Extra Virgin Olive Oil)
Place all the ingredients in a food processor (if some of your carrot tops are very woody, rather transfer those parts into your compost bin) and process to a bright green pesto. Add more oil if needed and scrape down the sides in the process. Taste and adjust seasoning, if necessary – pesto should be well seasoned!
For the salad:
a bunch of baby carrots and baby radishes, washed and slided
extra virgin olive oil
a bunch of salad leaves, rinsed and drained
a few fresh peas
a cup of freshly made croutons (toss cubed stale bread in olive oil with salt & pepper, and bake in the oven at 200 C for 7 minutes)
1-2 rounds of First Choice feta, crumbled
a handful toasted nuts (I've used flaked almonds)
To a mixing bowl, add a generous dollop of pesto and a swirl of olive oil to loosen the pesto. Mix lightly with a spoon, then add your sliced carrot and radishes and toss to coat. On a salad platter, arrange the salad leaves, then top with the dressed veggies, a few peas, croutons, feta, toasted nuts, and finally a few more dollops of pesto all over. Serve at once.
Enjoy your waste-free feast!
(Created in proud association with First Choice and Woodlands Dairy.)