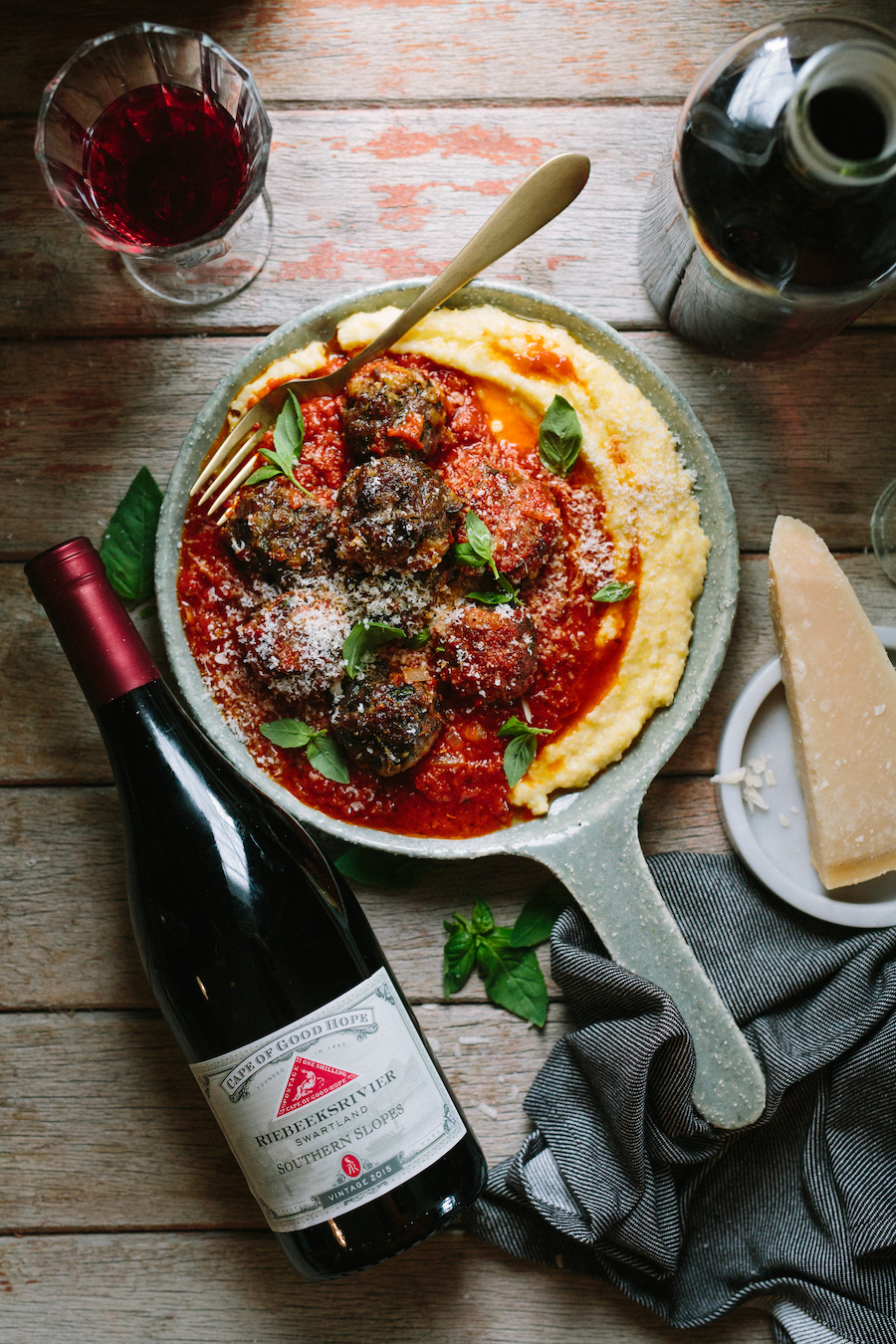 Tender meatballs smothered in a hearty tomato sauce are up there on my list of most comforting meals, but add a bed of creamy polenta and some marrowy roasted aubergine chunks and I'm literally in winter food heaven. The cubed soft aubergine lends a fantastic tenderness in texture and adds even more umami, while heartily adding veggie nutrition and lightness to your meaty meal. The recipe can easily be doubled to serve a crowd.
It's the perfect partner for a glass of Cape of Good Hope Riebeeksrivier, a hearty Syrah by Anthonij Rupert Wines.
Ingredients: (serves 4)
For the sauce:
30 ml extra virgin olive oil
3/4 onion, chopped (you'll use the other 1/4 below)
2 cloves garlic, finely grated
5 ml dried origanum
5 ml smoked paprika
30 ml tomato paste
2 x cans whole Italian tomatoes, pureed in a blender
15 ml balsamic vinegar
5 ml sugar
salt & pepper, to taste
For the meatballs:
1/4 cup extra virgin olive oil
1 medium aubergine, cubed (1x1cm cubes)
1 sprig rosemary, chopped
500 g extra lean beef mince
a handful Italian parsley, finely chopped
1/4 onion, grated or very finely chopped
fresh basil leaves, to serve
grated parmesan cheese, to serve
For the polenta:
2 cups chicken or vegetable stock
Method:
For the sauce: In a medium pot, heat the oil and fry the onion until lightly brown and soft. Add the garlic, origanum and paprika, and stir fry for a minute. Ad the tomato paste, pureed tomatoes, balsamic vinegar and sugar, then season with salt & pepper and bring to a simmer over low heat. Cook for about 20 minutes, transfer to a medium size deep baking dish.
For the meatballs: Preheat the oven to 200 C. In a wide pan over medium high heat, heat the olive oil and add the aubergine and rosemary. Fry until golden brown and soft, then season with salt & pepper and set aside to cool slightly. In a mixing bowl, add the mince, parsley and onion, and season with salt & pepper. Add the fried aubergine and mix well, using a fork to break up any lumps in the mince. Use a tablespoon to scoop heaps about the size of a golf ball each, and roll/press gently into balls. Arrange the meatballs on top of the sauce, scooping some of the sauce over the balls if you want to. Bake for 25 minutes at 200 C while you make the polenta.
For the polenta: in a medium pot, add the milk and stock and bring to a simmer. As soon as it boils, add the polenta while stirring, then continue to stir until the polenta thickens and becomes creamy (5-10 minutes). Season with salt & pepper, then serve in bowls, topped with the meatballs and sauce, some fresh basil leaves and grated parmesan cheese.
Note: Let's make the most of the last cosy days of Winter before Spring is here! Here are my favourite seasonal diningware picks from Superbalist.com – online shopping is the way to go in this weather, and most of these items are marked down, yay!