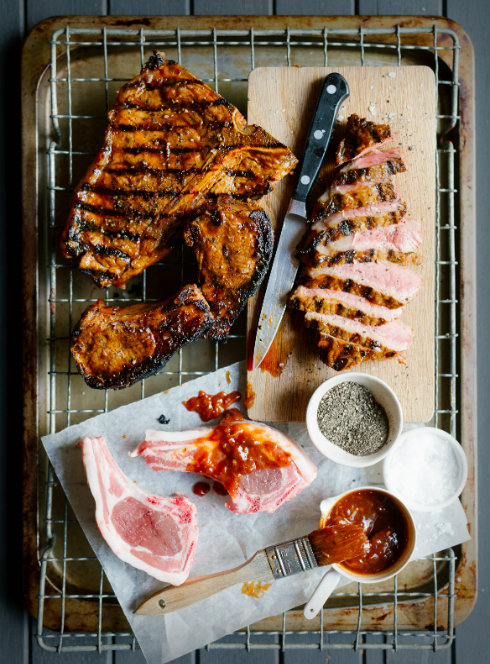 I recently had the pleasure of creating two new recipes for Peppadew®, using their convenient pasta sauce range. This is my second recipe: a versatile and fragrant BBQ meat marinade.
There are few things as satisfying as making your own delicious BBQ sauce. This chunky sauce works on almost any meat, from beef steak to lamb chops/sosaties, pork ribs and even chicken. If you prefer a smooth sauce, give it a whizz with your stick blender. Be adventurous and play around with adding more of your own spice combinations, like chinese 5-spice, cumin, coriander or all-spice.
Prep time: about 20 minutes (makes about 3 cups)
Ingredients:
1 jar Peppadew® Piquanté Pepper & Garlic Pasta Sauce
1 jar Peppadew® Tomato & Jalapeno Chilli Pasta Sauce
1/2 cup soft brown sugar
1/4 cup soy sauce
1/4 cup Worcester sauce
5-10 ml Tabasco sauce (adjust according to taste)
45 ml balsamic vinegar
30 ml fresh lemon juice
4 cloves garlic, peeled & finely grated
a knob of ginger, peeled & finely grated
Method
In a medium size pot, mix all of the ingredients for the marinade together. Place on high heat on the stove top, then bring to a boil, stirring often.
Reduce heat to a simmer, then cook for 10 minutes without a lid. Remove from the heat.
Use warm or at room temperature, coating your meat generously before cooking over a hot fire.
Tips:
This marinade will last in the fridge for at least 1 week in a plastic container or glass jar, covered with a tight lid. It also makes a great dipping sauce for fried potato chips.
Don't be alarmed if the sauce turns quite dark when you braai your meat – the sugar content will make it caramelize and the smoky flavours are delicious. Just watch it closely so that it doesn't burn.