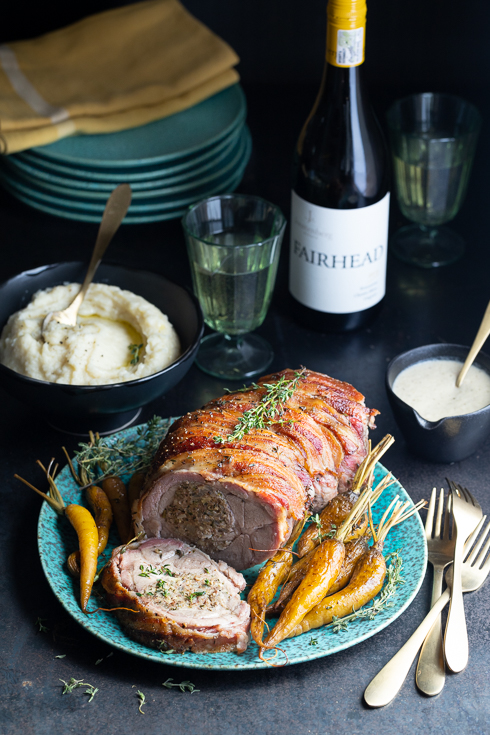 I'm very proud to be teaming up with Klein Joostenberg Deli once again, bringing you my most festive pork roast for Easter. Joostenberg has always been my go-to butchery when I need superb pork cuts, and their boneless pork necks are just exquisite. Apart from being very economical, it is a cut that is much lower in fat than pork belly or shoulder and it is naturallly shaped in a log which makes it ideal for stuffings. In this case, I stuffed the neck with a mixture of herbs, onion, apple, pork mince, pecan nuts and bread crumbs, then wrapped it in streaky bacon to keep the meat moist and add extra flavour. It was placed on a bed of onion and apple quarters with beautiful yellow carrots, more herbs and some Joostenberg chenin blanc. I pureed the onion and apples with the pan sauce at the end of roasting to create a delicious pale gravy, adding a dollop of Dijon mustard. To serve, I made a Jerusalem artichoke and potato mash and served it all with Joostenberg's Fairhead white blend – a flavour celebration that blew everyone at my table away. Absolutely scrumptious!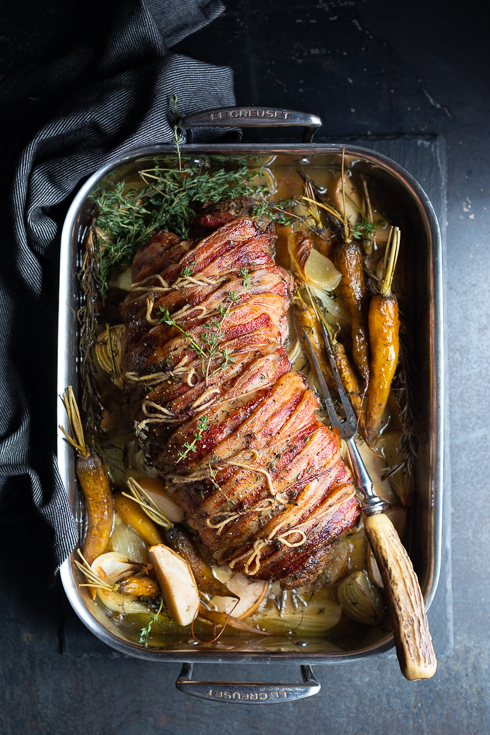 I hope you'll try this stuffed roast, it serves a crowd, it's easy to make and it is honestly one of the most delicious pork recipes that I've ever created. Find all the ingredients (and the wine) in the recipe at Klein Joostenberg's deli and butchery. Happy Easter!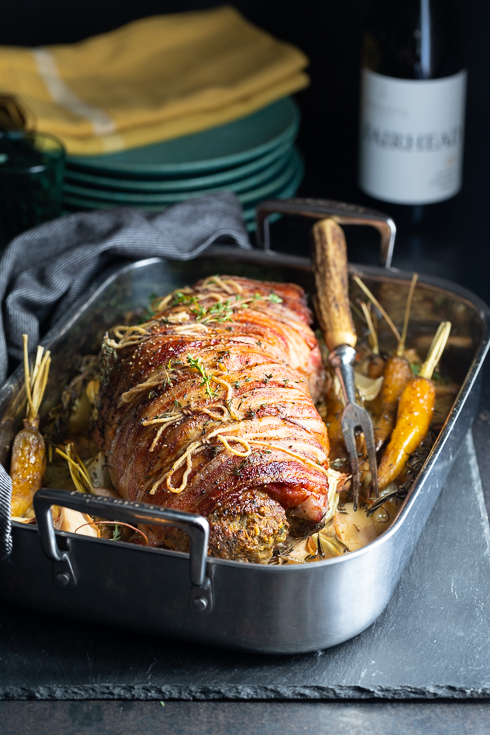 For the stuffing:
30 ml (2 tablespoons) olive oil
1 onion, finely chopped
2 garlic cloves, finely grated
1 rosemary sprig, stalk discarded, leaves chopped
5 thyme sprigs, stalks discarded, leaves only
300 g pork mince
2 slices white bread, torn into chunks
50 g (1/2 cup) pecan nuts
1 apple, sliced into chunks (core discarded)
a small punnet (20 g) Italian parsley
1 XL egg
10 ml (2 teaspoons) salt
5 ml (1 teaspoon) freshly ground black pepper
In a wide pan, heat the oil and fry the onion until translucent but not brown. Add the garlic, rosermary and thyme and continue to fry until the onion is soft and light brown. Transfer the mixture to a food processor, then add the mince, bread, pecan nuts, apple, parsley, egg, salt & pepper. Process to a coarse paste, then set aside.
For the pork roast & gravy: (serves 6-8)
If your roast is not butterflied you have two options: 1) use a large sharp knife to cut a hole along the centre from one end to the next, then use a wide nozzled piping bag to fill the centre of the roast, or 2) butterfly the roast so that you can layer the stuffing evenly and roll it up. I chose option no.1.
1,5 kg whole boneless pork neck
stuffing (see above)
salt & pepper
3-4 onions, sliced into wedges
2 apples, sliced (cores discarded)
a few sprigs rosemary
a few sprigs thyme
30 ml (2 tablespoons) extra virgin olive oil
about 400 g smoked streaky bacon
about 8-12 whole carrots, medium size
250 ml dry white wine (I used Joostenberg's Chenin Blanc 2020)
2 teaspoons (10 ml ) Dijon mustard
Preheat the oven to 160 C (convection, not fan assisted). Lay the pork neck out on a clean working surface, removing the stretchy string casing (if covered). Create a stuffing hole lenthways in the centre with a long bladed knife (or butterfly the meat for rolling up). Stuff it with the prepared stuffing, using a piping bag with wide nozzle (or spread the mixture in a thin layer all over the butterflied surface, then roll it up). Season it all over with salt & pepper. Cover the top of the roast with streaky bacon, slightly opverlapping, then use cotton string to tie up the stuffed neck into a neat log. In a large roasting tray, add the sliced onions, apples, rosemary, thyme and drizzle all over with olive oil. Place the prepared stuffed neck on top of the vegetables, then add the carrots on the sides (drizzle them with a little more oil) and add the wine into the pan. Roast without covering for 3 hours, then remove from the oven and make the gravy. While the meat is roasting, make the mash.
For the apple onion gravy:
When the pork roast is complete, transfer the meat carefully to a cutting board to rest. Remove the carrots to a serving plate, then transfer the onions, apples and pan liquid to a blender, discarding any whole sprigs of herbs. Blend to a smooth puree, then add the Dijon mustard and add more salt & pepper if needed. Blend until smooth, then transfer to a gravy jug.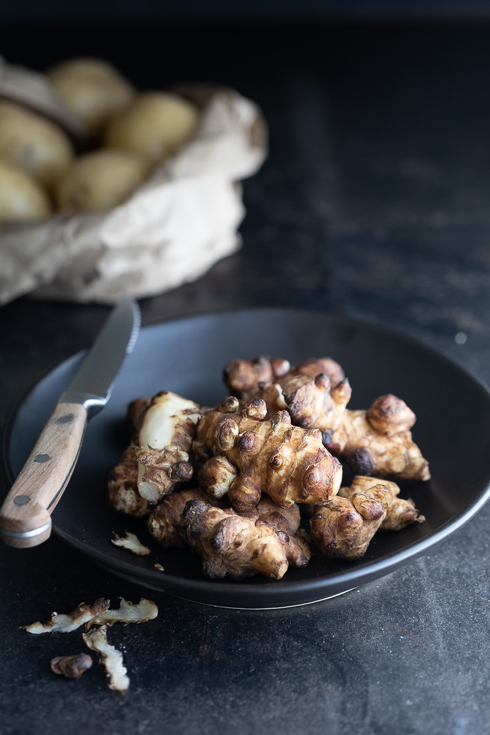 For the Jerusalem artichoke and potato mash:
4 large potatoes (about 800 g), peeled and quartered
salted water, for cooking
about 300 g Jerusalem artichokes, scrubbed and peeled
about 250 ml milk, for cooking, plus extra
80 g butter, cubed
salt & pepper
Place the potato cubes in a medium size pot with enough salted water to cover them, then bring to a simmer and cook until very tender, then drain and set aside. In the meantime, place the Jerusalem artichokes into small saucepan with enough milk to just cover them (cut larger chunks in half). Bring to a slow simmer and cook until very tender. Place the artichokes with cooking liquid into a blender and process to a smooth puree. In another bowl, use a potato masher to mash the potatoes, then add the cubed butter, a splash of milk and the artichoked puree. Use the masher to blend well, and season generously with salt & pepper. Set aside until the roast is ready to serve.
To serve:
Remove the pieces of string, then serve the roast warm, sliced into rounds, with the warm carrots, mash and gravy on the side. Note: The gravy and mash can easily be reheated in the microwave before serving.