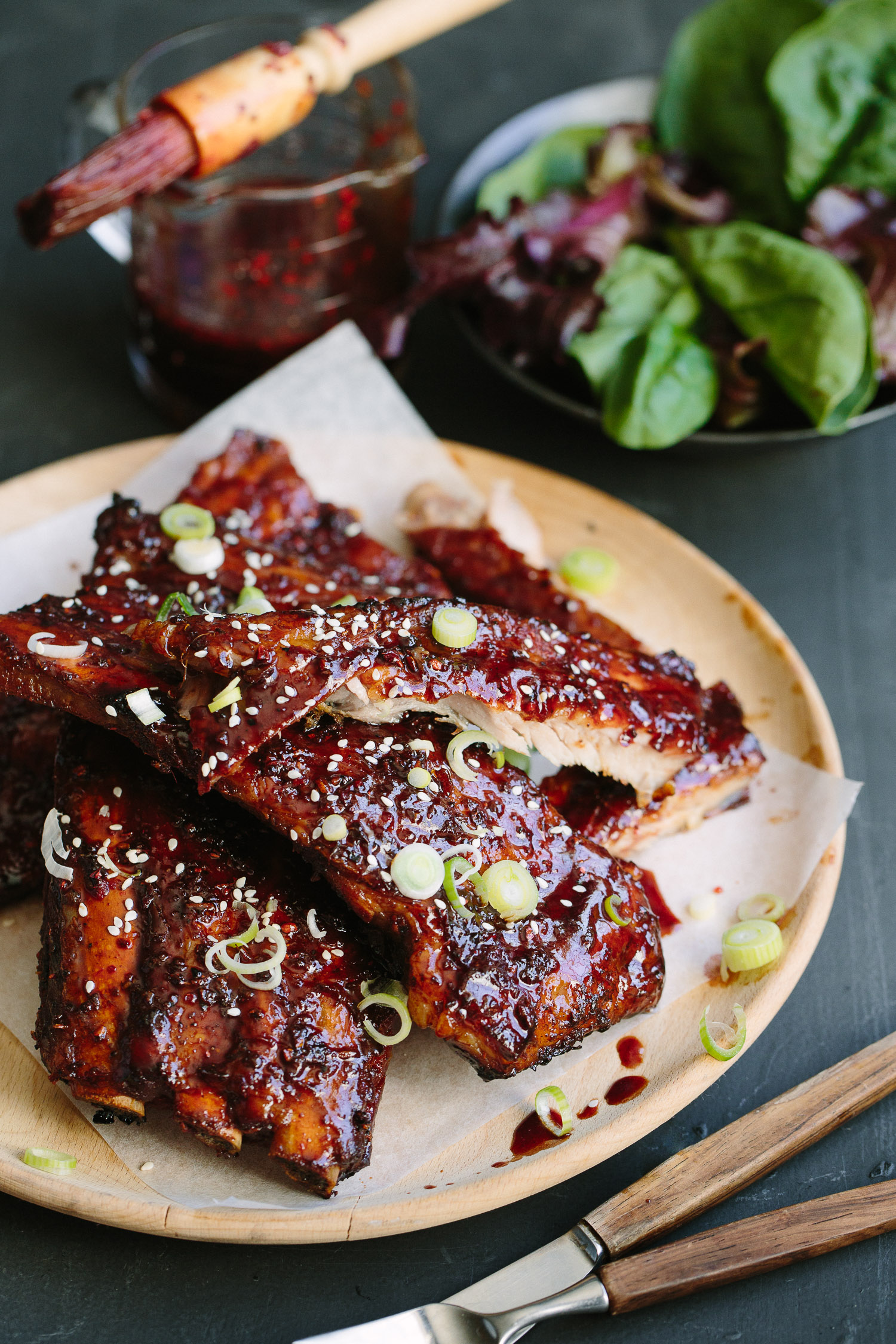 This is the second recipe in a series of six that I've created in collaboration with Pork 360 and Food Lover's Market. As you might have seen, there's a new stamp on some pork products in your favourite butcheries: Pork 360. It's a quality assurance and traceability certification – a guarantee to both the consumer and retailing sector that the producer has a consistent production process that complies with minimum standards and ensures high-quality pork. The Pork 360 projects takes place under the guidance of the South African Pork Producers Association (SAPPO). Watch their video for more info.
In a nutshell: it's pork you can trust!
This simple recipe for sticky Chinese-style pork spare ribs delivers big on the wow factor – glossy, sticky, dark and toasty pork ribs that will leave you licking your fingers. It works great on the braai but can easily also be cooked in an oven. Serve with a crunchy green salad and lots of paper towels (it's a deliciously messy affair!).
Tip: Buy authentic Asian pantry ingredients in your local Food Lovers' Market in the exotic section. This glaze is also great on chicken wings.
Ingredients: (serves 4-6)

125 ml Hoisin sauce
125 ml good quality soy sauce
60 ml rice vinegar (or sherry vinegar)
60 ml honey
60 ml brown sugar
30 ml grated/crushed garlic
5 ml red food colouring (optional, but delivers an authentically Chinese result)
10 ml Chinese 5-spice
2 kg pork spare ribs
sesame seeds, for serving (optional)
spring onion, finely sliced, for serving (optional)
Method:
Mix all the ingredients (except the ribs) together to form a thick, glossy, glaze.
Place the ribs in a large pot and add enough water to cover the meat (cut the ribs in smaller sections if it doesn't fit the pot). Pour over half the glaze and bring the water to a boil, covered with a lid.
Cook the ribs for about 1 hour until it almost falls from the bone. Remove from the water and place in a large roasting tray (if you are going to cook them in the oven, line the tray with foil). Using a basting brush, brush the ribs generously with glaze on both sides.
For the braai: Braai on both sides until dark and sticky, basting throughout. For the oven: roast at 220 C for 10 minutes at a time, basting throughout and turning them over when necessary. They should be ready in about 30 minutes. Serve immediately.