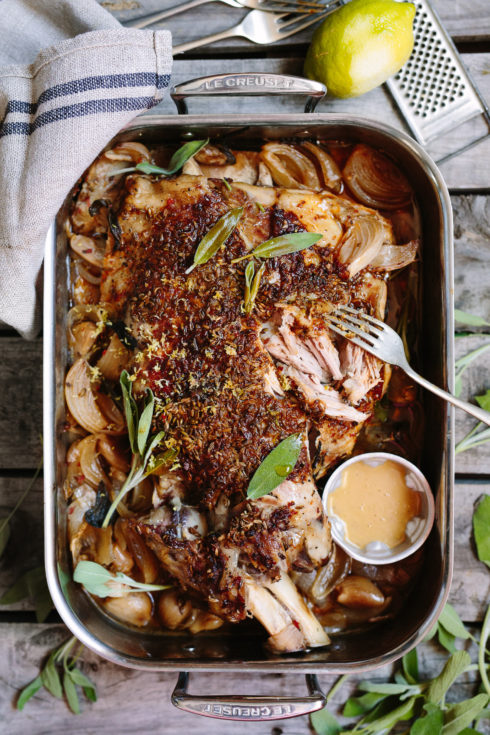 Once or twice a year, when we gather friends and family for a really big festive occasion, I choose a special, huge cut of meat to bring to the table as a whole slow-roasted centre piece. Pork shoulder wins my vote every single time, because it's inexpensive, it's succulent and it cooks to a tenderness that cannot be replaced by boneless smoked gammon or a whole leg.
I had the privilege of recently developing 6 new recipes in collaboration with Pork 360 (this one's number 3). It's a quality assurance and traceability certification – a guarantee to both the consumer and retailing sector that the producer has a consistent production process that complies with minimum standards and ensures high-quality pork. The Pork 360 projects takes place under the guidance of the South African Pork Producers Association (SAPPO). Watch their video for more info.
In a nutshell: it's pork you can trust!
I bought the meat (and other ingredients) from my friendly butcher at Food Lover's Market. You can find the most beautiful, fresh, whole pork shoulders, necks, bellies and legs – great choices when entertaining a large crowd. They also have great spare ribs, chops and festive gammons.
For this recipe, you can start the process in the morning if you plan on serving it for dinner, or just before you go to bed when you plan on serving it for lunch. All you need is an oven and a large roasting tray with foil. Rub all over with your spices, add some aromatics like onions, garlic and sage, and top up the tray with some sparkling apple juice or apple cider. After 8 hours at 120 C you will find magic in your tray: "doeksak", as we say in Afrikaans. Saucy. Moist. Falling from the bone.
The leftovers will reward you with the ultimate pulled pork buns (sloppy as hell) the next day. The cooked meat freezes exceptionally well in the pan juices, so don't be afraid of choosing a bigger cut than you actually need.
Ingredients: (serves 10-12)
4,5-5 kg whole pork shoulder (bone-in)
30 ml extra virgin olive oil
30 ml salt flakes
10 ml freshly ground black pepper
15 ml smoked paprika
30 ml fennel seeds
10 ml dried chilli flakes
3 onions, peeled & quartered
1 bulb garlic, peeled
about 12 sage leaves
500 ml Appletizer or apple cider
30 ml butter
30 ml flour
finely grated lemon rind, for serving (optional)
Method:
Pre-heat the oven to 120 C.
Carefully remove the skin from the shoulder using a sharp, small knife. Set the skin aside to make crackling later. Rub all over with olive oil, then place in a large roasting tray.
Mix the salt, pepper, paprika, fennel, chilli together, then rub it all over the pork. Arrange the onions, garlic and sage all around the pork, then pour the apple juice/cider into the tray. Cover with foil, the place in the oven. Roast for 8 hours.
To make gravy: Heat the butter in a small saucepan. When melted, add the flour and stir to create a roux. Carefully pour most (not all, but around 500-750 ml) of the pan juices into the sauce pan, stirring well to create a thickened smooth gravy. Season well with salt & pepper.
Serve hot with sides of roasted potatoes or pan-fried spinach or caramelized sweet potato and a crisp green salad.
Save
Save
Save