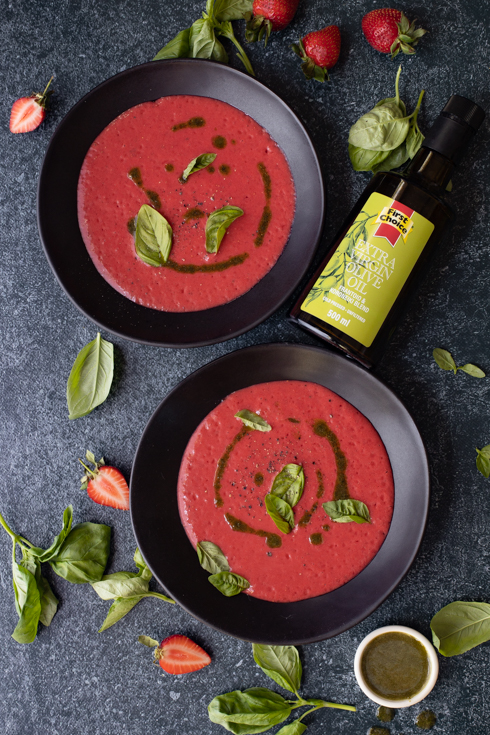 I've learned so much over the past year about what I throw away, and how to minimize waste to a point where there's hopefully none. The team from First Choice have launched a #newnorm campaign in order to raise awareness about #zerowaste, and I'm wholeheartedly on board with spreading the word.
There are so many small things that you can do to make sure you really get the most out of what you buy. We love strawberries, but if they're not eaten straight away, some of them might look bruised or become overripe after a few days. Here's a great way to use those "slightly sad" strawberries – make a bright and festive gazpacho!
In case you didn't know, strawberries are excellent when paired with more salty or sour flavours. They love a drizzle of balsamic vinegar too, so remember that for next time! In this case, I've added a few bold ingredients like green chilli, a ripe tomato, red wine vinegar and olive oil to make a smooth and bright gazpacho – an elegant starter for your summery festive celebration. The flavours are complex and bright and the colours are so vibrant. Use the strawberry leaves to make a beautiful green drizzling oil – yes, you can totally eat strawberry leaves!
What are you doing to minimize waste in your home cooking?
Check out my how-to video: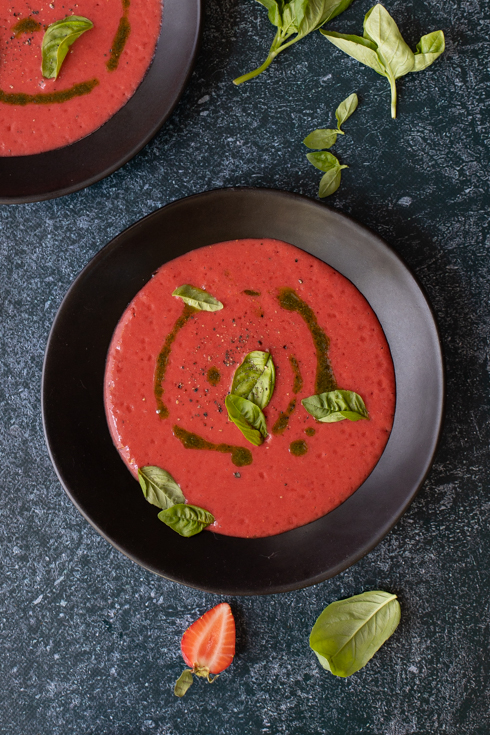 Ingredients: (serves 3-4 starter portions)
about 500 g strawberries (they can be lightly bruised or slightly overripe, no problem)
1 large ripe tomato, quartered
1 green chilli, stalk removed and halved lengthways
1 slice white bread, crusts removed and cut into quarters
salt & pepper to taste
15 ml red wine vinegar
30 ml First Choice extra virgin olive oil
Remove the leaves* from the strawberries and reserve them for later. Place all the ingredients (except the strawberry leaves) in a blender and blend until very smooth. Refrigerate until cold, then serve chilled with a drizzle of green strawberry leaf & basil oil.
*For the strawberry leaf and basil oil:
Place the reserved strawberry leaves and a few basil leaves in a small blender. Add 1/4 cup extra virgin olive oil and blend until smooth. Refrigerate until ready to use, and use within 2-3 days. Can also be used over salads or as a dip for fresh bread.
Note: Proudly created in collaboration with First Choice SA.