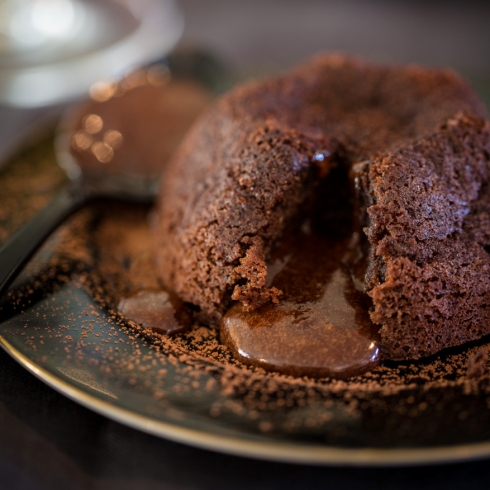 After his trip to Belgium in January, my brother brought me a huge chunk of fabulous Belgian dark chocolate. Fighting my urge to devour it before I would have to share it with anyone else, I decided to look for a fabulous recipe to make the ultimate chocolate fondant.
After searching for a week or two (and not finding the right recipe), I vented my frustration on Twitter. To my surprise, Chef Tanja Kruger from Macaron Restaurant at Majeka House in Stellenbosch responded with a message that she would send me her chocolate fondant recipe via email. What a treat! Chef Tanja is on the culinary Springbok team, and her modern food creations at Majeka House have gained her tremendous respect not only in South Africa, but all over the world. This recipe contains very little flour, and is almost like a chocolate soufflé – so light in texture, yet perfectly rich and deeply satisfying to eat. You can make the mixture ahead of time and refrigerate it for a few hours, then just pop it in a pre-heated oven when you're ready for dessert. The exact baking time will vary according to the size of your ramekins, anything from 10-15 minutes. Be sure to test one ahead of time to ensure a perfect result.
On the 14th of February this year, I made Tanja's classic chocolate fondant as the star dessert for my husband on our 9th wedding aniversary dinner. It was a total hit! Thanks Chef Tanja for sharing this recipe with me – it has already become a firm favourite in our household.
PS: Macaron restaurant just revamped their a la carte menu, and will be launching it this month. Be sure to check their twitter account for more details.
Ingredients: (makes 6 medium size fondants)
250 g dark chocolate (Tanja uses 61% Extra from Valrhona)
250 g salted butter, cut into cubes
120 g caster sugar
4 eggs
4 egg yolks
15 ml cake flour
Method:
Melt the chocolate and butter together in a heat proof glass bowl over a pot with simmering water. Make sure that the bowl doesn't touch the water, it should only be the steam that heats the bowl. Stir every now and then. When the mixture is smooth and glossy, remove from the heat and cool slightly.
In the meantime, whisk the caster sugar, eggs and egg yolks together until they are very light and fluffy.
Add the chocolate mixture to the egg mixture and fold it in until you get a smooth mixture.
Now add the flour and lightly fold it in until just combined.
Pour into well-buttered ramekins, then refrigerate for 2-3 hours before baking.
Bake in a pre-heated oven at 200C for 10-12 minutes (up to 15 minutes for bigger ramekins). The centres should still be runny, but the outside should be firm.
Use a small sharp knife to loosen the edges, then carefully turn the fondants out on dessert plates. Serve immediately, with a dollop of thick cream or a scoop of ice cream.
Credits:
This post was especially written for The Pretty Blog by Ilse van der Merwe from The Food Fox.
Food preparation and text: Ilse van der Merwe.
Photography: Tasha Seccombe.
Styling: Nicola Pretorius & Tasha Seccombe.