I was invited for lunch last week at Simonsig Estate's Cuvée restaurant. Although Simonsig is not far from where I live, I've never had the opportunity to eat at Cuvée before. Being a huge fan of their white wines, my husband and I were certainly looking forward to the experience.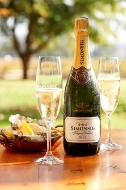 Simonsig is legendary for creating the first South African Méthode Cap Classique in 1971, and is situated on the Kromme Rhee Road between the R44 and the R304 just outside Stellenbosch – a tranquil and very scenic road. We were greeted at the modern Cuvée restaurant by friendly staff, and took our seats right in front of the fireplace. It was a dreary winter's day with howling winds and pouring rain, so the setting was truly inviting!
Cuvée is known for their "quirky mix of nostalgia and Cape Dutch modernism".  All items on the one-page menu are seasonally inspired, and the decor is unpretentious and inviting. After ordering a glass of Simonsig's famous Kaapse Vonkel Brut, we ordered our starters: Oysters with caviar, pickled cucumber, sai sai & kimchi for me, and rabbit terrine with bourbon pickled vegetables & grilled sourdough for Schalk. Our starters were both magnificent – the oysters were impeccably fresh, the flavours so bright yet not overpowering. The rabbit terrine surprised us with great flavour and wonderfully diverse textures, especially the pickled vegetables. On recommendation, Schalk enjoyed a glass of Simonsig Adelberg Sauvignon Blanc with his starter – a perfect match.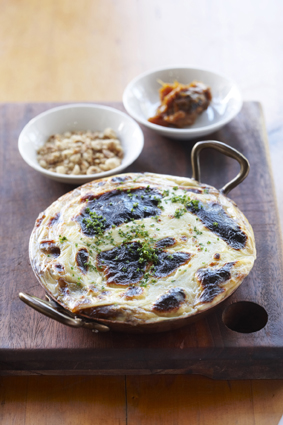 For main course, I opted for the lasagna of braised lamb with taleggio bechamel, dried fruit chutney & hazelnuts (with a glass of Simonsig Cabernet Sauvignon Tiara – their flagship wine), and Schalk ordered the line fish with asian ratatouille, shiitake arancini, & lemon beurre blanc (paired with a glass of Simonsig Chenin Blanc). Although the lamb lasagne was a really comforting winter dish, it was the line fish that stole the show for both of us. Such a clever combination of zesty flavours and delicate textures.
For dessert I chose the textures of hazelnut: hazelnut praline cake, hazelnut ice-cream, nutella cheesecake & rochers. This is a dreamy, rich and decadent dessert and the perfect ending to a winter's lunch! Paired with a glass of Simonsig Vin de Liza noble late harvest, this combination almost had me in a flavour trance. Schalk ordered the pear and frangelico tart with Jenny's clotted cream and vanilla anglaise – the pastry was so deliciously short and crispy, freshly baked and rich with flavour. It was served with a glass of Simonsig Straw Wine, one of the highlights of our lunch.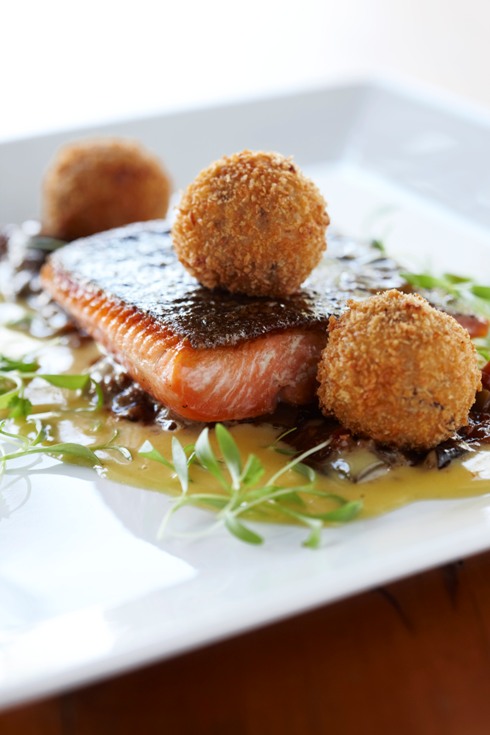 This experience at Cuvée surpassed my expectations on all levels. The restaurant is cozy yet modern, the service was impeccable, all the wines were superb and the food was simply outstanding. Prices vary from R75-R85 for starters, R120-R155 for mains and R55-R75 for desserts.
Cuvée currently have a pocket-friendly winter special at R195 for a three-course meal including a complimentary glass of wine. Booking is essential, and can be made at 021-8884900. Children are welcome.
Thank you very much to Simonsig Estate, chef Lucas Carstens and the restaurant staff, and GC Communications for this superb lunch experience. We'll certainly be back for more!
(All pictures courtesy of Simonsig Estate.)