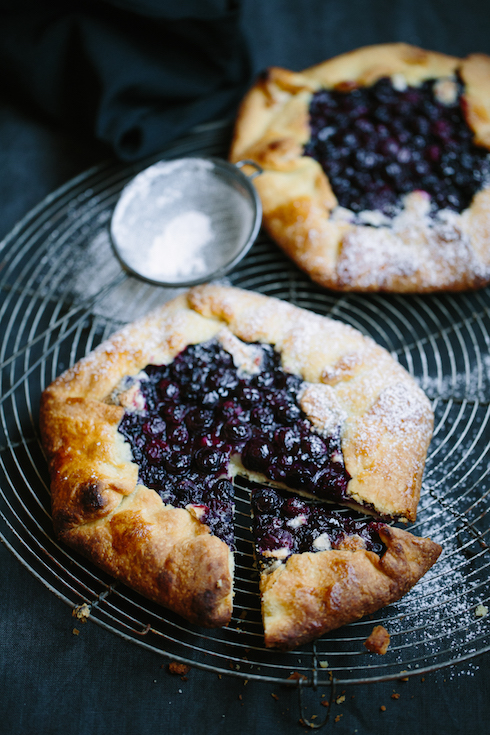 A few years ago I posted this recipe for a peach galette. By the way, the French call it a galette, the Italians call it a crostata. Now that I've given all the credit to the French previously, I suppose it's time to give the Italians a turn.
Since the first time that I made this rustic free-form tart, it has become my secret weapon. I've made it numerous times with cling peaches, sometimes with nectarines and once with plums. Every single time the result has been magnificent: buttery, flaky pastry enveloping an oozing almond paste centre along with slightly tart and soft fruit on top. It's a revelation to many who taste it the first time. The simplicity and intensity of it all is just superb. And can you imagine adding a dollop of creme fraiche or vanilla ice cream? The stuff dreams are made of, literally.
Almond paste: (enough for at least 2 crostatas)

100 g (250 ml) ground almonds
250 ml icing sugar
¼ teaspoon almond essence
1 egg white, lightly whisked
Pastry: (makes 2 medium size crostatas)
(Recipe for pastry by Ina Garten)
2 cups cake flour
¼ cup caster sugar
½ teaspoon salt
250 g cold butter, diced
60 ml (1/4 cup) ice cold water
Filling: (enough for 2 crostatas)
1 egg, lightly whisked
about 1,5 cups fresh blueberries – or use any other seasonal fruit except strawberries and bananas
Method:
For the almond paste: Place all the ingredients except the egg white in a food processor. Add half the egg white and process until it comes together into a ball (add more egg white until you get to the desired consistency, add more icing sugar if your mixture is too sticky). Remove from the bowl, cover with plastic wrap and freeze for at least 3 hours. It won't ever freeze solid because of the sugar content, but it is much easier to handle when it is hard enough to grate.
For the pastry: Place the flour, sugar, salt and butter in a food processor. Pulse until it resembles breadcrumbs, then add the icy water all at once while the motor is running. As soon as the dough starts to come together, remove it from the bowl onto a lightly floured surface. Press into a disk shape, then cover with plastic wrap and refrigerate for at least 30 minutes to firm up.
To assemble: Pre-heat oven to 220 C. Roll out the pastry on a floured surface to a thickness of about 5 mm. Transfer carefully onto a large baking tray lined with baking paper. Brush the top of the pastry with egg, leaving a 3cm border around the edges. Coarsely grate the frozen almond paste all over the brushed egg pastry surface, then cover with blueberries. Fold the edges over carefully, keeping the look of the edges rustic. Bake for 25 minutes or until golden brown. Remove from oven and cool on a wire rack before serving with vanilla ice cream (serve hot or at room temperature).