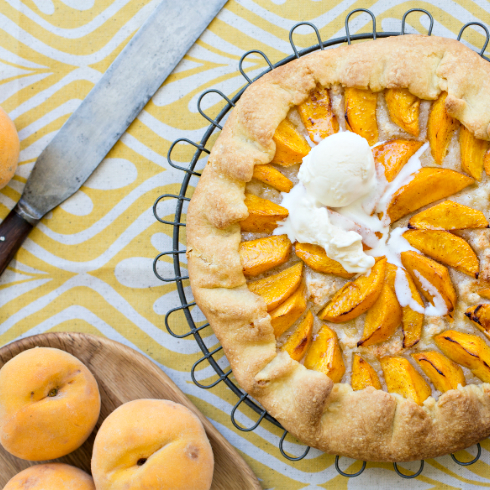 Today is the last official day of summer in SA, so I'm going to sneak in one last sunny recipe. When summer fruit is abundant, there's just no better way to use them than in a rustic French fruit galette (or crostata, like the Italians call it). The pastry is buttery and flaky, the fruit is tender and intense, and the result is just so much more than the sum of its original parts.
To make this galette even tastier, I make a batch of almond paste (marzipan) and coarsely grate this over the prepared pastry base before arranging the fruit. This adds a delicious soft and gooey aspect to the tart, as well as that almond flavour that I love so much. If you don't like almonds, you can leave this out completely.
The recipe for the pastry comes from one of my food icons, Ina Garten. She had a specialty food store called The Barefoot Contessa for many years (now also the name of her famous American TV show), and baked hundreds of crostatas in her years. I love the texture of this pastry and didn't want to change a thing about it. Ina's recipe makes enough for two delicious galettes, so you can freeze the second half for another time if you like.
Pastry: (makes 2 standard sized galettes)
(Recipe for pastry by Ina Garten)
2 cups cake flour

¼ cup caster sugar

½ teaspoon salt

250 g cold butter, diced

60 ml (1/4 cup) ice water
Almond paste: (enough for 2 galettes)
100 g (250 ml) ground almonds

250 ml icing sugar

¼ teaspoon almond essence

1 egg white (large egg)
Filling: (enough for 2 galettes)
1 egg, lightly whisked (for brushing)

6 large cling peaches, peeled and sliced (pits removed) – or use any other seasonal fruit except strawberries and bananas

15-30 ml cinnamon sugar
Method:
For the pastry: Place the flour, sugar, salt and butter in a food processor. Pulse until it resembles breadcrumbs, then add the iced water all at once while the motor is running. As soon as the dough starts to come together, remove it from the bowl onto a floured surface. Press into a disk shape, then cover with plastic wrap and refrigerate for 1 hour.
For the almond paste: Place all the ingredients together in a food processor. Process until it comes together into a ball (add more icing sugar if your mixture is too sticky). Remove and refrigerate (for at least an hour) in an airtight plastic bowl.
To assemble: Pre-heat oven to 220 C. Roll out the pastry on a floured surface to a thickness of about 5 mm. Transfer carefully onto a large baking tray lined with baking paper. Brush the top of the pastry with egg, leaving a 3cm border around the edges. Coarsely grate the almond paste all over the brushed egg pastry surface, then cover with peach slices. Sprinkle with cinnamon sugar, then bake for 25-30 minutes until golden brown. Remove from oven and cool on a wire rack before serving with vanilla ice cream (serve hot or at room temperature).
 Credits:
This post was originally written for The Pretty Blog by Ilse van der Merwe from The Food Fox.
Recipe, food preparation and text: Ilse van der Merwe
Photography: Tasha Seccombe
Prop Styling: Nicola Pretorius