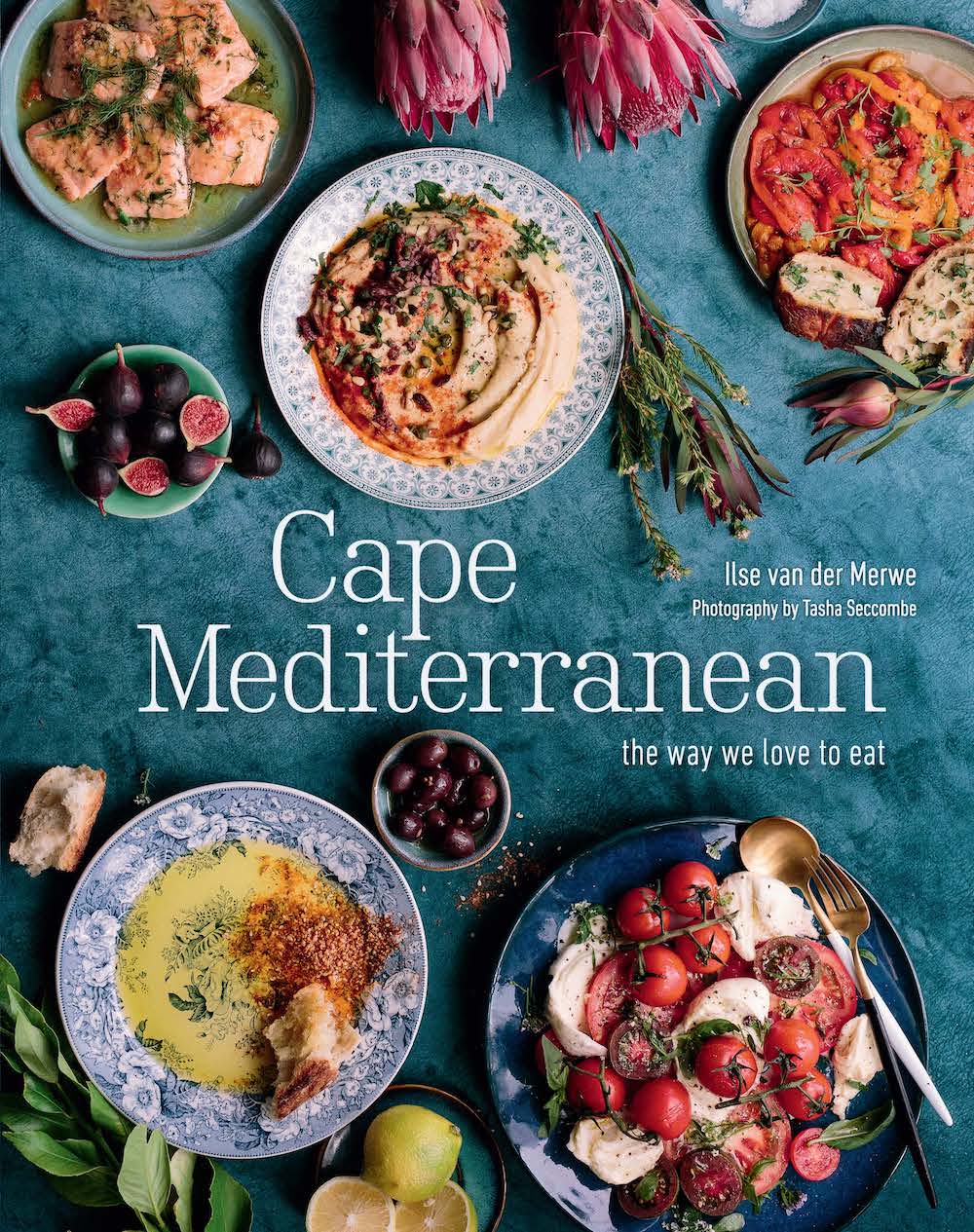 It is with the greatest pleasure that I share the arrival of my first cookbook with you! It is titled Cape Mediterranean: the way we love to eat, published by Penguin Random House / Struik Lifestyle, with photography by my dear friend Tasha Seccombe. The book is available from this week in most South African book stores as well as online (Loot.co.za, Bidorbuy.co.za, Amazon.com, ExclusiveBooks.co.za etc.) and as an e-book at a recommended retail price of R360.
Writing a cookbook (hopefully one of many to come) has been one of my biggest aspirations for many years. In June 2018 I finally approached the legendary Linda de Villiers from PRH with my concept. Apart from agreeing to publish my book, she and her team have made this process the smoothest and most pleasant that I could have ever wished for and I am so grateful for their belief in my concept. It was a privilege to produce this book with my incredibly talented friend Tasha Seccombe who photographed & styled while I cooked and co-styled – I couldn't have done it without her. With ceramics, fabrics, background textures and props provided by our friends from Hertex, Hertex HAUS, Mervyn Gers & Southern Art Ceramics, this book has a very unique local look and feel.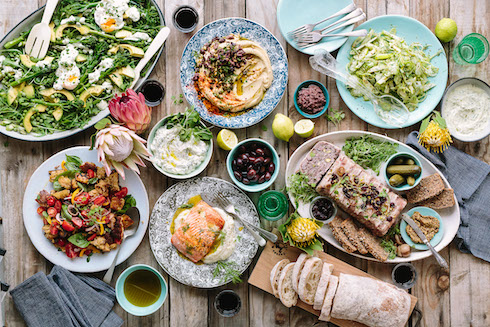 So let's talk about the book's theme. Cape Mediterranean food/cooking is a contemporary South African hybrid cuisine strongly influenced by the broader Mediterranean basin (Southwestern Europe, Middle East and northern Africa, surrounding the Mediterranean Sea) that has developed naturally from within the Western Cape due to the inherent Mediterranean climate and the abundant occurrence of classic Mediterranean-style local produce. It is not defined by race or ethnicity. Although 'Mediterranean cuisine' is still a term that isn't easily defined and varies across the wider basin, it is mostly accepted to be driven by olive oil, wheat, grapes (wine), fruit, vegetables and seafood, also including dairy and meat. The more well-known Cape Malay, Cape Dutch and indigenous African styles of cooking are well settled within South Africa.
With this book, I would like to add another Cape hybrid to our rainbow repertoire: contemporary Cape Mediterranean (Cape-Med) – a South African style of cooking and entertaining influenced by one of the oldest and arguably also the healthiest cuisines in the world.
What are the biggest differences between traditional 'Mediterranean' and 'Cape Mediterranean'? In South Africa, we traditionally consume more meat than in the Mediterranean basin. Also, our exceptional local olive oil industry is still very young compared to the Mediterranean basin, which has an olive producing history dating back to 2600 BCE, according to some sources. Few of us know how to make fresh homemade pasta or gnocchi (we mostly prefer the quick and easy store-bought dried versions), although they are both very popular items on restaurant menus. However, our culture of alfresco dining because of good weather is shared, as is our love of good wine and an active outdoor lifestyle. This book focuses on contemporary South African gatherings, not heritage food nor nostalgia. You won't find any twists on milk tart, chakalaka or bobotie. Cape Mediterranean cooking is a natural South African interpretation of classic Mediterranean-style cooking, celebrating our Western Cape-based Mediterranean climate, worldclass local produce and dedicated producers.
May this book bring many hours of joy and togetherness around your table! Please tag me with #CapeMed if you're sharing your cooking experiences from this book on social media.
I'd like to share one of my favourite recipes from the book with you: a festive pavlova with lemon curd & passion fruit. Lemons are one of the cornerstone ingredients for Mediterranean & Cape Mediterranean cooking – they're listed in more than 40% of the book's recipes. This specific recipe was created in collaboration with Lemongold – the newly launched cousins of the much loved Clemengold premium citrus brand. These seedless, thin-skinned, extra juicy lemons are perfect for making lemon curd, for cooking, for squeezing, for juicing etc, without the hassle of removing seeds. Lemongolds are grown widely in SA and forms part of Woolworths' "Farming for the Future" sustainability programme.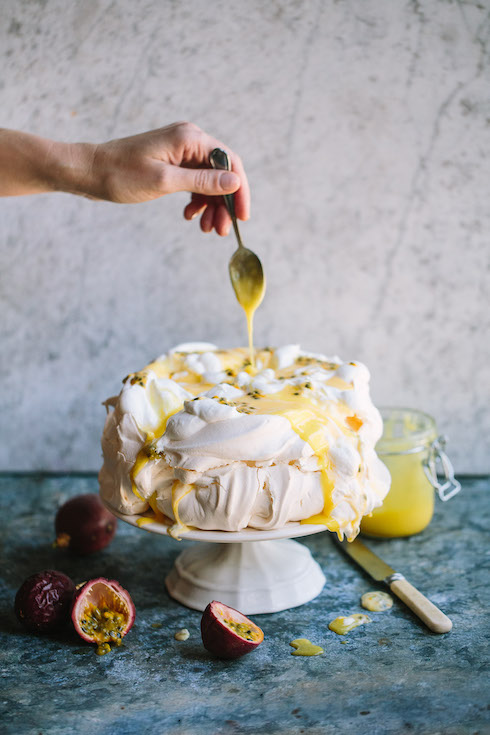 Ingredients: (serves 8)
6 XL egg whites (save the yolks and make *lemon curd)
400 g caster sugar (extra fine sugar)
10 ml (2 teaspoon) white vinegar or lemon juice
15 ml (1 tablespoon) corn flour
1 teaspoons vanilla extract (or scraped seeds of a vanilla pod)
250 ml fresh cream, whipped
about 1 cup *lemon curd, for topping (see page xxx)
pulp of about 4 fresh passion fruits
Method:
Pre-heat oven to 150 C. Whisk egg whites in a large bowl (with an electric whisk or stand mixer with whisk attachment) until soft peaks form. Gradually add castor sugar to egg whites, small amounts at a time, whisking constantly until the mixture is stiff and glossy. Add the vinegar/lemon juice, cornstarch and vanilla and mix well.
Dot a big roasting tray with some of the mixture then place a sheet of baking paper on top (sticking like glue). Pour the pavlova mixture on the tray and shape with a spoon or spatula into a round shape with a diameter of about 23 cm, like a cake (draw a circle on the back of your baking paper, if necessary). The mixture will rise a bit to the sides, so leave enough space. Place in the oven and immediately turn down the temperature to 120 C. Bake for an hour and 15 minutes, then turn the oven off and leave to cool (in the oven) for about 2,5 hours without opening the oven door.
To serve: Carefully remove the baking paper from the bottom of pavlova and transfer to a serving dish (it will have a few cracks, that's 100%). Top with whipped cream and lemon curd, swirling the cream and curd together softly. Top with lashings of passion fruit pulp and serve at once, sliced.
Note: Pavlova must be assembled just before serving as it becomes soggy on standing. Store the unassembled baked pavlova on the baking tray covered with a sealed large plastic bag. Can be baked a day ahead if stored airtight.
For the lemon curd:
You only need three lemons to make 500 ml (2 cups) lemon curd. It's a phenomenal spread for cakes, cookies and pavlova, and will last for at least a week in the refrigerator, once opened.  I usually make my lemon curd with four whole eggs, but when I've made a pavlova using six egg whites, I use the remaining six yolks instead of whole eggs. Use whatever you have on hand.
Ingredients: (makes 500 ml/2 cups)
peeled rind and juice of 3 medium-size lemons / Lemongolds
250 ml (1 cup) white sugar
180 g soft butter
4 XL eggs (or 6 XL egg yolks)
a pinch salt
Method:
Place the peeled rind and sugar in a food processor and process until you get a very fine, yellow, grainy mixture. Add the butter and process until light and creamy. Add the eggs and salt and mix well, scraping the sides of the bowl. Transfer to a small saucepan over very low heat. Stir continuously while it heats up (take care, it burns easily). The mixture will at first become runnier as the butter starts to melt, and then it will thicken again as the eggs form a glossy custard. Never let it reach boiling point. If at any stage it looks like it's burning, remove from the heat at once and strain to remove any brown bits. Remove from the heat and transfer to a glass jar with a lid. Cool and refrigerate until ready to use – the mixture will continue to thicken on cooling. (Note: For an ultra-silky result, strain the hot mixture before cooling.) Best served at room temperature – spread it on cakes or cookies, or serve with meringues (Eaton mess-style) and on pavlova.
Note: In this photograph, I used freshly made lemon curd that has not cooled fully – that's why it has a more runny consistency. Your lemon curd will be thick and spreadable once refrigerated.