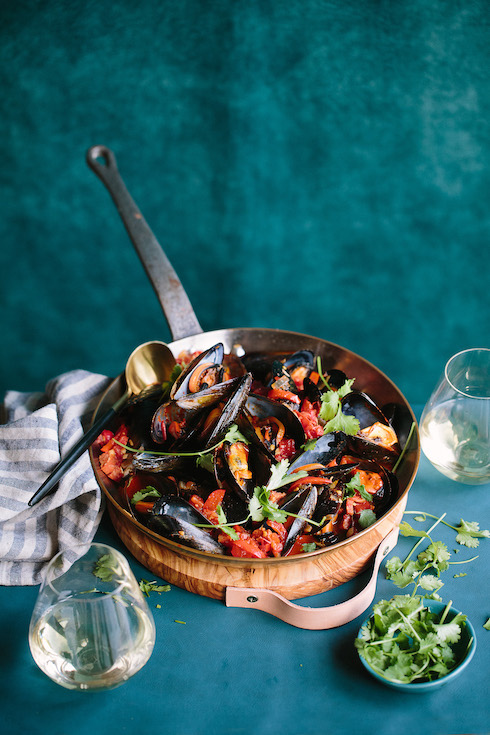 This is a recipe from my recently released cookbook, Cape Mediterranean – the way we love to eat (published by Penguin Random House / Struik Lifestyle). I'm publishing it here, because if you have bought the book already, you might have noticed the misprint on page 86: the full ingredients list is missing – a peculiar mistake that has baffled our team of publishers, proof readers and layout artists as it was very much present in the final pdf before going to print. These things do happen, and the best way I know to tackle it is to share it with everyone, pour a glass of wine and celebrate the book even more!
It is indeed a delightful recipe, so now you have a digital reference on the web, for life. The recipe has its roots in the beginnings of a Spanish paella. One of the secrets to making a great paella is to take your time with frying the onions, tomatoes and red pepper (and chorizo, in the case of a paella) until it intensifies in colour and becomes really soft and dark. Although chorizo is a fantastic ingredient, it can be pricy. Using smoked paprika in its place for this stew will bring even more deep red tones to it, you'll only use a tablespoon and the stew will have a fantastic smoky undertone. Smoked paprika is such a stunning versatile ingredient, I never go without it in my kitchen.
Note: This recipe needs fresh live black mussels – frozen just won't do. Order yours from Blue Ocean Mussels. Also, if tomatoes aren't in season, you're welcome to use 1–2 cans whole Italian tomatoes, chopped (not the canned chopped tomatoes – they
sometimes taste artificial).
Ingredients: (serves 6)
45 ml (3 tablespoons) extra virgin olive oil (plus more for serving)
1 onion, chopped
1 medium-size red pepper, pith and seeds removed, sliced
3 cloves garlic, finely chopped or grated
4 ripe red tomatoes, chopped (or pulsed in a food processor)
15 ml (1 tablespoon) smoked paprika
250 ml (1 cup) dry white wine
1.5 kg live black mussels, scrubbed, beards removed and rinsed
salt and freshly ground black pepper
a handful fresh coriander or parsley, roughly chopped
crusty bread, to serve
Method:
In a very big, wide, heavy-bottom pot (30 cm cast-iron or enameled cast-iron works very well), heat the oil over medium heat and fry the onion, red pepper and garlic until just soft. Add the tomatoes and paprika, then turn up the heat and fry, stirring often, until the tomatoes break up and start to go darker and sticky on the bottom – 10–15 minutes. Add the wine, stir and bring to a boil. Add the mussels, cover with a lid and steam for 8–10 minutes, or until the mussels are all open. Stir well – the mussels will release their salty sea water, so don't season the stew until you've cooked the mussels and tasted for salt levels. Season with salt (if necessary) and pepper, then sprinkle with the herbs and serve immediately with some crusty bread on the side to dip into the sauce.