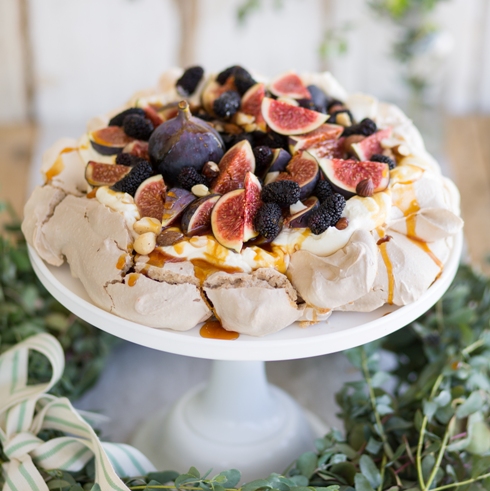 It's no secret that I love to serve pavlova as a festive dessert. I just love the look of the large lavish meringue, crisp on the outside and puffy like a cloud on the inside. It never seems to shake he wow factor either – people are just amazed by it.
The other up-side is that it doesn't feel like a heavy ending to an extended festive meal. It just melts in your mouth, and along with some tart fresh seasonal fruit (which sometimes steal the show on their own) it's the perfect dessert.
For an extra special end to a summery dinner, I love to make this brown sugar & espresso pavlova topped with Greek yoghurt & cream and then some figs, berries, toasted nuts and a good drizzle of dark honey. The brown sugar and espresso turns the white meringue into a pale brown pearly beauty, a nice twist on a classic favourite. I use a mixture of Greek yoghurt and cream to top the meringue, and the best seasonal fruit and berries that I can find. Although berries and figs can be quite expensive these days, keep in mind that the rest of this dessert is fairly cheap, so don't be afraid to spend a little more on the fruit.
Ingredients for meringue:
6 XL egg whites
500 g light brown sugar
5 ml caramel essence (optional)
15 ml instant espresso powder (not ground beans!)
15 ml sherry vinegar
15 ml corn flour (Maizena)
Method:
Place the egg whites in a large mixing bowl, then whisk with an electrical whisk until it starts to form soft white peaks. Start adding the sugar  gradually, just a bit at a time, and keep whisking until all of the sugar is incorporated, whisking for another few minutes until you have a thick glossy mixture.
Add the caramel essence, espresso powder, vinegar and corn flour, then whisk for another minute to mix well.
Pour the mixture onto the prepared baking tray, then gently spread it into a circular shape of about 23 cm diametre. Smooth the top slightly – it really doesn't have to be perfect!
Bake for 15 minutes at 150 C, then turn down the oven to 120 C and bake for a further 1h15min. Turn off the oven and leave to cool completely, preferable overnight (without opening the door).
To assemble, remove the baking paper and place the meringue on a serving platter.
Whisk the cream until it holds shape, then fold in the Greek yoghurt. Spread this mixture gently over the top of the meringue.
Arrange fruit on top, add chopped nuts and drizzle with honey. Slice and serve immediately.
Credits:
This post was originally written for The Pretty Blog by Ilse van der Merwe from The Food Fox.
Recipe, food preparation and text: Ilse van der Merwe
Photography: Tasha Seccombe
Styling: Nicola Pretorius