Although I am an advocate for cold summer meals like charcuterie and salads, there's one dish that will get my vote come rain or shine: roast potatoes. They are often the most popular dish on the menu, beating meaty roasts and beautiful pudding by a long shot.
I prefer to work with baby potatoes, as they are already a great size – no cutting required. I boil them until they are just tender, then crush them gently with the back of a spoon until they crack open, yet still remain in tact. These beautiful potatoes then get a luscious coat of olive oil and a good seasoning of salt & pepper before joining a bunch of whole garlic cloves in the oven. I turn them once through the roasting process to make sure they are golden on both sides, then transfer the precious nuggets to a serving bowl. Sprinkle with chopped parsley, then serve with your main meal along with my versatile yoghurt & mustard sauce.
I've also serve these at room temperature – they just become better and better. Great as an in-between snack, dunked in the yoghurt sauce. These will become a household favourite – I can promise you that!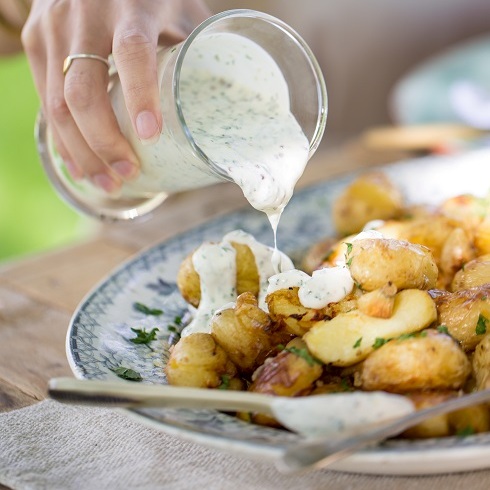 Ingredients: (serves 6-10)
2 kg firm baby potatoes
2 heads of garlic, skinned but whole
1 cup good quality olive oil (or canola oil, or a mixture)
salt and black pepper
a handful of parsley, chopped
Method:
In a large pot, add the potatoes, then cover with cold water. Bring to the boil on the stovetop, then cook until just tender – about 10-13 minutes.
Pre-heat your oven to 220 C.
Drain off the water, then transfer the potatoes to a large roasting tray. Use the back of a spoon to crack each one gently, still leaving them in tact but creating crevices for the oil & seasoning to be absorbed.
Add the garlic cloves, drizzle the oil all over, then season generously with salt & pepper. Roast for 15 minutes, then turn each potato with tongs and return to the oven for another 10 minutes until they are golden brown on both sides.
Remove from the oven, then transfer to a serving dish using a slotted spoon (discard the excess oil). Scatter with chopped parsley.
Credits:
This post was originally written for The Pretty Blog by Ilse van der Merwe from The Food Fox.
Recipe, food preparation and text: Ilse van der Merwe
Photography: Tasha Seccombe
Styling: Nicola Pretorius