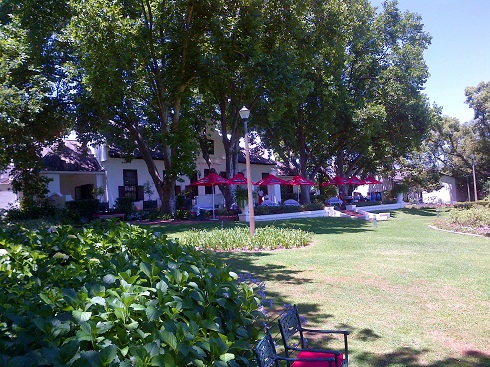 I've reviewed The Red Table Restaurant at Nederburg in Paarl once before in April 2013, just after they opened their doors. My experience was delightful – a pristine setting with great quality bistro food and very friendly service. So I welcomed a second invitation to experience their summer set menu on the 5th of December 2013.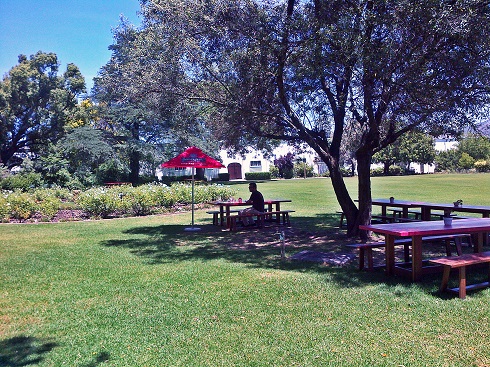 The Red Table's a la carte menu is already very well priced, and I consider it one of the best value for money dining experiences in the Winelands. The new summer set menu is a bargain at only R240 for a 5 course lunch including wine pairings from their Heritage Hero series, or R195 for 4 courses including wine pairings. The set menu was designed around the wines, each with a strong individual personality, so it seems only fit that the menu descriptions are centred around the wines and their key notes:
1. THE YOUNG AIRHAWK
A clear, light green wooded Sauvignon Blanc with a bouquet of green figs, asparagus and minerality. It is fresh, crisp and zesty and is the ideal partner to summer salads, and merges beautifully with our
Slow roasted tomato tartlet with chevin and baby leaves.
2. THE ANCHORMAN
Made from Chenin Blanc, the Anchorman is a brilliant wine with a golden hue, reminiscent of apricots and oranges and is a delight when paired with pastas such as our
Homemade ravioli filled with butternut accompanied by burnt sage butter and crispy parma ham.
3. THE MOTORCYCLE MARVEL
This Rhône-style blend of Grenache, Carignan and Shiraz is a full bodied dark and intense red wine, and is outstanding when enjoyed with full flavoured dishes such as our
Cape Malay lentil bobotie samosa served with tomato salsa.
4. THE BREW MASTER
A blend of Cabernet Sauvignon, Merlot, Petit Verdot and Cabernet Franc this is a dark, intense red wine with concentrated aromas of dark fruit. Ideal with red meat, it is the perfect accompaniment to our
Gourmet lamb burger with homemade pomme frites and a Brew Master jus.
5. THE BEAUTIFUL LADY
Light, straw yellow, it is a beautiful wine made entirely from Gewurztraminer, and infused with nuances of rose petals and Turkish delight, and is excellent as an aperitif or partner to fruit flans such as our
Rosewater infused jelly with naartjie served with Gewurztraminer custard.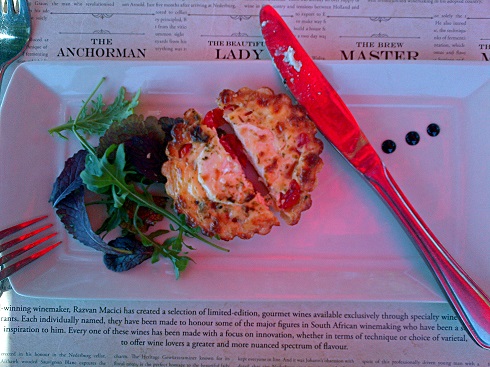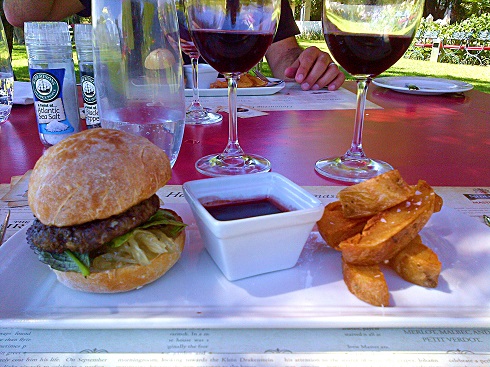 Be sure to take your time when visiting The Red Table Restaurant for this lunch experience, as this is a truly laid-back place that will make you want to linger longer. The food is scrumptious bistro fare, so don't expect fine dining. I especially enjoyed the Cape Malay lentil bobotie samoosa (3rd course) and the Gewurztraminer custard (5th course).
I can highly recommend The Red Table on a beautiful day for families with kids, but also for anyone who is looking for a high quality, exceptional value-for-money wine estate lunch experience. Thank you very much to the restaurant manageress Wilmien and our waitress Gail for exceptional service and authentic Winelands hospitality.
The Red Table Restaurant at Nederburg is open from Tuesdays to Saturdays for lunch from 11h00, and on Sundays from 12h00. Closed on Mondays. For reservations, contact 021-877 5155 or [email protected]